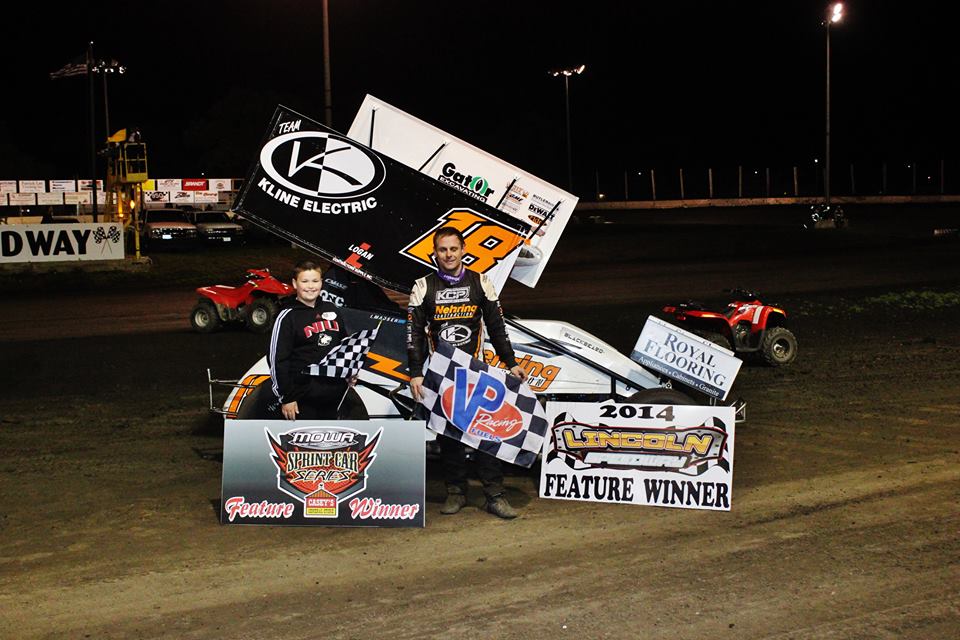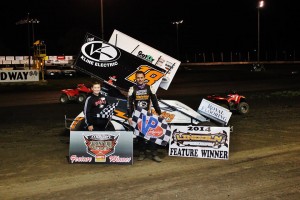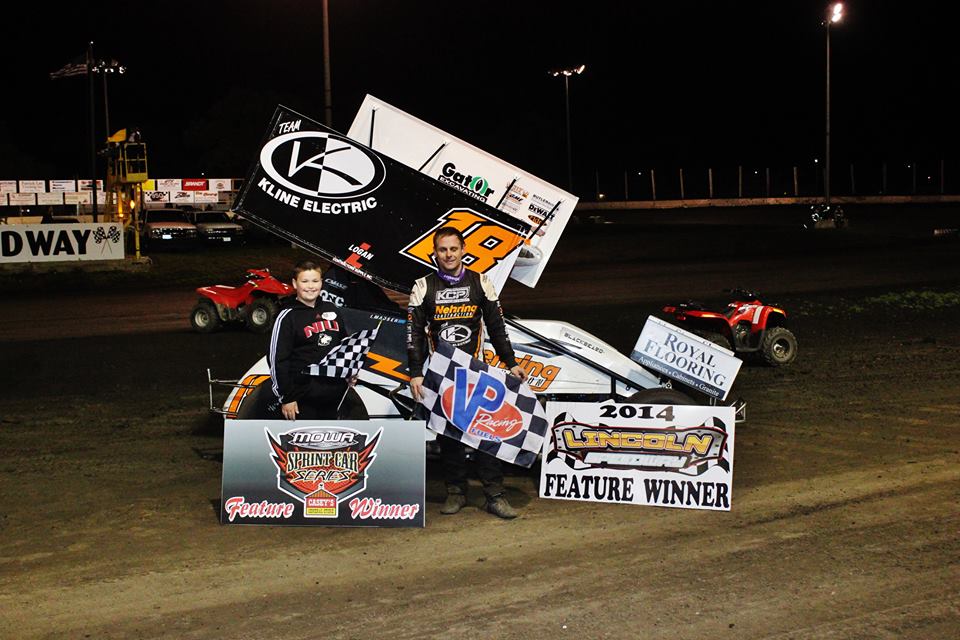 From Dewain Hulett
Lincoln, IL — (May 2, 2014) — The only thing Ian Madsen didn't win Friday was the Midwest Open Wheel Association Sprint Car Series presented by Casey's General Stores Dash and the $200 he could have pocketed for taking the re-draw challenge before he drew the six invert pill for the event.
Outside of that sequence, Madsen was nearly untouchable en route to his third career MOWA Sprint Car Series presented by Casey's General Stores feature event. This one coming on a very fast 1/4 mile at Lincoln Speedway, Lincoln, Ill, Friday.
Madsen and Jimmy Hurley each picked up a heat race win, while the invert drawn by Madsen before the dash put Jeremy Standridge on the front row of the six lap event. Standridge would hold on to pick up the first MOWA dash win of his career, as he celebrated his birthday at the track with family and friends.
Madsen survived near catastrophe in the dash, as he got caught up with a flipping Bret Triplett in the final corner of the event, but he didn't stop and was awarded third place with a destroyed wing sitting sideways atop the car. Triplett was done for the night, tearing up a rearend, while Urish, who was also involved, made repairs and ran well in the feature.
Several cautions slowed the main event, but the bulk of the excitement came on the final restart with five laps remaining. Problems arose at the drop of the caution for A.J. Bruns, who had ran second throughout, after losing the lead early to Madsen. Bruns pulled off giving the second spot to Urish, followed by Joey Moughan.
The first attempt to re-start the event was called back after Trey Datweiler, making his first career MOWA start, spun in turns one and two.
On the second attempt, and the final re-start of the race, Urish barreled into turn one and pulled a slide job on Madsen, briefly taking the lead off of turn two and down the backstretch. Madsen returned the favor in turns three and four, however, and led the rest of the way.
As Urish gave chase, Moughan closed over the final two laps, and when Urish bobbled just a bit in turns three and four coming to the checkered flag, Moughan dove under and slid up narrowly missing Urish exiting turn four to take the second spot.
Jim Moughan would finish fourth and Joe B. Miller was fifth.
Racing action continues with the MOWA Sprint Cars Series by Casey's General Stores, tonight, as it makes its first stop at Clay County Speedway, Flora, Ill.
For more information on this event and others visit www.midwestopenwheel.com or follow us on twitter at @mowasprints. To learn more about the Clay County Speedway event, visit www.claycountyspeedway.net.
MOWA Results For Lincoln Speedway – 2014-05-02
Starting Positions in ()
Heat Results
Heat 1: 1 – Ian Madsen 18(2), 2 – Bret Tripplett 22T(1), 3 – Chris Urish 77u(5), 4 – John Dines 31(4), 5 – A.J. Bruns 44(9), 6 – Ben Wagoner 84(8), 7 – Andy Baugh 6b(7), 8 – Manny Rockhold 99D(10), 9 – Randy Myers 18(6), 10 – Paul Nienhiser 9(3),
Heat 2: 1 – Jimmy Hurley 35(2), 2 – Jeremy Standridge 10s(1), 3 – Jim Moughan 1M(3), 4 – Joe B Miller 51B(4), 5 – Joey Moughan 83(7), 6 – Jerrod Hull 12H(5), 7 – Cory Bruns 42(6), 8 – Levi Curry 25(8), 9 – Trey Datweiler 23D(10), 10 – Caleb Wankel 5W(9),
Dash Results
1 – Jeremy Standridge 10s, 2 – A.J. Bruns 44, 3 – Ian Madsen 18, 4 – Bret Tripplett 22T, 5 – Chris Urish 77u, 6 – Jimmy Hurley 35,
A-Main Results
1 – Ian Madsen 18 (3), 2 – Joey Moughan 83 (8), 3 – Chris Urish 77u (5), 4 – Jim Moughan 1M (7), 5 – Joe B Miller 51B (10), 6 – Jerrod Hull 12H (12), 7 – Andy Baugh 6b (14), 8 – Cory Bruns 42 (15), 9 – Manny Rockhold 99D (13), 10 – Jeremy Standridge 10s (1), 11 – John Dines 31 (9), 12 – Ben Wagoner 84 (11), 13 – Trey Datweiler 23D (17), 14 – Caleb Wankel 5W (19), 15 – A.J. Bruns 44 (2), 16 – Randy Myers 18 (18), 17 – Levi Curry 25 (16), 18 – Paul Nienhiser 9 (20), 19 – Bret Tripplett 22T (4), 20 – Jimmy Hurley 35 (6),