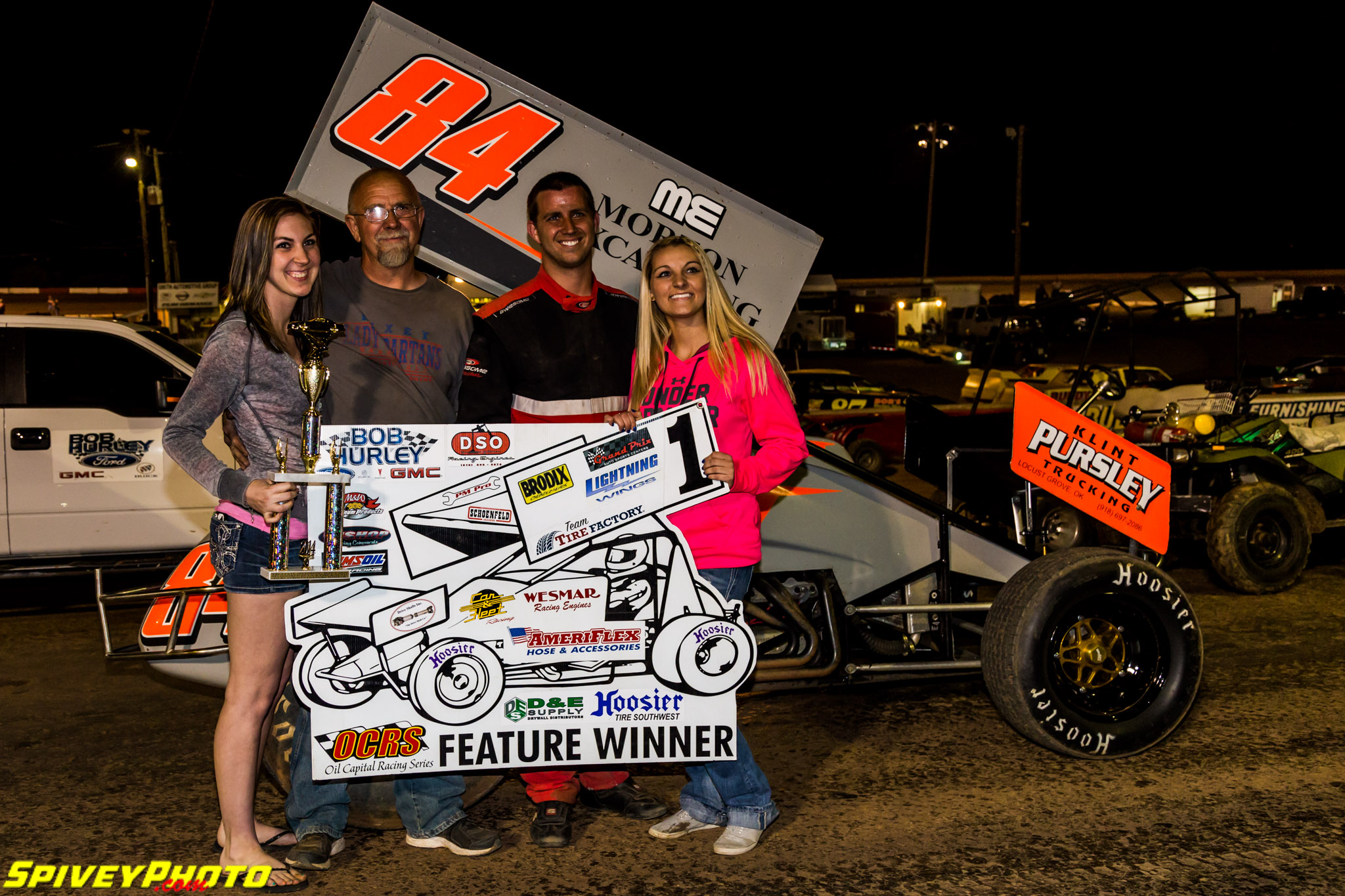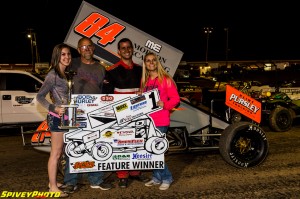 From John Lemon
Pocola, OK — (May 3, 2014)  — Sometimes a driver takes a liking to a racetrack and Saturday night at the Tri-State Speedway during the seventh annual Danny Martinez Junior Memorial, Alex DeCamp won the 25-lap Oil Capital Racing Series sprint car A-Feature. The win by DeCamp makes the second year in a row he has scored a feature victory on Tri-State's real estate as he also collected a victory here last season. This victory also becomes DeCamp's second career OCRS triumph.
The initial attempt to start the A-Feature was aborted twice before the field would go green for good. On the first attempted start it was Blake Edwards taking a quick lead from the pole position in his A-1 Machine / Shock Doc / Maxim but as the field entered turn two, outside front row starter and AmeriFlex Hose and Accessories heat winner Chance Morton would spin in front of the field and Kyle Clark would make hard contact with Morton and stopped his racer thus necessitating a yellow. Both would restart however, while under yellow, Edwards stopped in turn two with fluid leaking from underneath his sprinter and he would have to go to the pits and never return to action.
On the next attempted start, the cars of David Stephenson and Perry Pickard would spin to a stop and turn number one that caused the need for another restart. The third time would be the charm as the feature would go green and it would be DeCamp leading at the end of lap number one in the Morton Excavating / Pursley Trucking / Whitney Mfg. / STK Engines / Eagle while Bob Hurley Auto Family heat race winner Shayla Waddell and Norman Oklahoma's Sheldon Barksdale crossed the stripe as part of the first three cars to make the first full official circuit. Barksdale would then work his way around Waddell's Shores Lift Solutions / PM-PRO / Eagle on the third lap. On the fourth lap, Danny Smith, from his six row starting position in the Tire Factory / Same Day Auto Repair / F5 Twister would start making his way through. He then moved into the third position once he got around Waddell on the sixth lap and began to hunt down the leaders.
A lap nine yellow slowed the action down for a spin by Perry Pickard in turn number four. The restart of lap nine would see DeCamp at the point with Sheldon Barksdale second followed by Smith, Kade Morton, Waddell, Andrew Deal, Clark and Nigel Calvert.
Back under green again and Deal, who won the Drive Shafts Inc. heat, would get by Waddell a lap later for the fifth spot while DeCamp continued to fend off challenges from Barksdale and Smith. Deal would take fourth from Kade Morton on lap 12 as the pair would race down the backstretch. DeCamp had a close call on the 16th lap when he banged wheels with Pickard in turn one while looking to lap the driver of the P-78.
Yellow would reappear on lap 17 for the stalled car of Cameron Hagin and shortly after going back to green, the final yellow would wave on lap 18 for a spin in turn one by Pickard. Kade Morton would retire to the pits at this time as well.
The final restart order would see DeCamp, Sheldon Barksdale, Smith, Deal, Clark, Kobe Barksdale and Waddell set to lead the field to the final green. Smith would work feverishly to get by S. Barksdale over the last few remaining laps including a hard pressed try in turns three and four of the final lap, but it would be to no avail as S. Barksdale, wheeling the Barksdale Overhead Door / Jennings Powder Coating / Wells Racing Engines / Maxim would fight off every challenge Smith could muster.
DeCamp would win by six car lengths at the checkers for his first win in 2014 over S. Barksdale, Smith, Deal and K. Barksdale rounding out the top five. The remaining top ten finishers would be: Clark, Brian McClelland, Chance Morton, Waddell and Nigel Calvert. Smith would collect the AmeriFlex Hose and Accessories 'Hard Charger' for improving nine positions in the feature.
DeCamp had these thoughts in victory lane: "The track had a groove on top in (turns) three and four and down in the bottom of (turns) one and two. I could run pretty good on the high side of three and four and down in one and two, I had to work the brake to keep the car near the concrete wall on the low side because that's where you had to be." It's good to come out of here with a win as we have been struggling at the beginning of the season just as we did last year. It was a good racetrack and thanks for all the fans for coming out."
Sheldon Barksdale reflected on his best ever OCRS finish: " I don't think I had anything for Decamp he was really fast tonight and he drive a great race. We had a great restart on the original start, got into second and followed him from there. It's been a good start to the season so far. We will go to Ada next week (Oklahoma Sports Park) and see how we do and make a decision on the rest of the year from there. I really want to thank my father Rick for providing me the opportunity to do this. He works hard on this car and I'm just trying to do my part."
For additional information on the OCRS sprint car series, view the website at: www.ocrsracing.com
See us on Facebook at: https://www.facebook.com/oil.series?ref=tn_tnmn
OCRS Race Results
Tri-State Speedway / Pocola Oklahoma
May 3, 2014
18 Cars
AmeriFlex Hose & Accessories Heat
1) Chance Morton (#7m Morton) [2], 2) Koby Barksdale (#5k Barksdale/Johnson) [1], 3) Blake Edwards (#17e Edwards) [3], 4) Kade Morton (#8m Morton) [4],
5) David Stephenson (#22 Stephenson) [6]. 6) Mike Huard (#01 Ragsdale) [5]
Bob Hurley Auto Family Heat
1) Shayla Waddell (#88s Waddell) [3], 2) Alex DeCamp (#84 DeCamp), 3) Nigel Calvert (#16 Stephenson) [6], 4) Michael Bookout (#007 Bookout) [1]. 5) Brian McClelland (#87F Fode) [4], 6) Perry Pickard (p78 Pickard) [2].
Drive Shafts Inc. Heat
1) Andrew Deal (#15d Cagle Motorsports) [2], 2) Danny Smith (#5$ Same Day Auto Repair) [4], 3) Kyle Clark (#9$ Same Day Auto Repair) [1], 4) Sheldon Barksdale (#20 Barksdale) [5], 5) Mickey Walker (#2 Walker) [ 3], 6) Cameron Hagin (#5 Hagin Racing) [6]
OCRS A-Feature
1) DeCamp [4], 2) S. Barksdale [10], 3) Smith [12], 4) Deal [9], 5) K. Barksdale [7], 6) Clark [8], 7) McClelland [14], 8) C. Morton [2], 9) Waddell [3], 10) Calvert [5]. 11) Walker [13], 12) Stephenson [11], 13) Hagin [16] 14) K. Morton [6], 15) Pickard [15], 16) Huard [17], 17) Edwards [1]. 18) Michael Bookout (DNS)