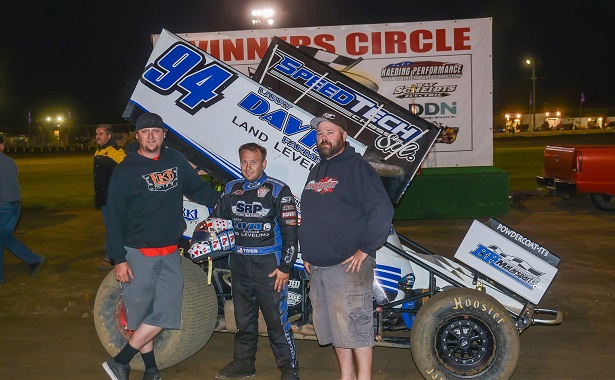 PETERSEN MEDIA
The last time Steven Tiner was in action he had an absolute nightmare of a weekend, but he put that all behind him as he captured two feature event wins this past weekend.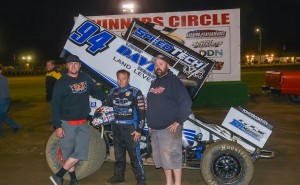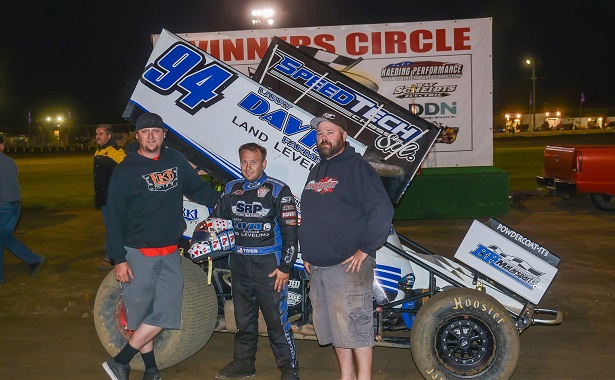 "Man, talk about the highs of highs, and the low's of low's," Tiner said. "A couple of weeks ago we had an absolute terrible weekend, but we were able to rebound and come back and pick up a couple of wins."
Starting his weekend off in Watsonville, CA at the Ocean Speedway with the Taco Bravo Sprints, Tiner tined his Larry Davis Farms/Wright Process Systems machine in 10th fastest, putting him on the front row of his heat race.
Getting the jump in his heat race, the Visalia, CA driver checked out and picked up the win, putting him in the feature event, as well as putting him in the Top-8 redraw.
Pulling the two, Tiner put his machine on the front row of the 30-lap feature event along side Carson Macedo.
With Macedo getting the jump on the very well prepared Ocean Speedway, Tiner stayed hot on him as he ran in the second spot, not letting the youngster get out of his sights.
With laps winding down, Tiner was able to make his bid for the lead on the 23rd circuit, and would not look back as he raced on to pick up his first win at the Ocean Speedway.
"After knocking on the door so many times at Ocean, it was awesome to break through and get a win," Tiner said. "The track was awesome, and it was a really fun race."
Saturday night, Tiner headed to the Kings Speedway in Hanford, CA for an 'open' show.
Timing in fastest in time trials, Tiner lined up in the sixth spot for the 25-lap feature event.
With the outside row getting hung out on the start, Tiner found himself in the eight spot, but he was able to work his way forward, and found himself up to the second spot, with 10-laps to go.
Tracking down the race leader, Tiner got the lead on the 18th lap, and in the seven laps he led, was able to check out and win by a straight away.
"I can say enough about everyone who helps us out," Tiner said. "It's awesome to grab a win, but to grab two in one weekend is a great feeling, and hopefully we can keep this rolling."
Steven and his Steven Tiner Racing team would like to thank Larry Davis Farms, Wright Process Systems, BR Motorsports, King Racing Products, Elma Lanes, Harvest Supply, Powder Coat-It, SRP, Wilwood, FSR, Dan Olson Race Products, Sander Engineering, Sweet Manufacturing, Good Ridge, Schoenfeld, Western Metal Company, and Roseville Precision for their continued support.
2013 BY THE NUMBERS: Races-8, Wins-2, Top 5's-4, Top 10's-5
ON TAP: Tiner is hoping to return to the Ocean Speedway this Friday night.
PETERSEN MEDIA: Petersen Media is a promotional agency that can handle your public relations, marketing, and any other promotional needs. Petersen Media utilizes multiple tactics to help you reach your intended audience, to boost awareness.
For more information contact sales@petersenmediainc.com, by phone at 916-342-3424, visit www.petersenmediainc.com,  www.facebook.com/PetersenMedia, or follow www.twitter.com/petersen_Media.
________________________