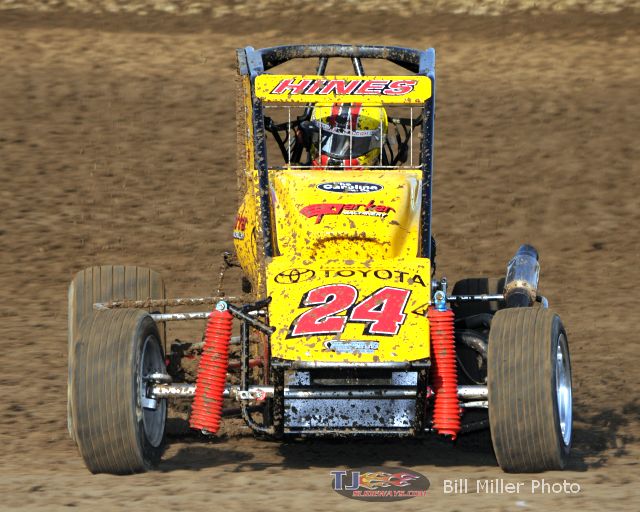 By Tracy Hines Racing PR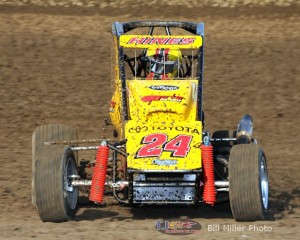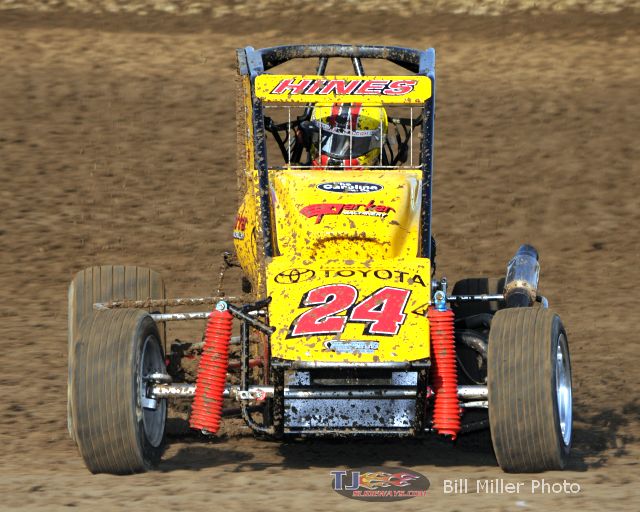 NEW CASTLE, Ind.—May 7, 2014— Versatility is a trait that Tracy Hines has mastered quite well over the years, competing in the three USAC National series. That skill set will come in handy this weekend, as the veteran driver competes in the 100-lap Hut Hundred for the Honda USAC National Midget Series at the blazing fast and ultra-wide Tri-City Speedway in Illinois, followed by a contest at the smallest and arguably the tightest track on the circuit, Belle-Claire Speedway, also in the "Land of Lincoln."
The 62nd Hut Hundred, which is co-sanctioned by the Honda USAC National Midget Series and POWRi Lucas Oil National Midget Series, is scheduled for Friday, May 9 at Tri-City Speedway in Pontoon Beach, Illinois. Both series will then head to Belle-Claire Speedway in Belleville, Illinois, for the running of the Belleville Bash on Saturday, May 10.
"The Hut Hundred is definitely one of the premier midget races and one that everyone wants to win," said Hines, who won the race in 2001. "I was pretty fortunate to win it, though it seems like forever ago, and it would be great to add my name a second time to that list. While the tracks have changed a few times over the years, there is still a lot of tradition to the race."
This season marks the first time the Hut Hundred has been held at Tri-City Speedway, following a rainout last year. The Terre Haute Action Track in Indiana was home to the event for many years. In addition, the Hut Hundred was held at the Indiana State Fairgrounds, Lincoln Park Speedway, Lawrenceburg Speedway and Tri-State Speedway over the years. Per tradition, the 33-car field for the Hut Hundred will be lined up three abreast for the 100-lap main event.
Hines has won twice with the Honda USAC National Midget Series at Tri-City Speedway in his career. He scored his first win at the now-three-eighths-mile, in 2003, when it was still a half-mile. The native of New Castle, Indiana, was also victorious at the track during the opener of the 2012 Gold Crown Midget Nationals. Last season, Hines competed in all three nights of the Gold Crown event, finishing third on the second night.
"We've run pretty well at Tri-City (Speedway) over the years, whether on the old track or the new track," he shared. "There is a ton of room for a midget to race at that place and you pretty much go wide open all the way around. It's quite a few weeks since we raced the midget, so the handful of hot laps we get will be important to get dialed in."
The Honda USAC National Midget Series made their debut at Belle-Claire Speedway last season in a co-sanctioned event with POWRi. Hines finished fourth and seventh, in a pair of feature events, aboard the Parker Machinery/Powered by Toyota Stealth. Belle-Claire is a semi-banked, fifth-mile clay oval.
"Belle-Clair (Speedway) is definitely a bullring," said Hines. "I don't think there is a smaller outdoor track we race on all year. A place like that is perfect for a midget and the cars stay pretty grouped up and the leaders are usually in traffic most of the time. We ran pretty good there last year and hope to step that up a little more this time around."
Hines heads into action this weekend third in points with the Honda USAC National Midget Series, following the Kokomo Grand Prix last month. He finished in the top-five on both nights of that inaugural event at the quarter-mile in his home state of Indiana. Last weekend, Hines finished third and fourth, with the Amsoil USAC National Sprint Car Series in a pair of races in Nebraska.
Tracy Hines Racing would like to thank Primary Sponsors:  The Carolina Nut Company, Hansen's Welding Inc,  Elliott's Custom Trailers and Carts, and MPHG Promotions Inc. Associate Sponsors for 2014 include: ProSource Professional Resources, Turbines Inc., Daum Crop Insurance, Parker Machinery,  Stanton Racing Engines and Schipper Family Farms. Product Sponsors that are part of Tracy Hines Racing in 2014 include: Afco Racing Products, Schoenfeld Headers, Autonet Mobile, Indy Race Parts, Bell Racing, Kenny's Components, Race Bumpers, Hoosier Racing Tires, CSI Competition Suspension, Shadow Graphix, Driven Racing Oil, Sander Engineering, Hugh Brothers and Midwest Sheet Metal.
For more information on Tracy Hines Racing, visit http://www.tracyhinesracing.com. Follow Tracy on Twitter at www.Twitter.com/TracyHinesRacin and "Like him" on Facebook at: https://www.facebook.com/Tracyhinesracing.