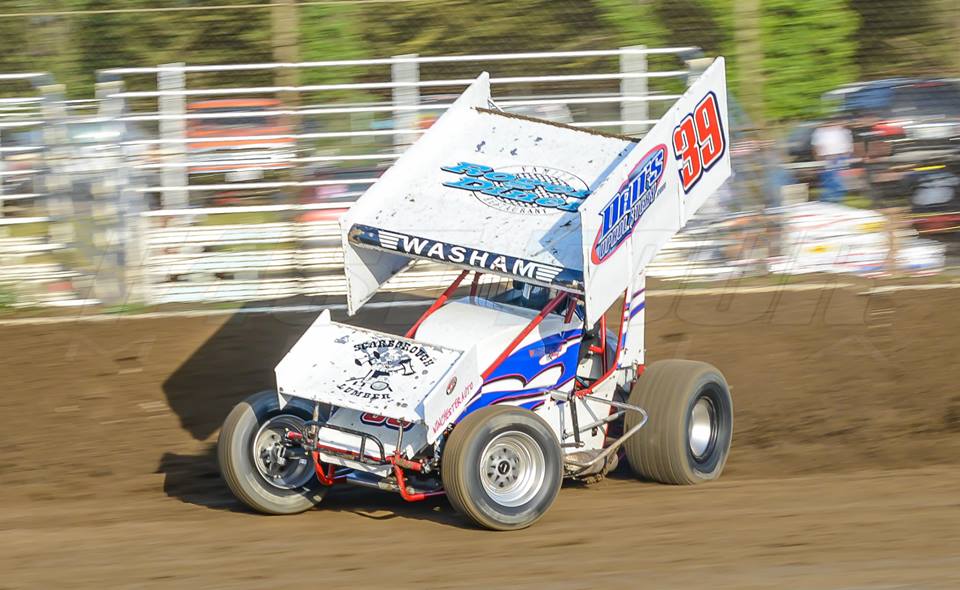 PETERSEN MEDIA
– Nathan Washam and his Washam Racing team are set to hit the Petaluma Speedway in with the King of the West Series on Saturday night.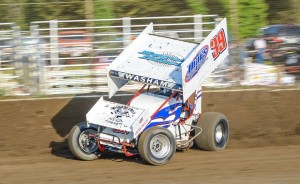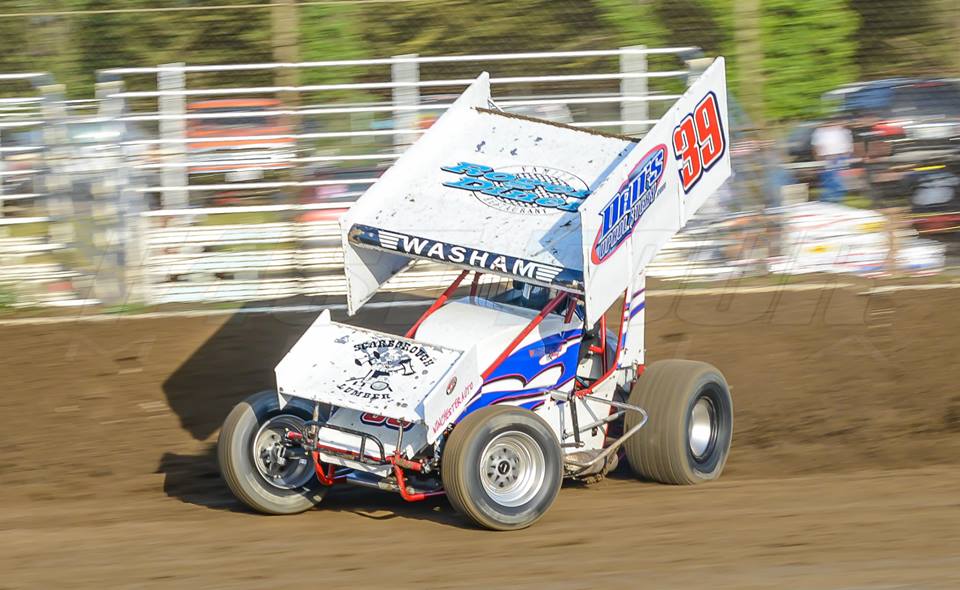 "We have been at two KWS races so far this year, and we have had nothing but gremlins that really haven't let us race," Washam said. "Everyone has worked so hard on this 410ci car all winter and all year, we are all hoping for a gremlin-free night."
Making his KWS debut at the Thunderbowl in Tulare, CA in the middle of April, Washam and his team fought a fuel issue all night, and they were never able to get going, and ended up making some under powered laps in the B main, as they continued to chase their issues.
At the Placerville Speedway a week later, the team got their Tulare issues figured out, but on this night they couldn't get the engine to fire.
"It was a rough two weeks," Washam said. "We've never worked so hard on a car to get ready for the season, and then to have issues like we did was really gut wrenching, but nobody quit."
Leaving the 410ci engine behind for a couple weeks, Washam and his team went to the Ocean Speedway with their 360ci power-plant for a few weeks to try some things, and use the two night's like a test.
"It was nice to get back racing," Washam said. "One night the track was way slick, and we tried some things that felt good, but passing was tough."
With all of that behind him, Washam and his team will solely be in action with the 410ci engine this weekend, as Washam hopes to truly make his KWS debut.
"We are really hoping all goes well, and we can actually make some competitive laps with the KWS boys," he added. "They are a great bunch of guys, and I'm eager to learn the 410 stuff with them."
Nathan Washam Racing would like to thank Dan's Upholstery, Dee Dee's Deli-ishes Taqueria, Air Unlimited, Aquarius Consulting, Winchester Auto, Prodigy Strength and Conditioning, Quick Racing Products (Tel-Tac),Jon and Sandy Beck,
BR Motorsports, King Racing Products, Pearl Performance Engines, RV's Computers Inc. Roger's Diner, Watsonville Auto Body, Doyl Enterprises Open Wheel Components, Scarborough Ace Hardware, Jimmy Sill's School of Open Wheel Racing, Chaz Design, Rodriguez Custom Powder Coating, Bayside Oil, Advance Auto Santa Cruz, Rod End Supply, L&W Supply, TI-22, Hooker Harness, and Hot Head Engine Heaters for their support during the 2014 season.
2014 BY THE NUMBERS: Starts-4, Wins-0, Top 5's-0, Top 10's-0.
ON TAP: Washam will be in action on Saturday night with the King of the West Series at the Petaluma Speedway.
STAY CONNECTED: Stay connected with Nathan and his team by visiting their website, www.nathanwashamracing.com, and befriending them on facebook at https://www.facebook.com/nathan.washam?fref=ts, or follow Nathan on Twitter @NateWasham.
PETERSEN MEDIA: Petersen Media is a promotional agency that can handle your public relations, marketing, and any other media needs. Petersen Media utilizes multiple tactics to help you reach your intended audience, to boost awareness.
For more information contact sales@petersenmediainc.com, by phone at 916-342-3424, visit www.petersenmediainc.com,  www.facebook.com/PetersenMedia, or follow www.twitter.com/petersen_Media.