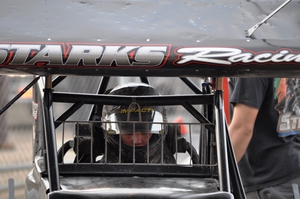 Inside Line Promotions
– MECHANICSBURG, Pa. (May 11, 2014) – Trey Starks has spent the last seven weeks competing with the famed Pennsylvania Posse.
His time in "The Keystone State" comes to a head this week as the World of Outlaws STP Sprint Car Series invades the region for a trio of races.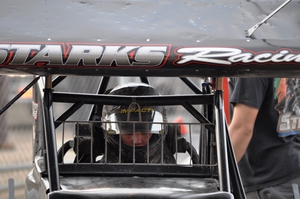 "It will be important to be at your best," Starks said. "If everything is working right, I think we can have a really good performance. First things first, hopefully everything works and runs."
Starks battled with mechanical issues for the second straight weekend last Friday at Williams Grove Speedway.
"We had continued troubles," he said. "I think it's kind of a result of that u-joint breaking the week before. We had some electrical issues. It was stuff that wasn't on the surface so it wasn't really obvious."
Starks qualified 21st and was unable to advance into a lock-in position during his heat race on the fast half-mile track. He then finished where he started – fourth – in the B Main to transfer to the main event.
"We gained a lot of positions on the start and were up to like 13th and then the motor started to act funny," he said. "I just rode around for the last 10 laps."
Starks ended with a 19th-place result.
The team made some changes prior to Saturday's race at Lincoln Speedway in Abbottstown, Pa., where rain dampened the track after the drivers put heat in the engines. The race was eventually rained out.
"We think we got it figured out," Starks said. "We hope so."
With the premier sprint car series stopping in Pennsylvania this week, Starks will make his season debut at Lincoln Speedway this Wednesday for the Gettysburg Clash before competing on Friday and Saturday at Williams Grove Speedway for the Morgan Cup.
"I'm just hoping that our time out here pays off," he said. "We haven't run at Lincoln at all this year. I had a good time there last year."
Starks has recorded two top 10s in three races at Williams Grove Speedway this season.
Following the busy week, Starks said his team will return home to Washington to compete on the West Coast for a while.
QUICK RESULTS –
May 9 – Williams Grove Speedway in Mechanicsburg, Pa. – Qualifying: 21; Heat race: DNF (7); B Main: 4 (4); Feature: 19 (18).
SEASON STATS –
21 races, 0 wins, 2 top fives, 6 top 10s, 9 top 15s, 11 top 20s
UP NEXT –
Wednesday at Lincoln Speedway in Abbottstown, Pa., for the Gettysburg Clash; Friday and Saturday at Williams Grove Speedway in Mechanicsburg, Pa., for the Morgan Cup with the World of Outlaws STP Sprint Car Series
MEDIA LINKS –
Website: http://www.TreyStarksRacing.com
Twitter: https://twitter.com/Starks55Trey
Facebook: https://www.facebook.com/TreyStarksRacing?fref=ts
APPAREL –
Starks has t-shirts and hoodies for sale at any race he attends as well as on http://www.TreyStarksRacing.com.
SPONSOR SPOTLIGHT – Blue Dot Fabrications
Blue Dot Fabrications is owned by Trey's uncle, Dean Starks, who fabricates various types of vehicles, including vintage cars and road race cars. Blue Dot Fabrications even built quarter midgets when Trey began racing. For more information, visit http://www.BlueDotFab.com.
"Blue Dot Fabrications is another business that has been around my family my entire life," Starks said. "My uncle, Dean, has always been around ready to fix anything that gets dinged up at the track."
Starks would also like to thank Southstar Equipment, Starks Timber Processing, King Racing Products, Masco Petroleum, SpeedMart, RCC Powder Coating and Emory Transmission for their continued support.
INSIDE LINE PROMOTIONS –
Inside Line Promotions specializes in affordable public relations and media management for motor sports drivers, teams, sponsors, tracks, series, events, organizations and manufacturers. ILP Founder Shawn Miller leverages professional journalism with new media technologies and social networking to improve your exposure and the return on investment for your sponsors.
To meet the media relations needs of your program and to join Team ILP, contact Shawn at 541-510-3663 or InsideLinePromotions@gmail.com. For more information on Inside Line Promotions, visit http://www.InsideLinePromotions.com.