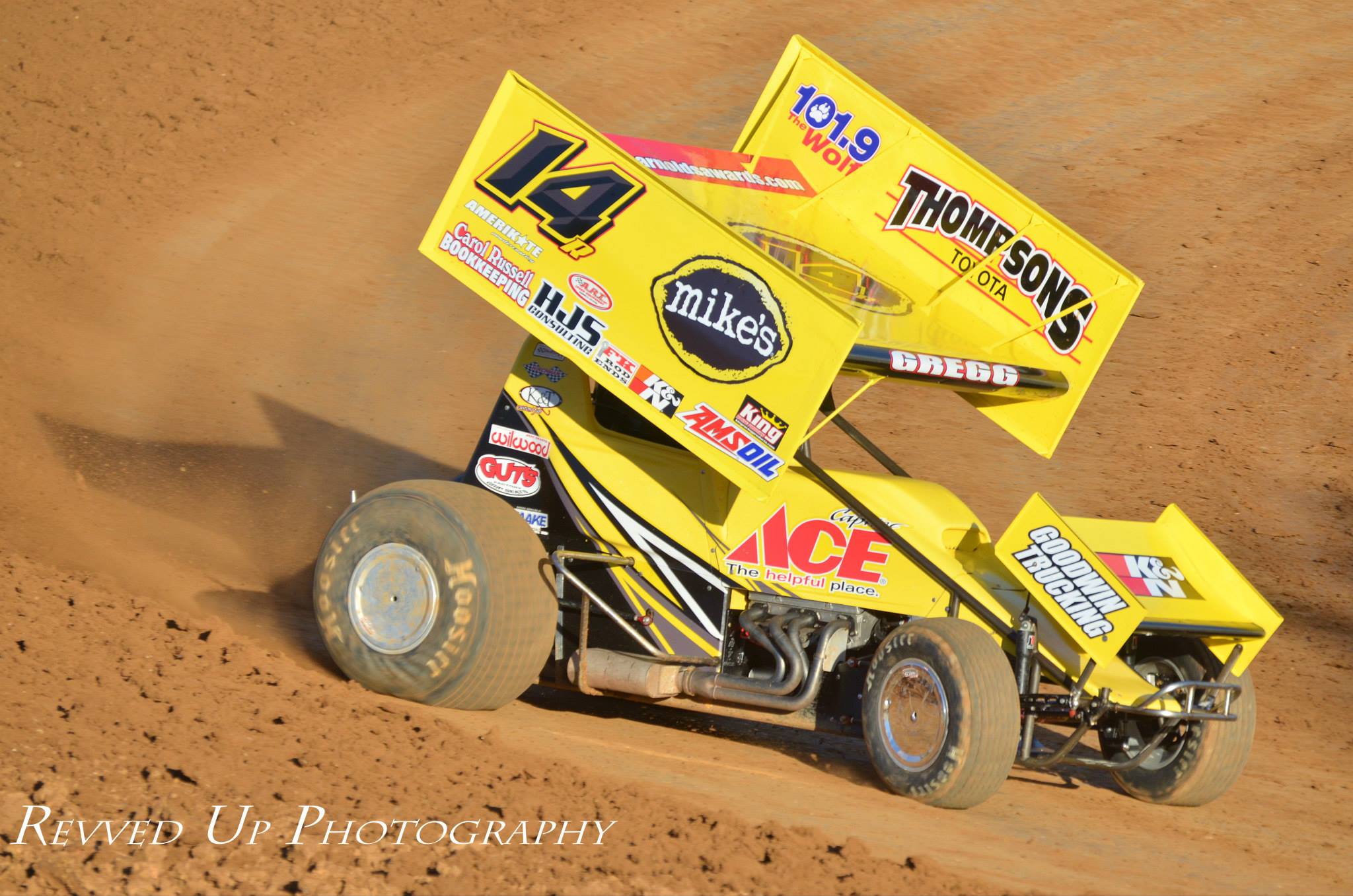 PETERSEN MEDIA
Andy Gregg was in action aboard both a 410ci and 360ci machine over this past weekend, and the Placerville, CA driver had a strong weekend highlighted by a fourth place finish on Friday night at the Silver Dollar Speedway.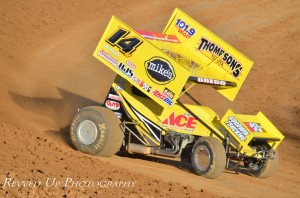 "We have had some great speed all year long, and to pick up another Top-Five, and then move forward on a tough track at Placerville shows what we are capable of," he said.
Friday night, Gregg was aboard his GUTS Racing/Miller Fortune/Poor's Equipment Repair No. 53 machine at the Silver Dollar Speedway in Chico, CA.
Setting the standard in time-trials with the quickest lap, Gregg would score a fourth place finish in his heat, earning a spot in the re-draw, where he pulled the one-pill, and lined up for the feature event on the pole.
As the race got underway, Gregg took the early lead, as they completed a lap before the yellow flag flew.
On the restart, Gregg got a nice jump and continued to lead the field as he worked the bottom of the speedway, but behind him, a couple of cars were experimenting with the high-side of the speedway, and gaining ground.
Losing the lead, Gregg, stayed strong, and hung with the new leaders, but was unable to get back to the front of the field, and settled for a fourth place finish.
"We had a really good car, but out front we had the lead, and felt really good, and on this night it paid off to not be the early the leader as some guys behind us could search and found something. We definitely will not hang out heads, as we continue to run well, and will gladly take our finish, and move on."
Saturday night, Gregg was aboard the Russell Motorsports No. 14R machine at the Placerville Speedway. With high-winds in the area beating up the race track, drivers were in for a very tough track from the start of the night, as Gregg timed in 13th fastest.
On an extremely slick surface that saw the field fight for the bottom of the speedway, Gregg finished sixth in his heat before winning the B main, putting him in the seventh row for the 25-lap feature event.
With most unable to move forward, Gregg was, as he slowly worked his way up to the ninth spot before a flat left rear tire forced him to forfeit all of the positions he gained, and make a quick trip to the work area.
Restarting from the back of the pack, Gregg was able to rally and pick up an 11th place finish.
"The wind really gave us a track that was tough to maneuver on, but Brian Cannon and my guys gave me a car that let me search around a little bit and pick up some spots," he explained. "I cannot thank everyone enough for their hard work all weekend."
Gregg and the Russell Motorsports team would like to thank Mike's Hard Lemonade, Capitol Ace Hardware, Thompson's Auto, Carrol Russell Bookkeeping, Arnold's For Awards, Goodwin Trucking, Farrell Design-Build Inc., K&N, FK Rod Ends, King Racing Products, A.R.T. Speed Equipment, GUTS, Amsoil, Wilwood, Amerikote, 101.9 The Wolf, Brown and Miller Racing Solutions, and HJS Consulting for their support this season.
ON TAP: Gregg be in action at the Silver Dollar Speedway on Friday night, and is unsure what direction he will head on Saturday at this time.
2014 BY THE NUMBERS: Races-12, Wins-1, Top 5's-7, Top 10's-7
STAY CONNECTED: Stay up to speed with Andy by following him on twitter @andygregg16x.
PETERSEN MEDIA: Petersen Media specializes in motorsports media constructing news releases, both pre and post race, as well as constructing email lists to keep sponsors, and fans up to date. Petersen Media also utilizes today's Social Media networks to provide trackside updates to fans and sponsors, and can customize packages to fit your team's needs.
For more information contact sales@Petersenmediainc.com, by phone at 916-342-3424,  visit www.petersenmediainc.com,  www.facebook.com/PetersenMedia or follow www.twitter.com/Petersen_Media.
________________________