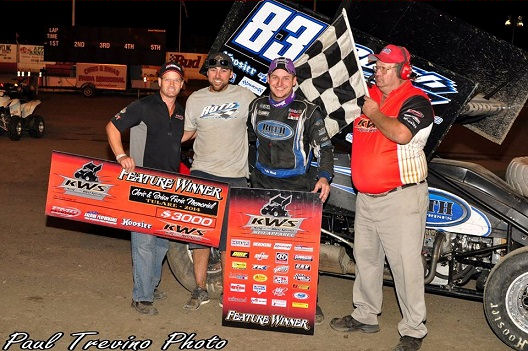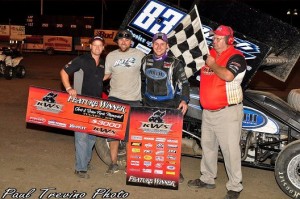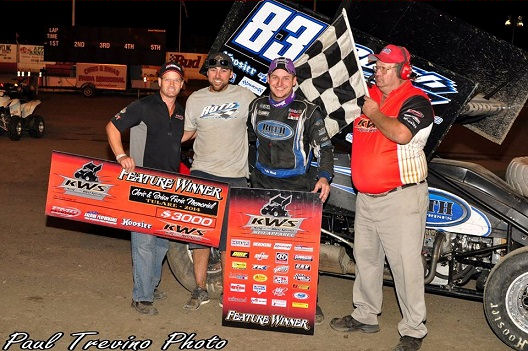 By Gary Thomas
Tulare, CA – May 17, 2014…When it has come to consistency in this early season with the King of the West 410 Sprint Car Series, nobody has been better than Chico's Kyle Hirst and on Saturday at the annual Chris & Brian Faria Memorial the defending champion was able to put himself in position and pick up his first KWS win of the year.
Also sharing victory lane at the Merle Stone Chevrolet Thunderbowl Raceway on Saturday night was Hollister's Ryan Bernal with the USAC West Coast & Western Classic Series, along with Jimmy Reeves in the IMCA Dirt Modifieds feature.
The victory for Hirst came after early leaders Willie Croft and Carson Macedo both ran out of fuel during the 30-lap main event. The second generation put himself in perfect position however, and when Macedo's car sputtered on a restart with two-laps remaining, Hirst pounced on the lead and never looked back for his eighth career King of the West 410 Sprint Car Series win.
"It feels awesome to finally get my first 410 win here at the Thunderbowl after being so close a number of times," said Hirst, who moved into a tie with Jason Statler for 13th on the all-time KWS win list. "It was a tough race once the rubber got down and we all really just had to fall in line. I can't thank Dennis & Teresa Roth and this whole team enough for the opportunity I have to drive the 83 car."
The previous weekend's winner in Petaluma, Willie Croft, looked strong early on out front as he looked to make it back-to-back wins in KWS competition. After a handful of laps complete the surface began to take rubber more and more, which made passing opportunities limited. Croft led the field for the majority of the contest, but on a lap-23 restart lost the lead to Carson Macedo and then slowed to a stop as he ran out of fuel. Once in front Macedo pulled away looking for his first KWS win.
The 18-year-old from Lemoore appeared to be on way to victory, but just as soon as he was set to take the white flag, the yellow lights flashed for Chico's Jonathan Allard in turn two. Allard had put together his best night of the season up to that point with the King of the West 410 Sprint Car Series, having set fast time, won his heat and ran as high as second in the main event. On the restart Macedo's car starved for fuel and Hirst rocketed by to take the lead, before taking the checked flag for season win number one with the King of the West 410's. Macedo would slow and ultimately finish 13th.
After a couple weeks of tough luck Fremont's Shane Golobic came home second in the feature aboard the Joe VonSchriltz No. 121 machine. It marked Golobic's best career Thunderbowl Raceway KWS finish. Elk Grove's Bobby McMahan also did a solid job in the feature to come from 11th to third aboard the American Tool & MFG No. 25 mount. The veteran scored his best finish in a number of years at the track aboard a 410 Sprint Car. Rounding out the top-five was Fresno's Craig Stidham, who earned the hard charger award coming from 15th to fourth and Scotts Valley's Evan Suggs, who picked up his best finish of the season as well.
Hanford's DJ Netto came from 16th to sixth in the feature, Campbell's Brent Kaeding went 17th to seventh, Auburn's Richard Brace Jr. tallied his best ever KWS Thunderbowl finish in eighth, Fresno's Dominic Scelzi was ninth from 18th and Roseville's Colby Copeland completed the top-10.
In the USAC West Coast/ Western Classic Series main event it was Ryan Bernal also taking advantage of a couple drivers having issues to claim a clean sweep for the weekend with the traveling series'. Campbell's Bud Kaeding had dominated the 30-lapper until suffering a flat right rear tire. Huntington Beach's Nick Faas then looked to be in position for victory, prior to suffering a flat tire on lap 23. After that it was Bernal up front holding off a last lap charge from Tipton's Danny Faria Jr.
"That was definitely a strange main event tonight, but luckily we are the ones standing up here in victory," Bernal commented. "It was a tough track with the rubber being down and I really tried to save my tires and had to drive it as straight as possible like a stock car. To sweep the weekend is a great feeling and I can't thank this whole team enough for the opportunity this season. We've been really fast and it has me pretty excited for the rest of the year."
Faria Jr. came home in second, with Markus Niemela in third, Matt Mitchell in fourth and Jace Vander Weerd rounding out the top-five in the feature. The remainder of the top-10 was filled out by Marty Hawkins, Austin Liggett, DJ Johnson, Austin Stone and Bud Kaeding.
Racing will return to the Merle Stone Chevrolet Thunderbowl Raceway on Saturday May 31 with the USAC West Coast Sprint Car Series and USAC Western Midgets. Also on hand will be the IMCA Modifieds and RaceSaver Winged Sprints.
The King of the West 410 Sprint Car Series will have a couple weekends off, before resuming action with a double header weekend on Friday & Saturday June 6 & 7. The Friday program will take place at Chico's Silver Dollar Speedway and marks the second annual David Tarter Memorial, while Saturday's event will be the lone season appearance at the Marysville Raceway Park.
USAC West Coast/ Western Classic feature finish: 1. Ryan Bernal, 2. Danny Faria Jr., 3. Markus Niemela, 4. Matt Mitchell, 5. Jace Vander Weerd, 6. Marty Hawkins, 7. Austin Liggett, 8. D.J. Johnson, 9. Austin Stone, 10. Bud Kaeding, 11. Chris Ennis, 12. Troy Rutherford, 13. Dennis Howell, 14. Kyle Hirst, 15. Richard Vander Weerd, 16. Nic Faas, 17. Scott Hall, 18. T.J. Smith, 19. Jeff Sibley, 20. Landon Hurst, 21. Michael Faccinto, 22. Colby Copeland.
King of the West 410 feature finish: 1. Kyle Hirst, 2. Shane Golobic, 3. Bobby McMahan, 4. Craig Stidham, 5. Evan Suggs, 6. DJ Netto, 7. Brent Kaeding, 8. Richard Brace Jr., 9. Dominic Scelzi, 10. Colby Copeland, 11. Sean Becker, 12. Mitchell Faccinto, 13. Carson Macedo, 14. Scott Parker, 15. Gordon Rodgers, 16. Jonathan Allard, 17. Willie Croft, 18. Mike Faria, 19. Jason Statler, 20. Geoffrey Strole, 21. Sean McMahan, 22. Bud Kaeding, 23. Jarrett Soares