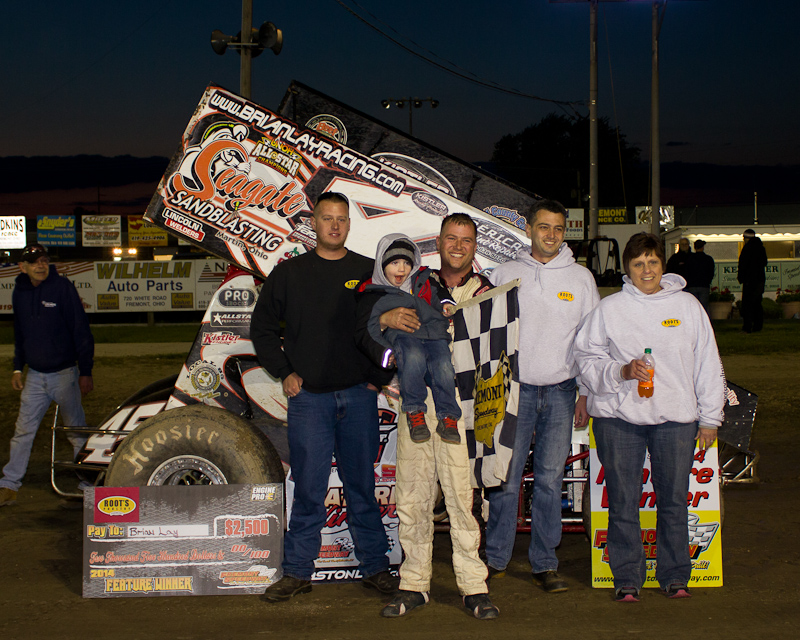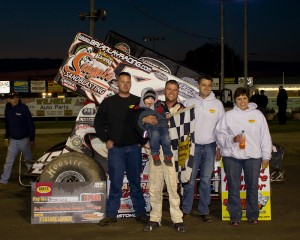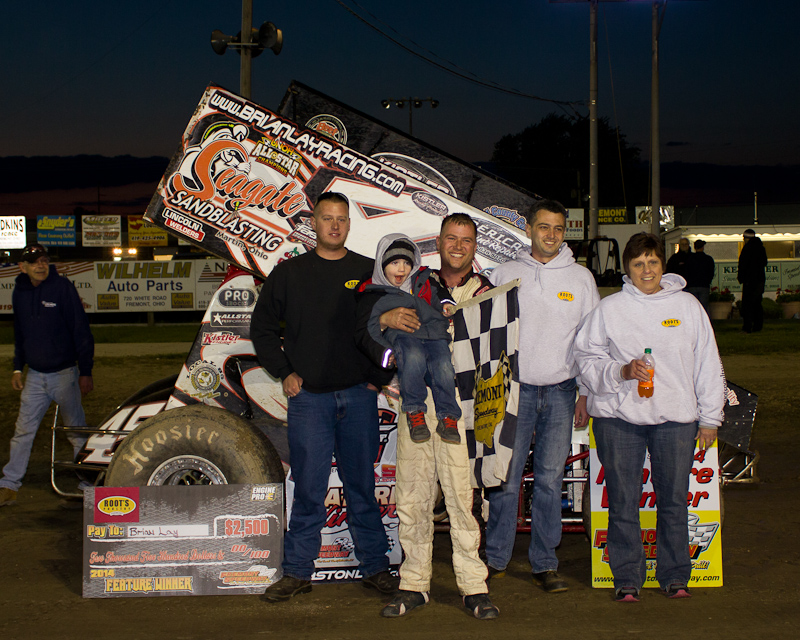 From Brian Liskai
Fremont, OH — (May 17, 2014) — A week ago Brian Lay was hesitant in lapped traffic while leading the Fort Ball Pizza Palace 410 Sprint feature at Fremont Speedway. With the talented field of cars that compete weekly at "The Track That Action Built," any moment of hesitation can cost you and it did for Lay as he lost the lead and finished second. However, the Millbury, Ohio driver wasn't going to allow that to happen again on Root's Poultry Night this Saturday. He muscled his way through and around lapped cars and went on to score his first career victory at Fremont Speedway, leading all 30 laps of the non-stop event.
"I'm so excited right now. This is my first win at Fremont. It's been kind of a hard run. This track's tricky to get around but tonight was our night," said Lay beside his Seagate Blasting/Local 85 Boilermakers/Big Apple Deli and Flower Shop/Wood County Collision/Dave Story Equipment Repair/Gary Shumaker/Warpaint Graphics/Kistler Engines/Callies Performance backed machine.
"I lost one here last weekend to lapped traffic. I swore next time when I came to lapped traffic I wasn't slowing down a bit and I tried my hardest to get through it and now we're standing up here on the front stretch," added Lay in the Engine Pro Victory Lane. "All it takes is one bobble here and it will cost you the win. I'm so proud to be out here. I want to thank my whole crew and all my sponsors…it's because of them we are standing up here."
It was a good point night for Lay in the chase for the Kistler Racing Products FAST (Fremont Attica Sprint Title) Championship Series. He became the fifth winner in five FAST events in 2014.
Last year's rookie of the year in the Fremont Federal Credit Union 305 Sprints TJ Michael patiently made his way to the front of the field from his 11th starting spot. He moved into second by lap 15 as Nate Dussel seemed to be headed to the victory. But, a caution with four laps to go put the Plano, Texas driver right on the rear bumper of Dussel and he made the most of the opportunity. Michael drove under Dussel with two laps to go and went on to score his second career Fremont victory.
"I figured if I rode his bumper going down the front stretch I'd be able to get a good run and I finally passed him," said Michael beside his Advanced Cast Stone/Fremont Fence/Fremont Floor Covering/Kear's Speed Shop/ProShocks/Little Bar on the Prairie/Snap-on Tools backed machine.
"To be honest I didn't think where we started I'd be standing here right now. I just wanted to get going fast and pass cars early and hope for cautions. I have to thank my Dad and crew for all the work they have done," added Michael.
Michael is working to claim the JLH General Contractors FAST Championship title and Saturday's win helps tighten up that point battle.
Risingsun, Ohio's Shawn Valenti continued his hot streak in the AAA Ohio Auto Club Dirt Trucks, driving to his fourth win of the season at Fremont. It was the 13th of his career at the speedway. Coupled with wins at Attica Raceway Park, Valenti now has six total victories in 2014.
However, the highlight of the dirt truck feature was Kyle Cline accepting the Baumann Auto Group Big Bucks Bump challenge. He originally was scheduled to start on the outside front row, but took the challenge to go to the tail with the chance to win $5,000. He managed to come through to a 7th place finish and his prize money was doubled for accepting the challenge.
"This is a hell of a start to a year. Race track was awesome tonight and hopefully all the students who came out tonight enjoyed themselves. I'd like to take the challenge but none of these are easy. I have to thank Kevin Shammo at KS Sales and Service, Craig Miller Trucking, Pisanello Pizza of Bradner, Burns Petroleum, Conrad Trucking, Daydreams and Memories, Best Performance Motorsports, Gressman Powersports…without all these guys it wouldn't be possible," said Valenti.
Broc Martin and Lay would bring the field to the green in the 30-lap 410 sprint feature with Lay getting the upper hand over Martin, Dale Blaney, Caleb Helms, Travis Philo and Dean Jacobs. Lay was setting a blistering pace on the fast track and encountered heavy lapped traffic by the sixth circuit.
Lay would slice his way through the traffic as both Martin and Blaney closed at the half-way point it was Lay over Martin, Blaney, Helms, Jacobs, Philo, Byron Reed and D.J. Foos (up from his 18th starting spot. Blaney would use lapped cars to drive into second on lap 19.
With five laps to go Lay was in heavy traffic and Blaney closed quickly. With 28 laps in the books Blaney was right on Lay's rear bumper. However, Lay was able to negotiate through the lapped cars and drove to the win over Blaney, Martin, Helms and Jacobs.
Dussel and rookie Trey Jacobs paced the field in the 25 lap 305 sprint feature with Dussel blasting into the lead. Jacobs, Jordan Ryan, Steve Rando, Dustin Dinan, Alvin Roepke, Bobby Clark and new track record holder John Ivy gave chase. With five laps in Ryan and Dinan were battling for third when Ryan made hard contact with the turn two soft wall ending his run.
On the restart Dussel again pulled away as Jacobs was locked in a battle with Dinan for second as Michael had worked his way to fourth. On lap 10 Jacobs would spin in turn two with the restart order Dussel, Dinan, Michael, Rando, Ivy and Clark. Dinan would pressure Dussel on the restart as Rando challenged Michael for third. Michael would drive under Dinan for second on lap 14 with the caution flying a circuit later when Dan Hammond spun.
When the green reappeared it was Dussel over Michael, Dinan, Ivy, Rando, Clark, Alvin Roepke and Tyler Gunn, who was piloting a different car for the first time and had worked his way up from his 15th starting spot. Josh Harrison would spin in turn four on lap 19 to bunch up the field again. But before any more passing could take place when the green reappeared, Luke Griffith would spin on lap 21.
The restart order was Dussel, Michael, Dinan, Ivy, Rando, Clark, Gunn and Roepke. When the green flew Michael was glued to Dussel's rear bumper and as they flew into turns one and two he made his move, driving under the leader for the top spot. Michael would pull away for the win over Dussel, Dinan, Ivy and Rando.
With Cline accepting the Baumann Auto Group Big Bucks Bump, Jeff Ward and Cory McCaughey would bring the dirt trucks to the green in their 20 lap feature with Brian Melnek Jr. and Valenti making up row two. Ward would grab the lead over Valenti, Melnek, McCaughey and Matt Foos. Valenti didn't wait long to make his move, driving around Ward on lap two with Foos taking second a circuit later.
With four laps in the books Valenti led Foos, Kent Brewer, Melnek, Ward and Keith Sorg. The first caution would fly on lap 9 for debris with the running order Valenti, Foos, Brewer, Melnek, Ward, Sorg, Dana Fry, McCaughey, Art Ball and Bob Dible. Valenti would pull away when the green flew with Foos not facing a challenge from Brewer.
The second and final caution of the feature appeared on lap 15 when Andrew Lutman stopped on the front stretch. Again Valenti pulled away as the great battle for second through eighth continued. Valenti would blast to the checkers over Foos, Brewer, Melnek and Ball.
The University of Northwestern Ohio All Star Circuit of Champions make their first appearance of the season at Fremont Speedway on Kear's Speed Shop Night, Saturday, May 24 and Budweiser Night, Sunday, May 25. The 305 sprints and dirt trucks are also racing both nights. Saturday's three features will add up to 100 laps of racing with the All Stars going for 50 laps for $10,000 to win.
For more information go to www.fremontohspeedway.com
Fremont Speedway – 5/17/2014
Root's Poultry Night
Fort Ball Pizza Palace 410 Sprints (26 Cars)
[#]-Starting Position
Qualifying – Fricker's Restaurant/Callie's Performance
1. 14-Dale Blaney, 12.269; 2. 5T-Travis Philo, 12.465; 3. 40-Caleb Helms, 12.536; 4. 14H-Todd Heller, 12.547; 5. 46AU-Stuart Williams, 12.557; 6. O9-Craig Mintz, 12.566; 7. 9-Dean Jacobs, 12.584; 8. 83M-Broc Martin, 12.615; 9. 45L-Brian Lay, 12.640; 10. 63-Chad Kemenah, 12.642; 11. 55-Brad Bowman, 12.645; 12. 5R-Byron Reed, 12.657; 13. 81-Lee Jacobs, 12.692; 14. 40DD-Caleb Griffith, 12.731; 15. 2+-Brian Smith, 12.820; 16. 16-Chris Andrews, 12.831; 17. 9Z-Duane Zablocki, 12.917; 18. 53-DJ Foos, 12.956; 19. 312-Mike Linder, 12.956; 20. 60-Jody Keegan, 13.034; 21. 35-Stuart Brubaker, 13.051; 22. 9X-Rob Chaney, 13.111; 23. O7X-Dain Naida, 13.412; 24. 39M-Matt Merrill, 13.453; 25. 93-Sheldon Haudenschild, 13.455; 26. 17-Scott Euler, 15.015
Heat 1 – American Power Sports (8 Laps – Top 5 finishers transfer to the A-feature)
1. 81-Lee Jacobs[2] ; 2. 16-Chris Andrews[1] ; 3. 63-Chad Kemenah[3] ; 4. 14-Dale Blaney[6] ; 5. 9-Dean Jacobs[4] ; 6. 14H-Todd Heller[5] ; 7. 312-Mike Linder[7] ; 8. 93-Sheldon Haudenschild[9] ; 9. 9X-Rob Chaney[8]
Heat 2 – Kistler Racing Products (8 Laps – Top 5 finishers transfer to the A-feature)
1. 40DD-Caleb Griffith[2] ; 2. 83M-Broc Martin[4] ; 3. 9Z-Duane Zablocki[1] ; 4. 55-Brad Bowman[3] ; 5. 5T-Travis Philo[6] ; 6. 60-Jody Keegan[7] ; 7. 46AU-Stuart Williams[5] ; 8. 17-Scott Euler[9] ; 9. O7X-Dain Naida[8]
Heat 3 – Hoosier Racing Tires (8 Laps – Top 5 finishers transfer to the A-feature)
1. 53-DJ Foos[1] ; 2. 2+-Brian Smith[2] ; 3. 40-Caleb Helms[6] ; 4. 45L-Brian Lay[4] ; 5. 5R-Byron Reed[3] ; 6. O9-Craig Mintz[5] ; 7. 35-Stuart Brubaker[7] ; 8. 39M-Matt Merrill[8]
Dash – Borer Glass & Mirror (6 Laps, finishing order determined first 6 starting positions of A-feature
1. 83M-Broc Martin[2] ; 2. 45L-Brian Lay[1] ; 3. 40-Caleb Helms[4] ; 4. 14-Dale Blaney[6] ; 5. 5T-Travis Philo[5] ; 6. 9-Dean Jacobs[3]
B-Main – Computer Man Inc. (10 Laps – Top 5 finishers transfer to the A-feature)
1. 14H-Todd Heller[1] ; 2. 46AU-Stuart Williams[2] ; 3. O9-Craig Mintz[3] ; 4. 312-Mike Linder[4] ; 5. 9X-Rob Chaney[7] ; 6. 93-Sheldon Haudenschild[10] ; 7. 60-Jody Keegan[5] ; 8. 35-Stuart Brubaker[6] ; 9. 17-Scott Euler[11] ; 10. 39M-Matt Merrill[9] ; 11. O7X-Dain Naida[8]
A-Main –  (30 Laps)
1. 45L-Brian Lay[2]; 2. 14-Dale Blaney[4]; 3. 83M-Broc Martin[1]; 4. 40-Caleb Helms[3]; 5. 9-Dean Jacobs[6]; 6. 5T-Travis Philo[5]; 7. 81-Lee Jacobs[10]; 8. 53-DJ Foos[18]; 9. 40DD-Caleb Griffith[14]; 10. 63-Chad Kemenah[7]; 11. 5R-Byron Reed[9]; 12. 46AU-Stuart Williams[12]; 13. O9-Craig Mintz[13]; 14. 9X-Rob Chaney[20]; 15. 55-Brad Bowman[8]; 16. 14H-Todd Heller[11]; 17. 9Z-Duane Zablocki[17]; 18. 16-Chris Andrews[16]; 19. 2+-Brian Smith[15]; 20. 312-Mike Linder[19]
Hard Charger: 53-DJ Foos[+10]
Fremont Federal Credit Untion 305 Sprints (24 Cars)
[#]-Starting Position
Qualifying – Callie's Performance
1. 8I-John Ivy, 13.286 (NTR); 2. 25-Jason Keckler, 13.457; 3. 36-Seth Schneider, 13.508; 4. 12-Kyle Capodice, 13.535; 5. 6-Dustin Dinan, 13.537; 6. 7A-Alvin Roepke, 13.548; 7. 8-Bobby Clark, 13.553; 8. 5R-Jordan Ryan, 13.561; 9. 19R-Steve Rando, 13.590; 10. 3J-Trey Jacobs, 13.634; 11. 1-Nate Dussel, 13.658; 12. 1W-Paul Weaver, 13.665; 13. 9-Jimmy Colvin, 13.667; 14. 8M-T.J Michael, 13.697; 15. 10-Josh Harrison, 13.803; 16. 2-Ricky Peterson, 13.803; 17. 22M-Dan McCarron, 13.810; 18. 29-Tyler Gunn, 13.817; 19. 11G-Luke Griffith, 13.842; 20. 32-Dan Hennig, 13.890; 21. 22D-Dan Hammond, 13.981; 22. 7M-Brandon Moore, 13.989; 23. 39C-Scott Riley, 14.581; 24. 1X-Kyle Peters, 16.478
Heat 1 – American Power Sports (8 Laps – Top 5 finishers transfer to the A-feature)
1. 9-Jimmy Colvin[2] ; 2. 8-Bobby Clark[4] ; 3. 2-Ricky Peterson[1] ; 4. 3J-Trey Jacobs[3] ; 5. 8I-John Ivy[6] ; 6. 12-Kyle Capodice[5] ; 7. 7M-Brandon Moore[8] ; 8. 11G-Luke Griffith[7]
Heat 2 – Kistler Racing Products (8 Laps – Top 5 finishers transfer to the A-feature)
1. 8M-T.J Michael[2] ; 2. 6-Dustin Dinan[5] ; 3. 22M-Dan McCarron[1] ; 4. 5R-Jordan Ryan[4] ; 5. 1-Nate Dussel[3] ; 6. 25-Jason Keckler[6] ; 7. 32-Dan Hennig[7] ; 8. 39C-Scott Riley[8]
Heat 3 – Hoosier Racing Tires (8 Laps – Top 5 finishers transfer to the A-feature)
1. 10-Josh Harrison[2] ; 2. 29-Tyler Gunn[1] ; 3. 19R-Steve Rando[4] ; 4. 1W-Paul Weaver[3] ; 5. 7A-Alvin Roepke[5] ; 6. 36-Seth Schneider[6] ; 7. 22D-Dan Hammond[7]
B-Main – Computer Man Inc. (10 Laps – Top 5 finishers transfer to the A-feature)
1. 36-Seth Schneider[2] ; 2. 25-Jason Keckler[1] ; 3. 11G-Luke Griffith[4] ; 4. 12-Kyle Capodice[3] ; 5. 22D-Dan Hammond[6] ; 6. 7M-Brandon Moore[7] ; 7. 32-Dan Hennig[5] ; 8. 39C-Scott Riley[8]
A-Main –  (25 Laps)
1. 8M-T.J Michael[11]; 2. 1-Nate Dussel[1]; 3. 6-Dustin Dinan[7]; 4. 8I-John Ivy[8]; 5. 19R-Steve Rando[3]; 6. 7A-Alvin Roepke[6]; 7. 29-Tyler Gunn[15]; 8. 8-Bobby Clark[5]; 9. 36-Seth Schneider[16]; 10. 25-Jason Keckler[17]; 11. 9-Jimmy Colvin[10]; 12. 2-Ricky Peterson[13]; 13. 12-Kyle Capodice[19]; 14. 22M-Dan McCarron[14]; 15. 22D-Dan Hammond[20]; 16. 11G-Luke Griffith[18]; 17. 3J-Trey Jacobs[2]; 18. 10-Josh Harrison[12]; 19. 5R-Jordan Ryan[4]; 20. 1W-Paul Weaver[9]
Hard Charger: 8M-T.J Michael[+10]
AAA Auto Club Dirt Trucks (20 Trucks)
[#]-Starting Position
Qualifying – Callie's Performance
1. 7B-Shawn Valenti, 18.062; 2. 8KB-Kent Brewer, 18.156; 3. 36M-Cory McCaughey, 18.328; 4. 45M-Brian Melnek Jr., 18.356; 5. 17-Bob Dible, 18.368; 6. 33C-Kyle Cline, 18.505; 7. 33-Jeff Ward, 18.571; 8. 4S-Keith Sorg, 18.610; 9. 18W-Cory Ward, 18.611; 10. O1-Art Ball, 18.628; 11. 2-Matt Foos, 18.680; 12. 37-Eric Devanna, 18.791; 13. 3X-Brad Keckler, 18.843; 14. 5-Jim McGrath, 18.946; 15. D1-Dustin Keegan, 18.949; 16. 7-Dana Frey, 19.013; 17. 99X-Gene Portidge, 19.256; 18. 22-Brandon Leighton, 19.623; 19. 79-Andrew Lutman, 19.879; 20. 3-Andy Earnhart, 21.284
Heat 1 – American Power Sports (8 Laps – Top 5 finishers transfer to the A-feature)
1. 7B-Shawn Valenti[6] ; 2. 7-Dana Frey[1] ; 3. 45M-Brian Melnek Jr.[5] ; 4. 33-Jeff Ward[4] ; 5. O1-Art Ball[3] ; 6. 79-Andrew Lutman[7] ; 7. 3X-Brad Keckler[2]
Heat 2 – Kistler Racing Products (8 Laps – Top 5 finishers transfer to the A-feature)
1. 2-Matt Foos[3] ; 2. 8KB-Kent Brewer[6] ; 3. 5-Jim McGrath[2] ; 4. 4S-Keith Sorg[4] ; 5. 99X-Gene Portidge[1] ; 6. 17-Bob Dible[5] ; 7. 3-Andy Earnhart[7]
Heat 3 – Hoosier Racing Tires (8 Laps – Top 5 finishers transfer to the A-feature)
1. 33C-Kyle Cline[5] ; 2. D1-Dustin Keegan[2] ; 3. 18W-Cory Ward[4] ; 4. 36M-Cory McCaughey[6] ; 5. 37-Eric Devanna[3] ; 6. 22-Brandon Leighton[1]
A-Main –  (20 Laps)
1. 7B-Shawn Valenti[4]; 2. 2-Matt Foos[8]; 3. 8KB-Kent Brewer[5]; 4. 45M-Brian Melnek Jr.[3]; 5. O1-Art Ball[9]; 6. 4S-Keith Sorg[7]; 7. 33C-Kyle Cline[20]; 8. 17-Bob Dible[14]; 9. 7-Dana Frey[12]; 10. 5-Jim McGrath[10]; 11. D1-Dustin Keegan[13]; 12. 37-Eric Devanna[11]; 13. 36M-Cory McCaughey[2]; 14. 99X-Gene Portidge[15]; 15. 22-Brandon Leighton[16]; 16. 33-Jeff Ward[1]; 17. 3-Andy Earnhart[18]; 18. 79-Andrew Lutman[19]; 19. 18W-Cory Ward[6]
Hard Charger: 33C-Kyle Cline[+13]