By John Lemon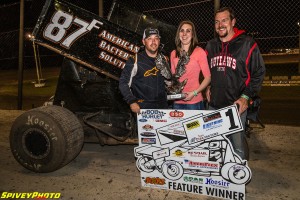 Salina Oklahoma (May 17, 2014) – Brian McClelland became the twelfth different winner tonight in as many Oil Capital Racing Series sprint car main events held at the Salina Highbanks Speedway. McClelland didn't just out perform his peers, he smoked them as he crossed the line with the second place car of Jamie Passmore still in turn three on a superbly prepared racetrack by the Salina Highbanks staff.
Casey Wills broke out to lead at the start in his AmeriFlex Hose and Accessories backed sprinter with Shayla Waddell and Kade Morton in pursuit. Working the second lap, Brodix / PM PRO rookie challenger Cameron Hagin would flip the Shotgun Sam's Pizza special on the backstretch thus bringing the racing action to a halt. Hagin's car was in bad shape but he was OK. Alex DeCamp would retire to the pits with a steering box problem and would not restart. Hagin would be declared the D&E Supply Hard Luck recipient for the event.
Shortly after going green, Nigel Calvert would spin in turn four and the track would go yellow. The second attempt to restart lap two saw Wills lead the field into turn one while Morton passed Waddell in turn two. McClelland would take third from Waddell in turn three of the same lap. McClelland then made an attempt to overtake Morton in turn four but Morton beat McClelland back to the line to hold the position. Prior to McClelland's attempt to steal Morton's position, Kyle Clark would work his way past Waddell for the fourth spot.
The second red of the race would fall as the field was working the fourth lap as Wills slipped in turn two just enough to scrub off some speed and that started the field behind him to check-up quickly. Waddell, who typically has very good runs at the Highbanks, would roll over in turn two. She would walk away from the scene OK. The lap three restart would have Wills on top followed by Morton, McClelland, Clark, Andrew Deal, Jamie Passmore and Michael Tyre.
Going into the third turn on the restart, McClelland executed a splendid double slide job on the two front-runners in the Precision Coatings / American Bacterial Solutions / XXX car to take the lead. "I got a good run off of (turn) two and saw Kade was going to stay on the top side (of turn three) and I saw my chance, so I slid both of them and just went on" said McClelland.
Morton would then wrestle the second spot form Wills a lap later. While all this was going on, Passmore was quietly creeping up on the lead pack from his 5th row starting position. Passmore would pass Clark for third but that move was voided out when another yellow came out for a turn four spin by Tyre.
Passmore would take second on the tenth lap in his GAP Roofing / Wesmar / Eagle and found himself with an eight car length differential to try and track down McClelland's 'Black Mamba'. On lap 13, Danny Smith, much like DeCamp, would exit the track with steering box woes. McClelland would continue to stretch out his lead as the laps clicked down while he was lapping the field up to the fourth spot.  As McClelland came across the line for the final time, Passmore was still in turn three and Waylon Weaver crashed hard into the turn 2 wall. Weaver's car was totaled, yet Weaver walked away OK. The race would be officially over as the McClelland had taken the checkered flag. Kade Morton held firm for third with Clark fourth and the AmeriFlex Hose and Accessories Hard Charger went to Chance Morton for his 17th to 5th place charge.
Said McClelland in victory lane: "The motor felt like it was going to let go any lap. It kept shaking and it felt like we might have some dead valve springs. Everybody says it looked fast but it didn't feel fast from the drivers seat. Every lap I kept seeing that number 4 (Passmore) creep up the scoreboard and I saw where he got into second and I just became real aggressive in lapped traffic and I just started sliding cars 2 and 3 at a time. I didn't have a clue I was a straightaway ahead of Jamie until the crew told me after the race. That track for the A-Feature was as racy as you could get".
Next week, the OCRS warriors shed their wings for the first time in 2014, as the Osage Caney Valley Speedway in Caney Kansas will be the host for a Memorial Day weekend racing event. Come checkout some exciting wingless action with OCRS sprint cars next Saturday!
OCRS Race Results
May 17, 2014
Salina Highbanks Speedway
Salina Oklahoma, Oklahoma
Car Count: 23
AmeriFlex Hose & Accessories Heat
1- Danny Smith (#5$ Same Day Auto Repair) [1], 2- Jamie Passmore (#4j Passmore Racing) [3], 3- Casey Wills (#31Wills) [2], 4- Nigel Calvert (#16 Stevenson) [6], 5- Cameron Hagin (#5 Hagin Racing) [4], 6- Mickey Walker (#2 Walker) [5]. DNS – Kyle Cobb (#4c Cobb Brothers Racing), Grant Wresche (#13w Wresche)
Bob Hurley Auto Family Heat
1- Brian McClelland (#87f Fode) [1], 2- Andrew Deal (#15d Cagle Motorsports) [4], 3- Kyle Clark (#9$ Same Day Auto Repair) [6], 4- Glen Passmore (#69 Passmore Racing) [7], 5- Perry Pickard (# P-78 Pickard) [5], 6- Chance Morton (#7m Morton) [2], 7- 5- Dan Schnackenberg (#94 Schnackenberg) [3], DNS- Michael Gossman (#54 Gossman)
Drive Shaft Inc. Heat
1- Kade Morton (#8m Morton) [2], 2- Alex DeCamp (#84 DeCamp) [4], 3- Michael Tyre (#11 Tyre) [1], 4- Shayla Waddell (#88s Waddell) [6], 5- Frank Taft (#22t Taft) [3], 6- Waylon Weaver (#94w W&W Motorsports) [5], DNS – James Estes (#33 Estes)
Wesmar B-Feature (Top 8 Transfer)
1- Perry Pickard [7], 2- Cameron Hagin [6], 3- Kyle Cobb [8], 4- Waylon Weaver [11], 5- Chance Morton [9], 6- Grant Wresche [1], 7- Frank Taft [4], 8- James Estes [3]. 9- Dan Schnackenberg [5], DNS– Mickey Walker, Michael Gossman
OCRS A-Feature
1- Brian McClelland [7], 2- Jamie Passmore [10], 3- Kade Morton [3], 4- Kyle Clark [8], 5- Chance Morton [17], 6- Kyle Cobb [15], 7- Casey Wills [2], 8- Glen Passmore [9], 9- Nigel Calvert [5], 10- Waylon Weaver [16], 11- Perry Pickard [13], 12- Grant Wresche [18], 13- Frank Taft [19], 14- Michael Tyre [1], 15- Andrew Deal [11], 16- Danny Smith [12], 17- Shayla Waddell [4], 18- Alex DeCamp [6], 19- Cameron Hagin [14], 20- James Estes [20].
AmeriFlex Hose & Accessories Hard Charger: Chance Morton +12
D&E Supply Hard Luck Recipient: Cameron Hagin