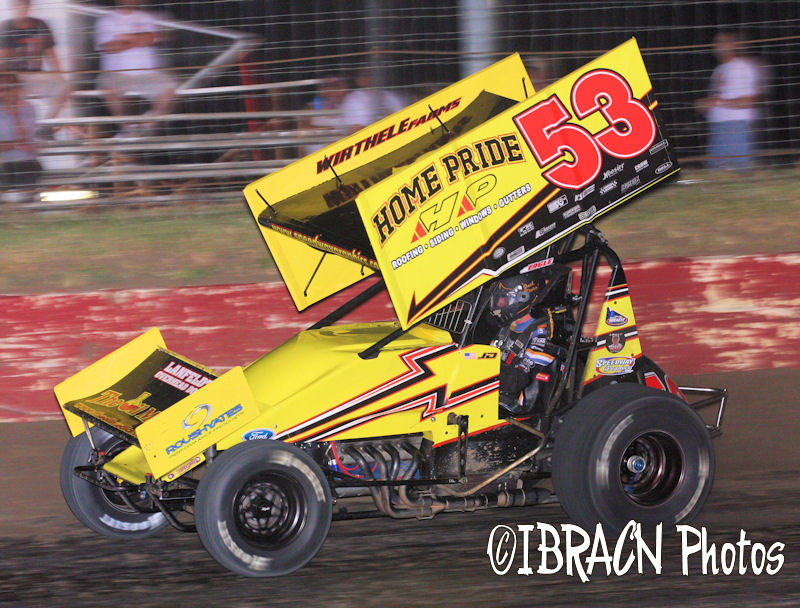 Inside Line Promotions
– KNOXVILLE, Iowa (May 20, 2014) – Jack Dover extended his streak to five consecutive podium finishes during his first visit of the season to the famed Knoxville Raceway last Saturday.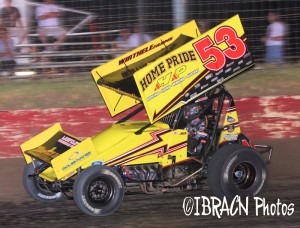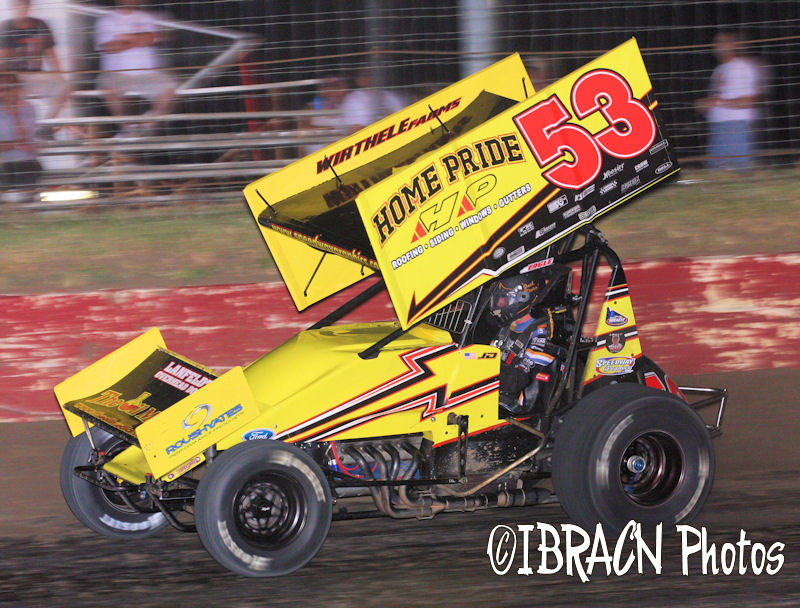 "For the first time being over there this year I'm really happy with how we did," he said. "I'm always out to win, but anytime you get a podium at Knoxville you've done something good."
Dover started the night a little off during qualifying.
"In hot laps we weren't too bad," he said. "We tightened the car up and then in time trials we missed the gear a little. I didn't think we were going to be that great so I was pretty happy with sixth place."
Dover qualified sixth quickest, which started him on the inside of the third row of his heat race.
"I kinda got messed up on the start and fell back to sixth," he said. "Everybody spread out, but I got back to fifth."
That locked him into the feature and as one of the top-eight qualifiers, Dover made the feature redraw. He pulled the No. 6 in the random draw to start the main event on the outside of the third row.
"We were good at the beginning," he said. "Once we started losing the fuel load my car got worse so I had to pull the wing back, which tightened the car too much. I wasn't able to get off the corners like I was at the beginning."
Dover rallied into the runner-up position just after the midpoint of the feature.
"We got to second and were catching (leader) Russ Hall," he said. "I decided to move up top in turns three and four and that's when (Brian) Brown slid me."
Dover dropped to third place with approximately four laps remaining and he held on for the podium result.
He will take that momentum into a tripleheader this weekend in his home state of Nebraska. Dover will kick off the action on Friday at Junction Motor Speedway in McCool Junction, Neb., with the ASCS Midwest Region. He will compete at Butler County Speedway in Rising City, Neb., on Saturday before wrapping up the weekend on Sunday at I-80 Speedway in Greenwood, Neb., with the Nebraska 360 Sprints.
"I know how to get around those tracks really good," he said. "I'm looking to win them all and bring home all of the money. I want more wins than last year."
Of his 15 victories last season, nine were at the three tracks Dover will compete at this weekend.
QUICK RESULTS –
May 17 – Knoxville Raceway in Knoxville, Iowa – Qualifying: 6; Heat race: 5 (5); Feature: 3 (6).
SEASON STATS –
7 races, 3 wins, 6 top fives, 7 top 10s, 7 top 15s, 7 top 20s
UP NEXT –
Friday at Junction Motor Speedway in McCool Junction, Neb., with the ASCS Midwest Region; Saturday at Butler County Speedway in Rising City, Neb., and Sunday at I-80 Speedway in Greenwood, Neb., with the Nebraska 360 Sprints
MEDIA LINKS –
Website: http://www.JackDoverRacing.com
Twitter: https://twitter.com/JackDoverRacing
Facebook: https://www.facebook.com/jackdoverracing?fref=ts
SPONSOR SPOTLIGHT – Moss Racing Engines
Moss Racing Engines manufactures Ford racing engines. The company was started by Chris Moss, who worked under the Roush Yates Racing Engines banner before creating his own company in 2013.
"You can call Chris any time of the day or night and he'll help you," Dover said. "The engines are reliable. He hasn't had any engine failures so that says a lot for his name and product."
Dover would also like to thank Home Pride Companies, Inc., Certified Transmission, Eagle Motorsports, Thorpe's Body Shop, Trail Performance Coatings, Inc., The Oil Medics, ButlerBuilt Professional Seat Systems, Keizer Wheels, Schoenfeld Headers, Shaver Racing Engines, Langfeldt Overhead Doors, K&N Filters, FK Rod Ends, DMI, Speedway Motors and Vortex Wings for their continued support.
PARTNERSHIP OPPORTUNITIES –
Jack Dover Racing is close to being able to compete across the country by returning to the Lucas Oil ASCS National Tour, where Dover has finished in the top 10 both seasons he has raced full time with the premier 360 sprint car series. He is also ready to compete with the World of Outlaws STP Sprint Car Series en route to his dream of racing in NASCAR. The only variable missing is a reliable truck and trailer. For more information on partnership opportunities, e-mail teamdover@gmail.com.
INSIDE LINE PROMOTIONS –
Inside Line Promotions specializes in affordable public relations and media management for motor sports drivers, teams, sponsors, tracks, series, events, organizations and manufacturers. ILP Founder Shawn Miller leverages professional journalism with new media technologies and social networking to improve your exposure and the return on investment for your sponsors.
To meet the media relations needs of your program and to join Team ILP, contact Shawn at 541-510-3663 or InsideLinePromotions@gmail.com. For more information on Inside Line Promotions, visit http://www.InsideLinePromotions.com.