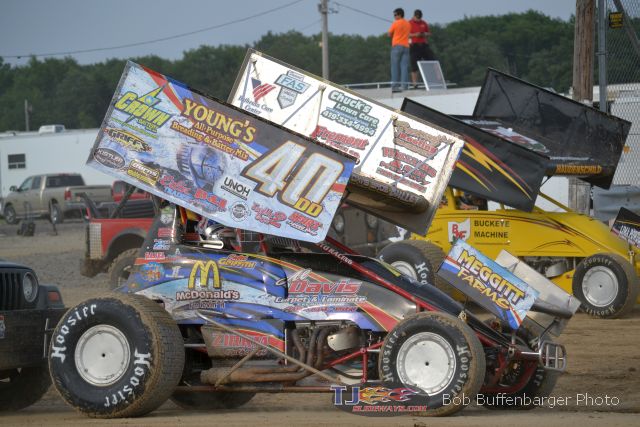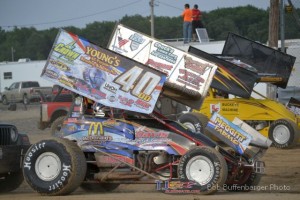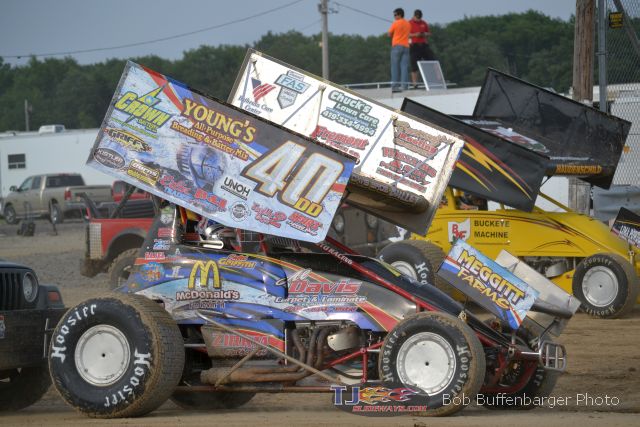 From Brian Liskai
Fremont, OH — (May 24, 2014) — Caleb Griffith held off Dale Blaney to claim his first career victory with the University of Northwestern Ohio All Star Circuit of Champions Saturday at Fremont Speedway. Griffith led all 30 laps and got some help from lapped traffic for his second win of the season at Fremont on Kear's Speed Shop Night. It is his sixth career win at "The Track That Action Built."
Griffith looked like he had the race completely in his hands until he raced into lapped traffic with eight laps to go. That allowed Blaney, who started 12th after having to replace the rear end and motor in his machine, to close. Griffith, from nearby Castalia, Ohio, raced to the outside of a lapped car but could not complete the pass. Fortunately for Griffith the lapped car was running the bottom groove where Blaney was and it prevented him from getting by.
The race was the 111th visit of the UNOH All Stars to Fremont Speedway and Griffith became the 43rd different driver to win series feature at "The Track That Action Built."
"I asked where he (Blaney was on that last red and they said fifth or sixth and we were just kind of hanging out. We weren't that good but not really that bad either. Stuart Brubaker is my favorite race car driver because he raced right next to me for like five laps. I was like 'whew this is good,'" said Griffith beside his Al Davis Carpet/McDonald's Restaurant/JLH General Contractor/Shelluke's Bar/Crown Battery/Fremont Fence/B&L Plumbing/Griff's Engines backed #40DD.
"This feels pretty good especially after we were pretty fast that All Star race the Friday night of the Jim Ford Classic last year but it didn't pan out. This is pretty cool for the team," concluded Griffith in the Engine Pro Victory Lane.
For Blaney, the second place run was a good points night for the four time UNOH All Star champion.
"We qualified well and before we took the green in the heat I thought the rear-end broke and it was actually the motor so we changed the rear-end and found the motor was broke so we changed the motor too. We got it done and made the most out of it," said Blaney beside his Kennedy Cattle/Ti22 Performance/Penske Shocks backed #14k. "We was coming. I got to him but I just couldn't do anything the last eight laps. I think I had a right rear tire going down and I was just sliding around. It's cool to see Caleb win his first one and D.J. run good."
D.J. Foos would record his best finish of the season with a third place run.
"This isn't a win but it's like a win for our team right now. We've been struggling all year and to run third to these guys… I'll take it any day," said Foos beside his Genzman Racing/Ludwig Propane/Level Performance backed #53.
Fremont, Ohio's Dustin Dinan would battle with Seth Schneider through the middle part of the Fremont Federal Credit Union 305 Sprint feature. Then in the closing laps Jordan Ryan got close but Dinan would hang on for his first win of the season and the eighth of his career at Fremont in a feature that went non-stop.
"This is great. We have a new team with Charlie Butler and Buzz and Aaron Fought and I have to thank Rich Farmer and Shelly Liskai for giving me the car to run and Dennis Level, Tanks Meats, Schiets Motorsports and Tender Touch Car Wash and my fiancee Rachel and my two beautiful daughters," said Dinan in the Engine Pro Victory Lane.
Risingson, Ohio's Shawn Valenti held off Dan Roepke Jr. throughout the 20 lap feature for the AAA Ohio Auto Club Dirt Trucks and went on to score his fifth victory of the year at Fremont. The win is Valenti's 14th career victory at Fremont.
"I was just trying to roll the bottom and he (Roepke) showed me his nose and I don't know what happened at the end," said Valenti beside is Best Performance Motorsports/Craig Miller Trucking/Conrad Transportation/Dave Story Equipment Repair/Day Dream and Memories Crafts and Antiques backed #7b. "This thing that Jeff Babcock puts under me…it's a beast. Like Dale Blaney said when you get confidence in you you get on a roll and start hitting your marks and wins happen."
Griffith and Gary Taylor would pace the field for the 30-lap All Star feature with Griffith gaining the advantage over third starter Foos, Taylor and Dean Jacobs. After one lap was completed James McFadden would do a 360 spin as the caution flew. On the restart Griffith led Foos, Taylor, Jacobs, Cole Duncan, McFadden, Brady Bacon and Brian Lay.
On lap three Craig Mintz and Lay would get together for another caution. On the restart Griffith now led Foos, Dean Jacobs, Taylor, Duncan, McFadden, Bacon and Blaney. Blaney would move into sixth on lap five as Griffith pulled away from Foos with Taylor and Dean Jacobs locked in a great battle for third.
The red would bring a halt to the action on lap 10 as Danny Holtgraver got upside down. He was uninjured. On the restart Griffith continued to lead Foos, Taylor, Dean Jacobs and Blaney when the red flew again on lap 11 when Byron Reed tipped over in turn four. The restart order was Griffith, Foos, Taylor, Dean Jacobs, Blaney, McFadden, Duncan and Chris Andrews. The car on the move was Lee Jacobs who started 24th and had worked his way to 11th.
As Griffith raced away from Foos, Taylor had his hands full with Blaney who would move into third on lap 14. Blaney would battle with Foos for second over the next three laps before taking the runner-up spot on lap 18. With 10 laps to go, Griffith had caught the back of the pack and they were racing side by side which allowed Blaney to close quickly. The lapped cars were giving Griffith and Blaney fits as Foos ran a comfortable third over Taylor, Duncan, McFadden and Lee Jacobs.
As they took the white flag, Blaney stuck the nose of his car under Griffith but a lapped car blocked his advance. Griffith would race the outside groove to perfection to take the win over Blaney, Foos, McFadden and Taylor.
Steve Rando and Seth Schneider brought the field to the green for the 25-lap 305 sprint main with Rando leading the first lap. Schneider would drive around Rando for the lead on lap two with Dinan moving into third over Jimmy Colvin, Jordan Ryan, Jason Keckler, Brian Smith and Kyle Capodice. Dinan would grab second place on lap five with Ryan moving into fourth behind Rando. By the 8th circuit Dinan was challenging Schneider for the lead which he would take a lap later with Ryan now moving into third.
The leaders caught the back of the pack by lap 11 with Dinan holding a slim lead over Schneider, Ryan, Rando, Colvin, Keckler and John Ivy. With 10 laps to go Ryan was now pressuring Schneider for second as they kept Dinan in their sights with Colvin taking fourth. Ryan would grab second on lap 18 and stayed close to Dinan. Dinan picked his way through traffic and went on to the victory over Ryan, Schneider, Colvin and Keckler.
Dana Fry and Matt Foos paced the field for the 20 lap dirt truck feature with Fry gaining the advantage over Kyle Cline, Valenti, Roepke, Foos and Brad Keckler. After one lap was recorded Dustin Keegan would stop on the back stretch to bring out the caution. On the restart Valenti drove into second with Fry bringing out the caution a lap later. When the green flew again Valenti could not shake Roepke as Cline, Foos, Keckler and Art Ball gave chase.
Valenti and Roepke would race nose to tail as they pulled away with Foos, Cline and Keckler locked in a great battle for third. Keckler would take third on lap 10. With three laps to go the caution flew when Foos and Ball got together. The restart order was Valenti, Roepke, Keckler, Cline and Kent Brewer. A lap and another caution when Roepke and Keckler tangled. When the green flew again Valenti pulled away from Cline, Brewer, Bob Dible and Jimmy McGrath Jr.
When the checkered flew it was Valenti, Cline, Dible, Brewer and McGrath.
A side note to the truck feature, Jim McGrath Sr. took the Baumann Auto Group Big Bucks Bump Challenge and went from his front row starting spot to the tail for a chance to win $5,000. With a handful of laps remaining he has worked his way up to fifth, but suffered a flat tire and would finish 11th but he doubled his earnings because he accepted the challenge.
Fremont Speedway will be back in action Sunday, May 25 for the Budweiser Night with a 50-lap feature on tape for the UNOH All Star paying $10,000 to win.
For more information go to www.fremontohspeedway.com
Fremont Speedway – 5/24/2014
Kears Speed Shop Night
Fort Ball Pizza Palace 410 Sprints (35 Cars)
[#]-Starting Position
Qualifying – Kistler Engines
1. O9-Craig Mintz, 12.195; 2. 40DD-Caleb Griffith, 12.246; 3. 14K-Dale Blaney , 12.324; 4. 77X-Wayne Johnson, 12.337; 5. 49-Cole Duncan, 12.350; 6. 45L-Brian Lay, 12.351; 7. 53-D.J. Foos, 12.391; 8. 1ST-Gary Taylor, 12.406; 9. 97-Dean Jacobs, 12.419; 10. 99-Brady Bacon, 12.457; 11. 57X-Andrew Palker, 12.461; 12. 40-Caleb Helms, 12.491; 13. 5R-Byron Reed, 12.502; 14. 80-Trey Gustin, 12.545; 15. 3G-James McFadden, 12.592; 16. 16-Chris Andrews, 12.676; 17. 21-Dallas Hewitt, 12.732; 18. 45-Tim Shaffer, 12.760; 19. 10-Carl Bowser, 12.772; 20. 35-Stuart Brubaker, 12.776; 21. O7X-Dain Naida, 12.790; 22. 39M-Matt Merrill, 12.812; 23. 24H-Brandon Wimmer, 12.834; 24. 2+-Brian Smith, 12.896; 25. 63-Chad Kemenah, 12.897; 26. 60K-Jody Keegan, 12.907; 27. 5T-Travis Philo, 12.959; 28. 5K-Adam Kekich, 13.017; 29. 9Z-Duane Zablocki, 13.030; 30. 10H-Danny Holtgraver, 13.151; 31. 9W-Jac Haudenschild, 13.173; 32. 93-Sheldon Haudenschild, 13.175; 33. 9X-Rob Chaney, 13.309; 34. 55-Brad Bowman, 13.349; 35. 81-Lee Jacobs, 13.383
Heat 1 – Kear's Speed Shop (10 Laps – Top 5 finishers transfer to the A-feature)
1. 97-Dean Jacobs[4] ; 2. 9X-Rob Chaney[9] ; 3. O7X-Dain Naida[1] ; 4. 21-Dallas Hewitt[2] ; 5. 49-Cole Duncan[5] ; 6. 63-Chad Kemenah[7] ; 7. 5R-Byron Reed[3] ; 8. O9-Craig Mintz[6] ; 9. 9Z-Duane Zablocki[8]
Heat 2 – All Pro Aluminum Heads (10 Laps – Top 5 finishers transfer to the A-feature)
1. 45-Tim Shaffer[2] ; 2. 99-Brady Bacon[4] ; 3. 45L-Brian Lay[5] ; 4. 10H-Danny Holtgraver[8] ; 5. 40DD-Caleb Griffith[6] ; 6. 39M-Matt Merrill[1] ; 7. 60K-Jody Keegan[7] ; 8. 55-Brad Bowman[9] ; 9. 80-Trey Gustin[3]
Heat 3 – Dragon Race Fuels (10 Laps – Top 5 finishers transfer to the A-feature)
1. 24H-Brandon Wimmer[1] ; 2. 57X-Andrew Palker[4] ; 3. 3G-James McFadden[3] ; 4. 53-D.J. Foos[5] ; 5. 9W-Jac Haudenschild[8] ; 6. 10-Carl Bowser[2] ; 7. 81-Lee Jacobs[9] ; 8. 5T-Travis Philo[7]
Heat 4 – Kinsler Fuel Injections (10 Laps – Top 5 finishers transfer to the A-feature)
1. 35-Stuart Brubaker[2] ; 2. 2+-Brian Smith[1] ; 3. 16-Chris Andrews[3] ; 4. 93-Sheldon Haudenschild[8] ; 5. 1ST-Gary Taylor[5] ; 6. 77X-Wayne Johnson[6] ; 7. 40-Caleb Helms[4] ; 8. 5K-Adam Kekich[7]
Dash – Donovan Engineering (6 Laps, finishing order determined first 6 starting positions of A-feature
1. 40DD-Caleb Griffith[2] ; 2. 1ST-Gary Taylor[1] ; 3. 53-D.J. Foos[3] ; 4. 49-Cole Duncan[4] ; 5. 97-Dean Jacobs[5] ; 6. 45L-Brian Lay[6]
B-Main – MSD Ignitions (12 Laps – Top 4 finishers transfer to the A-feature)
1. 14K-Dale Blaney [2] ; 2. O9-Craig Mintz[1] ; 3. 81-Lee Jacobs[15] ; 4. 5R-Byron Reed[5] ; 5. 40-Caleb Helms[4] ; 6. 77X-Wayne Johnson[3] ; 7. 10-Carl Bowser[7] ; 8. 63-Chad Kemenah[9] ; 9. 55-Brad Bowman[14] ; 10. 80-Trey Gustin[6] ; 11. 5T-Travis Philo[11] ; 12. 9Z-Duane Zablocki[13] ; 13. 39M-Matt Merrill[8] ; 14. 5K-Adam Kekich[12] ; 15. 60K-Jody Keegan[10]
A-Main –  (30 Laps)
1. 40DD-Caleb Griffith[1]; 2. 14K-Dale Blaney [12]; 3. 53-D.J. Foos[3]; 4. 3G-James McFadden[9]; 5. 1ST-Gary Taylor[2]; 6. 81-Lee Jacobs[24]; 7. 49-Cole Duncan[4]; 8. 16-Chris Andrews[10]; 9. 99-Brady Bacon[7]; 10. 97-Dean Jacobs[5]; 11. 57X-Andrew Palker[8]; 12. 21-Dallas Hewitt[14]; 13. 24H-Brandon Wimmer[18]; 14. 45-Tim Shaffer[15]; 15. O9-Craig Mintz[11]; 16. 93-Sheldon Haudenschild[22]; 17. 2+-Brian Smith[19]; 18. 9X-Rob Chaney[23]; 19. O7X-Dain Naida[17]; 20. 35-Stuart Brubaker[16]; 21. 9W-Jac Haudenschild[21]; 22. 10H-Danny Holtgraver[20]; 23. 5R-Byron Reed[13]; 24. 45L-Brian Lay[6]
Hard Charger: 81-Lee Jacobs[+18]
Fremont Federal Credit Untion 305 Sprints (31 Cars)
[#]-Starting Position
Qualifying – Callie's Performance
1. 1-Nate Dussel, 13.924; 2. 5R-Jordan Ryan, 13.977; 3. 8-Bobby Clark, 14.045; 4. 6-Dustin Dinan, 14.277; 5. 9-Jimmy Colvin, 14.287; 6. 1W-Paul Weaver, 14.297; 7. 36-Seth Schneider, 14.328; 8. 19R-Steve Rando, 14.351; 9. 2-Ricky Peterson, 14.420; 10. 12-Kyle Capodice, 14.502; 11. 25-Jason Keckler, 14.559; 12. 7A-Alvin Roepke, 14.609; 13. 29-Tyler Gunn, 14.609; 14. 39-Brian Smith, 14.611; 15. 10-Josh Harrison, 14.665; 16. 8I-John Ivy, 14.705; 17. 22D-Dan Hammond, 14.770; 18. 7M-Brandon Moore, 14.861; 19. O2-Kevin Lee, 14.884; 20. 8M-T.J Michael, 14.906; 21. 22M-Dan McCarron, 14.908; 22. 11G-Luke Griffith, 15.126; 23. 10S-Roger Shammo, 15.165; 24. 1X-Kyle Peters, 15.548; 25. 3J-Trey Jacobs, 15.853; 26. 4G-Bill Griffith, 15.881; 27. 15-Gary Benjamin, 16.497; 28. 32-Ryan French, 16.918; 29. 22-Tyler Moore, 99.000; 30. 1J-Jeremy Shambaugh, 99.001; 31. 7-Troy Kingan, 99.003
Heat 1 – American Power Sports (8 Laps – Top 4 finishers transfer to the A-feature)
1. 29-Tyler Gunn[3] ; 2. 22M-Dan McCarron[1] ; 3. 9-Jimmy Colvin[5] ; 4. 3J-Trey Jacobs[7] ; 5. 1-Nate Dussel[6] ; 6. 22-Tyler Moore[8] ; 7. 2-Ricky Peterson[4] ; 8. 22D-Dan Hammond[2]
Heat 2 – Kistler Racing Products (8 Laps – Top 4 finishers transfer to the A-feature)
1. 11G-Luke Griffith[1] ; 2. 39-Brian Smith[3] ; 3. 5R-Jordan Ryan[6] ; 4. 12-Kyle Capodice[4] ; 5. 7M-Brandon Moore[2] ; 6. 4G-Bill Griffith[7] ; 7. 1J-Jeremy Shambaugh[8] ; 8. 1W-Paul Weaver[5]
Heat 3 – Hoosier Racing Tires (8 Laps – Top 4 finishers transfer to the A-feature)
1. 8-Bobby Clark[6] ; 2. 10S-Roger Shammo[1] ; 3. 25-Jason Keckler[4] ; 4. 36-Seth Schneider[5] ; 5. 10-Josh Harrison[3] ; 6. 7-Troy Kingan[8] ; 7. 15-Gary Benjamin[7] ; 8. O2-Kevin Lee[2]
Heat 4 – The Computer Man (8 Laps – Top 4 finishers transfer to the A-feature)
1. 8I-John Ivy[3] ; 2. 8M-T.J Michael[2] ; 3. 6-Dustin Dinan[6] ; 4. 19R-Steve Rando[5] ; 5. 7A-Alvin Roepke[4] ; 6. 32-Ryan French[7] ; 7. 1X-Kyle Peters[1]
B-Main – Computer Man Inc. (10 Laps – Top 4 finishers transfer to the A-feature)
1. 1-Nate Dussel[1] ; 2. 7A-Alvin Roepke[4] ; 3. 2-Ricky Peterson[3] ; 4. 1W-Paul Weaver[2] ; 5. 7M-Brandon Moore[7] ; 6. 10-Josh Harrison[5] ; 7. 32-Ryan French[12] ; 8. 1J-Jeremy Shambaugh[14] ; 9. 1X-Kyle Peters[9] ; 10. 22-Tyler Moore[13] ; 11. 15-Gary Benjamin[11] ; 12. 7-Troy Kingan[15] ; 13. 4G-Bill Griffith[10]
A-Main –  (25 Laps)
1. 6-Dustin Dinan[4]; 2. 5R-Jordan Ryan[6]; 3. 36-Seth Schneider[2]; 4. 9-Jimmy Colvin[3]; 5. 25-Jason Keckler[8]; 6. 8I-John Ivy[11]; 7. 19R-Steve Rando[1]; 8. 7A-Alvin Roepke[18]; 9. 39-Brian Smith[10]; 10. 29-Tyler Gunn[9]; 11. 8-Bobby Clark[5]; 12. 12-Kyle Capodice[7]; 13. 1-Nate Dussel[17]; 14. 8M-T.J Michael[12]; 15. 11G-Luke Griffith[14]; 16. 2-Ricky Peterson[19]; 17. 1W-Paul Weaver[20]; 18. 22M-Dan McCarron[13]; 19. 3J-Trey Jacobs[16]; 20. 10S-Roger Shammo[15]
Hard Charger: 7A-Alvin Roepke[+10]
AAA Auto Club Dirt Trucks (24 Trucks)
[#]-Starting Position
Qualifying – Callie's Performance
1. 7B-Shawn Valenti, 18.070; 2. 88-Dan Roepke Jr., 18.336; 3. 2-Matt Foos, 18.424; 4. 36M-Cory McCaughey, 18.497; 5. 33C-Kyle Cline, 18.568; 6. 5-Jim McGrath, 18.616; 7. 7-Dana Frey, 18.623; 8. D1-Dustin Keegan, 18.637; 9. 8KB-Kent Brewer, 18.671; 10. O1-Art Ball, 18.675; 11. 5JR-Jimmy McGrath Jr., 18.790; 12. 3X-Brad Keckler, 18.894; 13. 17-Bob Dible, 18.924; 14. 37-Eric Devanna, 19.049; 15. 99X-Gene Portidge, 19.066; 16. OO-John Ivy, 19.093; 17. 33-Jeff Ward, 19.223; 18. 79-Andrew Lutman, 19.543; 19. 85S-Bradley Stuckey, 19.767; 20. 18W-Cory Ward, 20.736; 21. 3-Andy Earnhart, 21.121; 22. 22-Brandon Leighton, 99.010; 23. 4S-Keith Sorg, 99.020; 24. 45M-Brian Melnek Jr., 99.030
Heat 1 – American Power Sports (8 Laps – Top 5 finishers transfer to the A-feature)
1. 7B-Shawn Valenti[6] ; 2. O1-Art Ball[3] ; 3. 7-Dana Frey[4] ; 4. OO-John Ivy[1] ; 5. 17-Bob Dible[2] ; 6. 36M-Cory McCaughey[5] ; 7. 85S-Bradley Stuckey[7] ; 8. 22-Brandon Leighton[8]
Heat 2 – Kistler Racing Products (8 Laps – Top 5 finishers transfer to the A-feature)
1. 88-Dan Roepke Jr.[6] ; 2. 5JR-Jimmy McGrath Jr.[3] ; 3. 33-Jeff Ward[1] ; 4. 37-Eric Devanna[2] ; 5. 33C-Kyle Cline[5] ; 6. 4S-Keith Sorg[8] ; 7. 18W-Cory Ward[7] ; 8. D1-Dustin Keegan[4]
Heat 3 – Hoosier Racing Tires (8 Laps – Top 5 finishers transfer to the A-feature)
1. 2-Matt Foos[6] ; 2. 3X-Brad Keckler[3] ; 3. 8KB-Kent Brewer[4] ; 4. 5-Jim McGrath[5] ; 5. 99X-Gene Portidge[2] ; 6. 45M-Brian Melnek Jr.[8] ; 7. 79-Andrew Lutman[1] ; 8. 3-Andy Earnhart[7]
B-Main – Computer Man Inc. (10 Laps – Top 5 finishers transfer to the A-feature)
1. 18W-Cory Ward[5] ; 2. D1-Dustin Keegan[2] ; 3. 36M-Cory McCaughey[1] ; 4. 79-Andrew Lutman[3] ; 5. 45M-Brian Melnek Jr.[9] ; 6. 22-Brandon Leighton[7] ; 7. 85S-Bradley Stuckey[4] ; 8. 4S-Keith Sorg[8] ; 9. 3-Andy Earnhart[6]
A-Main –  (20 Laps)
1. 7B-Shawn Valenti[4]; 2. 33C-Kyle Cline[3]; 3. 8KB-Kent Brewer[7]; 4. 17-Bob Dible[11]; 5. 5JR-Jimmy McGrath Jr.[9]; 6. 18W-Cory Ward[14]; 7. 33-Jeff Ward[15]; 8. 37-Eric Devanna[10]; 9. OO-John Ivy[12]; 10. 99X-Gene Portidge[13]; 11. 5-Jim McGrath[20]; 12. 7-Dana Frey[1]; 13. 45M-Brian Melnek Jr.[18]; 14. D1-Dustin Keegan[17]; 15. 79-Andrew Lutman[19]; 16. 2-Matt Foos[2]; 17. 88-Dan Roepke Jr.[5]; 18. 3X-Brad Keckler[8]; 19. O1-Art Ball[6]; 20. 36M-Cory McCaughey[16]
Hard Charger: 5-Jim McGrath[+9]