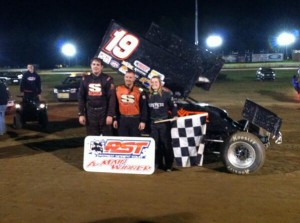 From Rich Vleck
Erie, PA — (May 25, 2014) —  Entering the weekend, Paige Polyak was a virtual unknown to most of her competition; after the feature Sunday Night at Eriez though, that is likely no longer the case.
Polyak, 19, of Tiffin, OH, picked up a popular win in just her second PST start, passing Scott Kreutter, the winner of the three prior events at Eriez, coming to the white flag and then holding on for the $2,000 payday.
Polyak started in fifth in her Mike Woodring-owned No. 19, but wasted no time jumping up to second on the start and beginning to challenge Kreutter before a lap eight caution flew just as she was setting up a pass on the leader. The stoic shoe was in a similar position on lap 17 when again the caution flew. Luckily for her, there was still enough time to get in a long run.
"On the restarts (Kreutter) was better but on the longer runs I could keep my momentum on the bottom and get a good run coming off the corner," she explained in Victory Lane.
Kreutter held a healthy lead with four laps remaining but as the lead duo approached Head Starter Spanky Hall's two-to-go signal, Polyak had reeled the leader back in as they reached the back of the field again.  Kreutter was able to get by the first lapped car but as he set up the next pass, he missed his preferred entrance point ever so slightly and that was all the room Polyak needed to pounce.
"He got behind one of the lapped cars and slid up a little bit and left the door open for me. It was a pretty cool pass."
As Polyak drove under Kreutter coming to the white flag, the job was still not complete, as three lapped cars slowed each groove on the fast yet narrow 1/3-mile oval.  Polyak chose the top groove entering turns three and four and even though it was blocked, Kreutter was also slowed on the inside groove, allowing her to hang on for the win.
With the win, Polyak joins Jessica Zemken as the only females to win a Patriot A-Feature.  The major difference for Polyak was that until this weekend she had never raced against the majority of the field, and had to trust her basic race instincts and sage advice from Mike Woodring on how to attack a track she had never seen until Sunday.
"I can't thank Mike enough," she added after the race.  "The car really drove off the bottom and that was the key."
Even though his fourth-consecutive win at Eriez was seemingly stolen away from him, Scott Kreutter called his runner-up effort "a win" as it was the first race he was able to finish this season after battling mechanical gremlins in the first three events.  He noted that he did not have the setup he wanted for the race so was surprised to lead as long as he did.
Jared Zimbardi placed in third for the second-straight night and made sure to tip his hat to Polyak after the race.  The defending PST America Champion nearly had her passed near halfway but struggled to find enough bite off of turn four to complete any passes.  With the podium finish, he has inherited the series point lead.
Series newcomer Dennis Wagner turned in an impressive effort, charging from 14th to finish fourth by rim-riding the heavy race surface in a groove no others dared to venture.  Kyle Drum completed the top five utilizing the bottom groove.
Saturday Night's winner Bryan Howland won his heat race in dominating fashion but was off on the feature setup, slipping back to finish sixth.  Sammy Reakes IV was also a heat winner, and crossed in seventh in his first trip to Eriez.  Darryl Ruggles was impressive all night to drive up to eighth, while Dave Just won the dash to placed ninth, just ahead of Canadian Mitch Brown, who rounded out the top-10.
A full field of 24 sprints helped to fill the pits on a busy yet beautiful night at Eriez.  A number of drivers did not have the night go as they wished, including defending Rookie of the Year Scott Just, who was running third on lap eight when a steering component broke and snapped around his No. 54JR.  Steve Collins and Geoff Quackenbush also had bouts of hard contact, impacting their performance on the night.
George Suprick entered the night as the point leader but his night got derailed in the dash when contact from Dennis Wagner sent his familiar No. 87 flipping in turn three.  Suprick was able to make repairs for the feature, but an unseen broken hydraulic fluid line would impair his vision and send him on a wild excursion through the infield.
For more information, visit www.PatriotSprintTour.com.
Patriot Sprint Tour America Series Results: 5/25/14, Eriez Speedway, Erie, PA.
Bonnell's Collision A-Main (25 Laps)- 1. Paige Polyak (19), 2. Scott Kreutter (10b), 3. Jared Zimbardi (35), 4. Dennis Wagner (38o), 5. Kyle Drum (47), 6. Bryan Howland (51), 7. Sammy Reakes IV (1), 8. Darryl Ruggles (48JR), 9. Dave Just (54J), 10. Mitch Brown (10), 11. Steve Collins (67), 12. Tyler Graves (25G), 13. Don Adamczyk (21), 14. Jake Muench (14), 15. Steve Glover (121), 16. CJ Jones (10J), 17. Brad Knab (38), 18. Clint Ide (3), 19. Derek Jonathan (81), 20. Dane Lorenc (00), 21. Stan Zanchin (94), 22. George Suprick (87), 23. Scott Just (54JR), 24. Geoff Quackenbush (25).
Lap Leaders- Kreutter 1-23, Polyak 24-25.
Four Laps of Fame Dash (4 Laps)- 1. Dave Just (54J), 2. Darryl Ruggles (48JR), 3. Tyler Graves (25G), 4. Brad Knab (38), 5. George Suprick (87), 6. Dennis Wagner (38o).
Heats (8 Laps Each)-
Race 1: Kreutter, Brown, Polyak, Drum, Glover, Adamczyk, Quackenbush, Jonathan.
Race 2: Reakes, Zimbardi, Knab, D. Just, Wagner, Collins, Ide, Lorenc.
Race 3: Howland, S. Just, Graves, Suprick, Ruggles, Jones, Muench, Zanchin.
Patriot Sprint Tour America Series Point Standings (Top 10)- Zimbardi 405, Suprick 389, Knab 378, Collins 362, Drum 357, D. Just 341, Graves 329, Jonathan 322, Quackenbush and Ide 318.
Four Laps of Fame Dash for Cash Series Standings (Top Five)- D. Just 11, Knab 8, Collins and Drum 6, Ruggles 5.
Gater Racing News Hard Charger of the Season Standings (Top Five)- Adamczyk 13, Wagner 10, Hutchinson 9, Potter and Reakes 8.