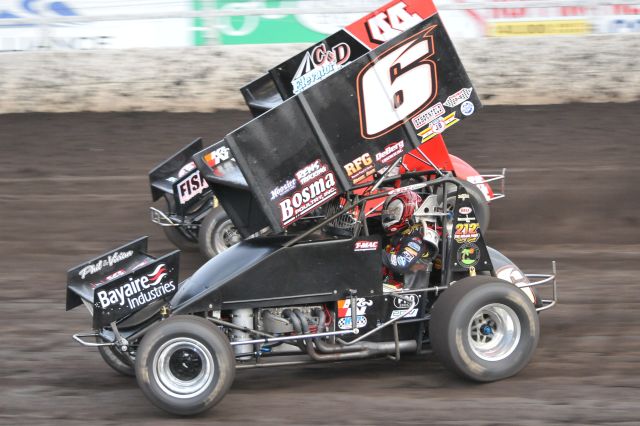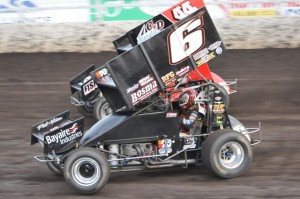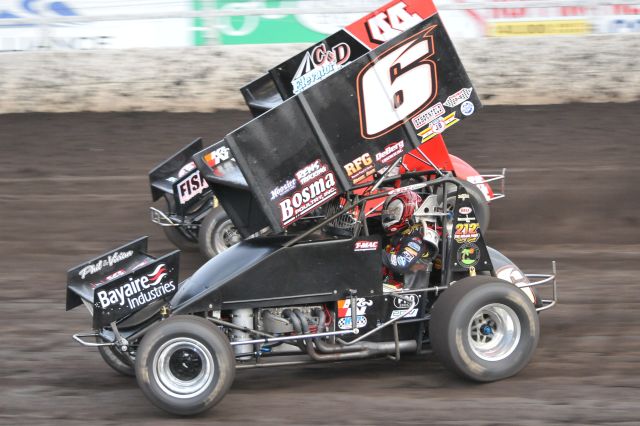 From Bill W
May 27, 2014 – Terry McCarl recorded his third win of the season, this one at Huset's Speedway, and stayed atop the Knoxville Raceway 410 point standings with another top five finish last weekend. The win came in 360 competition last night in the Jeremy Scadden #6x machine.
Saturday at Knoxville, TMAC timed in fourth quick. "We had a little bit of an issue qualifying," he says. "We were a little off on the fuel. The motor was vibrating a bit and that hurt us. We got it fixed up for the heat."
Starting fifth in his heat, the Altoona, Iowa driver would surge to second. "We were really fast in the heat," says TMAC. "It was kind of funny, because I had the junkiest tire you could imagine on it. I couldn't have gotten $20 out of it. We had it cut and siped every which way. We almost won the thing. The car was allowing me to go wherever I wanted on the track and I couldn't have been happier."
It was a night for the top eight qualifiers making it through the heats to redraw for their starting positions in the feature. "When the redraw came, I drew seven and Brian (Brown) drew eight," says TMAC. "Craig Dollansky started up front. When you put a World of Outlaws driver with a World of Outlaws budget on the front of a race like that, it's going to be tough to beat him."
Still, TMAC charged forward, and mid-race, looked as though he had a shot at the win. "When the yellow came out, we weren't far behind him," he says of Dollansky. "We were up to third and Craig was right there in front of us. I hated to see a yellow at that point. I think we could have had a shot at it without the yellows. They put me behind Justin (Henderson) in fourth (on the restart) which I never understood. We do split yellows, and he wasn't ahead of me at the line. He did pass me in one and two and I turned and passed him back, but the yellow came out at that point."
The handling went away after the caution period. "I did some adjustments with the wing, and I got it too tight," says TMAC. "The tires sealed up, and I was horrible after that. Danny (Lasoski) got by us and we ended up fifth. Looking big picture though, we had another solid top five. Before the yellow, our laps were seven-tenths of a second better than anyone. We had a good car; we just need to finish it out one of these days."
Sunday's 410 show at Huset's saw TMAC register quick time of the night. It was the 15th night out for his Rider power plant. "I'm keeping an eye on the engine," he says. "I'm getting a little concerned about it. The track was awesome. It was a little heavy."
After running third in his heat (from sixth), TMAC lined up outside row three for the feature. The field at the racy 3/8-mile oval has ramped up this season. "Huset's is a lot like Knoxville this year for competition," he says. "You have (Mark) Dobmeier, Craig Dollansky, Ian (Madsen), Justin Henderson and myself. Austin (McCarl) was driving for Lynton Jeffrey this last week. Dakota Hendrickson was up there and was third quick, so you have some young guys coming in too. The competition is tough."
He began to move forward in the main event. "We had a good start," says TMAC. "I was able to run down Mark and get by him about three laps in. I came up on (Derrik) Lusk, and kind of chose the wrong line around him. Mark was able to get by me, and he was going well. There was really a good bottom in three and four and he was able to get through there."
An exchange with Dollansky was a highlight of the race for many fans. "It was a good race," says TMAC. "I put a couple slidejobs on Dollansky, and he would come back at me. We had a heck of a race there for third. When I finally got him, I was able to run Ian down in second. We were beside him a couple of times on the back straightaway. I just couldn't quite get him before turn three. We finished third. We had a good car. I think the fans saw another good show at Huset's."
A last minute decision saw Scadden field a second car for TMAC last night for the 360 show at Huset's. They would win the heat from outside the front row. "They do their (feature) lineups a little bit different," he says. "The draw saw the third place cars starting up front and we were back in ninth. You had Jack Dover on the front row. He's a pretty tough competitor…one of the best in the country. To be totally honest, I didn't think we'd ever even see Jack."
That was not the case, however as two grooves yielded an outstanding race. "The track was amazingly awesome," says TMAC. "It was 'Old School' Huset's. The top was a foot off the fence and the bottom had moisture. It was slick in between, and it didn't lay rubber at all. It was like the old days when they'd have me starting 16th and 18th and still have a chance to win."
TMAC worked his way to the front on the low groove. "The A.R.T. was working really well…right around the bottom," he says. "You had to have finesse coming off (the turns), but most of the drivers were up on the cushion. I was able to slowly pick them off until I was in second by Jack."
That's when things really got interesting. "We had a heck of a race," says TMAC. "I was on the bottom, and he was on the top. Then we started sliding each other. I was having fun in the car. When it's fun for me, I know it's fun for the fans. We put on a heck of a race, and the track was perfect."
The win capped a great weekend for Scadden. "It was great to pull it off for Jeremy," says TMAC. "(Eric) Lutz ran third in his car and they won the weekend Loren Barstad Memorial point championship. Not only did he run third, but he won on Saturday (I-90 Speedway) and Jeremy's hobby stock won at Huset's Sunday…so it was a heck of a weekend for him."
To check out opportunities to partner with TMAC Motorsports on a nightly basis, visit www.TerryMcCarl.com or call 515 957-0020!
Front Row Challenge Tickets on Sale!
The 19th Annual Casey's General Stores/Musco Lighting Front Row Challenge presented by Searsboro Telephone Company will be held Monday, August 4 at the Southern Iowa Speedway in Oskaloosa, Iowa.
Tickets are now on sale! For more information, call Front Row Challenge Enterprises, LLC at 515 957-0020. For further information, stay tuned to www.OskyChallenges.com!
Websites for the McCarl Gang!
Driverwebsites.com develops the websites for the McCarl boys. Check out www.TerryMcCarl.com, as well as www.AustinMcCarl.com and www.CarsonMcCarl.com!
This Month in TMAC History!
On May 26, 2002, TMAC was victorious with the Interstate Racing Association (IRA) at the Cresco Speedway in Cresco, Iowa. With 39 cars on hand at the banked 3/8 mile oval, TMAC topped Travis Cram, Joe Roe, Colin Northway and John Haeni.