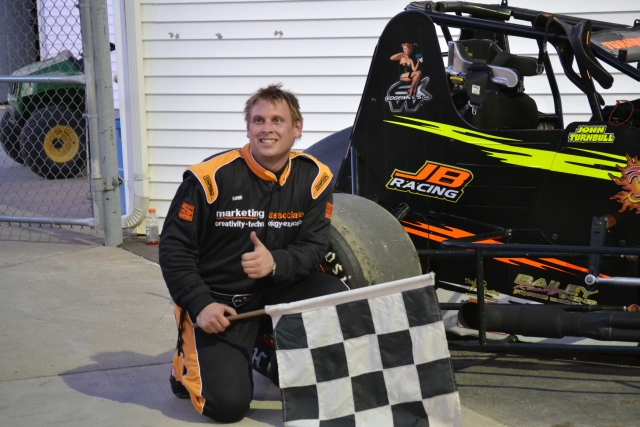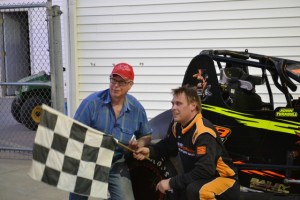 By Bob Buffenbarger
Mason, MI — (May 30, 2014) — John Turnbull Jr. withstood several cautions and held off repeated challenges from Chance Rice on his way to the 30 lap sprint car feature win at Spartan Speedway Friday night. Turnbull started on the pole and found the win anything but easy.
The first yellow flew on lap 2 after Anthony McCune spun in turn two. Back to green and 6th starting Chance Rice had already advanced towards the front, racing side by side with Doug Dietsch. Rice slipped into 2nd and was right on the rear bumper of Turnbull.
With 6 laps in the books, Jay Rohrback slowed to a stop and was done for the night. When the green flew once again it was Turnbull, Rice, Dietsch, Steve Irwin, Don Hamilton and Jim Heeney all under a blanket and look like a dandy was shaping up.
The following laps found Turnbull  and Rice pulling away some, but these two cars were battling for the lead with Rice nearly diving under Turnbull several times. Racing for 3rd through 5th was providing more excitment as Dietsch, Steve Irwin and Don Hamilton had their own skirmish going on. However Hamilton spun down the front stretch on lap 17. Hamilton was finished for the evening.
One final caution appeared for Jim Heeney as he had mechanical troubles on lap 23. The final seven circuits found Turnbull and Rice putting some distance between them the field  but they were still racing hard with no room for error. Turnbull hung on for the win in a hard fought race over Rice, Dietsch, Steve Irwin, Anthony McCune, Joe Irwin and Mark Irwin.