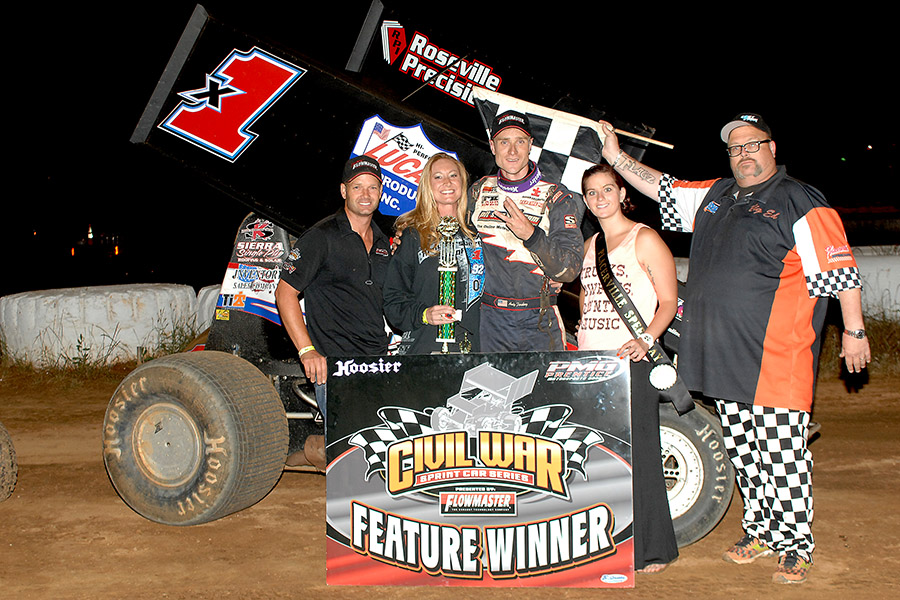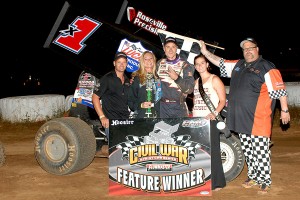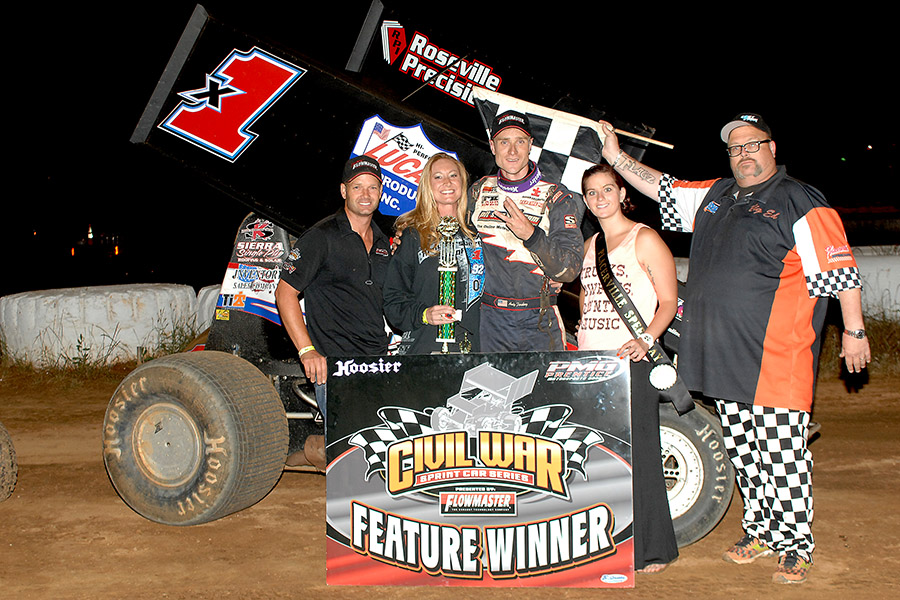 From Peterson Media
Placerville, CA — (May 31, 2014)-Auburn, CA driver, Andy Forsberg, took advantage of late a restart, and excited the capacity crowd at the Placerville Speedway on Saturday night as he picked up his first Civil War Series Presented By Flowmaster win of the season, marking the series' fourth different winner in as many events.
Placerville, CA driver, Andy Gregg, led the field to green aboard his Scott Russell owned, Mike's Hard Lemonade No. 14R entry, and Steven Tiner move into the second spot, as he stalked the early leader.
With Gregg getting up over the cushion, Tiner stormed into the lead off of the second turn, and led the next three circuits, until Gregg grabbed it back on the 11th lap, with the first caution of the race coming on the 12th circuit.
With the leaders duking it out up front, the battle for the third spot was just as exciting as Forsberg, Gregg Decaires, and Mike Benson raced wheel to wheel.
The ensuing saw restart saw Colby Wiesz get on his side, as a few other cars came to a stop, and when racing action resumed, Gregg got a great jump as he quickly stretched his lead, as Forsberg blasted the cushion, and moved into the second spot, as the drivers used every inch of real estate jockeying for position.
There was racing all over the speedway in the six-lap green flag run, as 12th starting, Shane Golobic, and 17th starting Jonathan Allard worked their way into the fray, as they chased after the top-five until the yellow flew for Allard on the 20th circuit as he got into the seventh spot.
When the action resumed it was Forsberg getting the best of Gregg as he got the lead, and simply took off, leaving the best race on the track behind him, as Gregg, Cory Eliason, Gregg Decaires and Shane Golobic all battled for the second spot, on the slicked off and racy surface.
The battle allowed Forsberg to stretch his lead out favorably, but the crowd sat on the edge of their seats as they watched three-wide action at times.
On the 28th lap, Cory Eliason lost the handle on his machine, setting up a shootout to the finish, and with Forsberg getting the jump, series point leader, Shane Golobic was able to get into the second spot over Gregg, as Decaires got in fourth, with Justin Sanders in fifth, and 16th starting Jimmy Trulli using the double file restart to work into the sixth spot.
Forsberg would not be denied on this night as he cruised to the victory aboard his F&F Racing/Lucas Oil/Pit Stop USA No. x1 entry much to the crowds approval.
"It feels absolutely amazing to get back in victory lane," a very jubilant Forsberg said in victory lane. "This is the first time I have ever won a Civil War race at Placerville in the X1 car, and we are thrilled. I cannot thank all you fans for coming, and the good people at Thompson's Toyota for putting up some extra money for this race."
Forsberg's win was worth $3,000 in part of a last minute sponsorship by Ron Thompson of Thompson's Toyota.
Chasing Forsberg across the stripe after a hard fought drive from his 12th starting spot was Fremont, CA driver, Shane Golobic aboard the Keith Day Trucking/Gabilan Ag Services No. 22 machine.
"We have been really fast lately, and we are happy with second, but we sure would have liked to be one spot better," he admitted on the front stretch. "I cannot thank all of my guys enough for all of their hard work. We have been really good as of late, and it has me excited to keep racing with this team."
Taking the show position was local stand out Andy Gregg at his home track as well as the home track of car owner Scott Russell.
"The guys gave me a great car, and a car that was good enough to win this race," Gregg explained. "I made a mistake on a late restart, and Andy Forsberg was able to get the lead, and I tried everything I could to get back by him. It was my mistake, but I am pumped up and excited to be on the podium. It is great to see a great crowd here, and I hope they all liked that show."
Following the top three across the line was Justin Sanders, Greg DeCaires, Jimmy Trulli, Mike Benson, Steven Tiner, and Jonathan Allard rounding out the Top-10.
Andy Forsberg got his night started out on the right foot as he was the fast qualifier, and also took the $500 bonus that Thompson's Toyota put up for doing so.
In heat race action, Gregg DeCaires picked up the win aboard the Dale Miller No. 4SA, while Mike Benson took the second heat aboard his No. 77 machine. Steven Tiner won heat three aboard his Larry Davis Farms/Wright Process No. 94 machine, and Gregg picked up heat four and the Dash win in his Mike's Hard Lemonade No. 14R machine.
In B main action, Charlie Cagle started on the pole, and went on to the win the race, followed by Matt Peterson, Kurt Nelson, Clayton Snow, Geoff Ensign, and Alissa Geving, all earning transfers to the feature event.
RESULTS- 33 Cars
Fast Time- Andy Forsberg
A Main (Starting Position)
1-Andy Forsberg (4), 2- Shane Golobic (12), 3- Andy Gregg (1), 4- Justin Sanders (6), 5- Greg DeCaires (2), 6- Jimmy Trulli (16), 7. Mike Benson (5), 8- Steven Tiner (3), 9- Sean Becker (14), 10- Jonathan Allard (17), 11- Geoff Ensign (21), 12- Alissa Geving (22), 13- Chase Johnson (13), 14- Billy Butler (15), 15- Koen Shaw (8), 16- Matt Peterson (10), 17- Herman Klein (11), 18- Clayton Snow (20), 19- Kurt Nelson (19), 20- Cory Eliason (7), 21- Charlie Cagle (9), 22- Colby Wiesz (18).