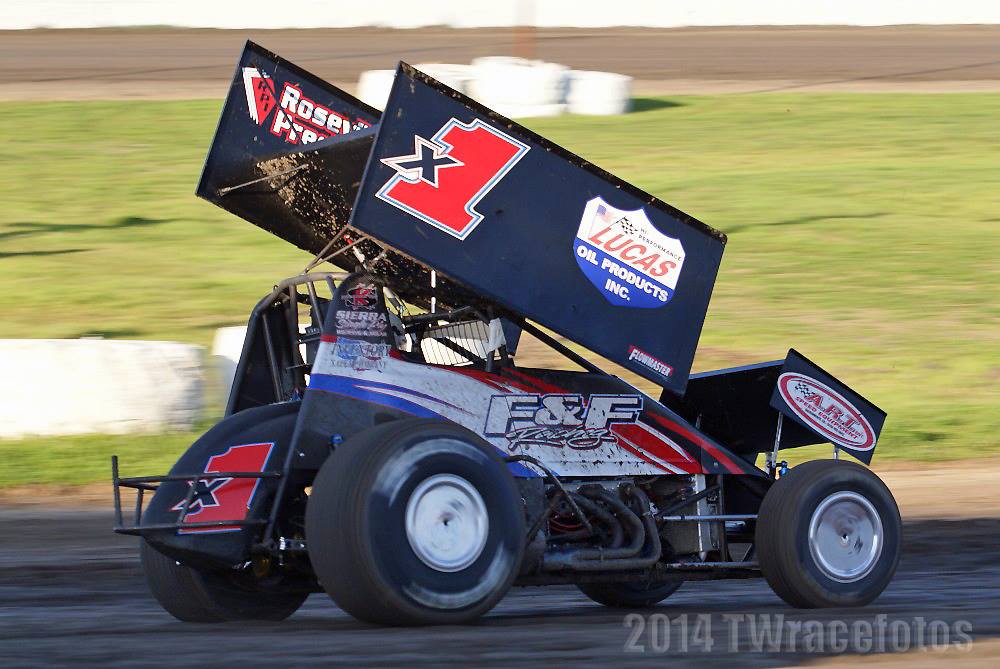 PETERSEN MEDIA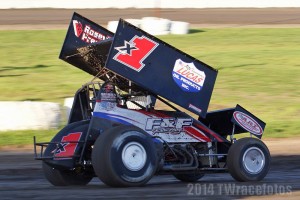 –  After winning the weekly opener at the Placerville Speedway earlier this year, Andy Forsberg and his F&F Racing team saw odd luck shadown them most of the season until last week. After winning last weeks Civil War event, Forsberg stayed hot as he picked up this third win of the year at Placerville by way of last turn, last corner pass.
"This thing was awesome, and that was one heck of a race," Forsberg said. "These guys gave me a great car again, and I was able to ride the cushion all the way to victory."
Starting in the sixth spot for the feature event, Forsberg was strong aboard his Lucas Oil/Pit Stop USA/Roseville Precision entry, as he found his way in the second spot in just four laps.
Chasing after Jimmy Trulli, who worked the low side of the speedway, Forsberg lived upstairs, as he rode 'The Fonz' chasing after Trulli, and noticeably cutting time off of his lead.
As race drew to a close, Forsberg took the white flag in the second spot, and in the last pair of corners in true 'win it or wear it style', Forsberg made a bold move on to get Trulli, and take the win coming to the checkered flag.
"That was an absolute blast," Forsberg said. "It was a ton of fun racing with Jimmy Trulli all race long, and I really hope you fans enjoyed that one. I know it was hot out all day, but all of us drivers thank you all for coming out. I also have to thank my team for working so hard in this heat all day, and giving me a great race car, and I am pumped to get another win."
With his win, Forsberg has moved to within 45 points of current point leader, Justin Sanders.
F&F Racing would like to thank Lucas Oil, Pit Stop USA, HRP, CRV, Inventory Sales, A.R.T. Speed Equipment, Wilwood, and Kaizer Wheels, K&N, Roseville Precision, Autism Speaks, FK Rod Ends, and PT Shocks for their support in 2014.
ON TAP: The F&F Racing team will be back in action on Saturday, June 21st  at the Placerville Speedway.
2014 BY THE NUMBERS: Races-10, Wins-3, Top-5's-5, Top-10's-6
STAY CONNECTED: For all of the latest news on the F&F Racing team please click over to www.fnfracing.com, or follow them on twitter @FNFRacingX1.
PETERSEN MEDIA:Petersen Media is a promotional agency that can handle your public relations, marketing, and any other media needs. Petersen Media utilizes multiple tactics to help you reach your intended audience, to boost awareness.
For more information contact sales@petersenmediainc.com, by phone at 916-342-3424, visit www.petersenmediainc.com,  www.facebook.com/PetersenMedia, or follow www.twitter.com/petersen_Media.