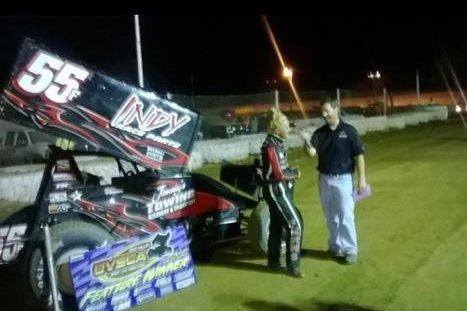 By Ferns Racing PR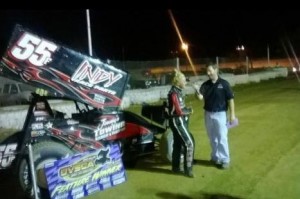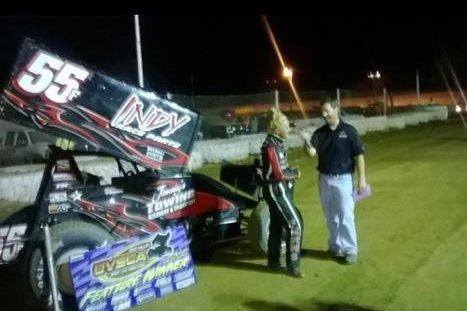 SHELBY TOWNSHIP, Mich. — June 8, 2014 — Taylor Ferns had never seen Southern Ohio Speedway until last Friday afternoon, but that did not seem to slow her down. After setting a new track record in time trials at the high-banked four-tenths-mile, she promptly won her heat race and dominated the main event for the Ohio Valley Sprint Car Association (OVSCA) to earn her first win of the season, which also was the first 410-winged sprint car victory of her career. Making the win even more impressive is the fact that Ferns has made less than a dozen feature event starts in the nearly 900-horsepower machines dating back to 2010, when she first dabbled in winged-sprint car racing.
Starting on the pole in the Jimmy's Towing/Indy Race Park Maxim, the native of Shelby Township, Michigan, led at the drop of the green flag. Before that lap was complete, a red flag came out for a multi-car incident. When the race resumed, following a complete restart, Ferns again jumped into the lead over Hall of Famer Danny Smith and would pace the field for the duration to pick up the win.
"To win in my first race at Southern Ohio Speedway was great," said Ferns. "We hadn't been in Victory Lane in a while, so it was good to get the monkey off our back. We had been close so many times this year. It was great that we were able to capitalize. Being quickest in time trials and winning the heat, I felt like it was my race to lose. It was great to get a win for my crew with all of the hard work they put in and for all of my sponsors as well."
Earlier in the night during group hot laps/time trials, Ferns circled Southern Ohio Speedway in 14-seconds flat, nearly two-tenths-of-a-second quicker than the second-fastest qualifier, to set a new track record. Ferns started on the pole of the first heat race and dominated that eight-lap contest over Smith and Kory Crabtree.
"We've been fast this year, no matter where we've raced," she shared. "I went into the race with a mindset that I wasn't going to lose and I wasn't going to back down. Kevin (Besecker) and the guys gave me a great car and I drove it as hard as I could. It's a great feeling when you have a car that is that good."
On Saturday, June 7 at Skyline Speedway with the OVSCA, Ferns finished seventh after starting 13th in the main event. She rebounded from an accident during group hot laps/time trials that caused front end damage to her machine. Ferns finished seventh in the first heat race.
"I just read the track wrong during hot laps and time trials," she explained. "I thought the cushion would hold me and it didn't and sucked my car into the wall, unfortunately. It's a huge testament to my crew for getting the car back ready for the heat race and feature. I can't thank enough for all that they did. In the feature, we were about the only car passing anyone with the track being really dry/slick. With everything that happened, we were happy at the end of the night with seventh."
The 18-year-old has finished 11th or better in five of her six 410-winged sprint car starts this season, including a trio of top-10 finishes, leading laps in three of those feature events. Along with her win at Southern Ohio Speedway, Ferns also finished on the podium at Butler Speedway in her home state of Michigan, last month, and was sixth at Atomic Speedway in Ohio.
"I feel like once you get that first win, the weight is kind of off your shoulders," said Ferns. "I still expect to go out each and every week and perform to the best of my abilities. I put a lot of pressure on myself and I strive every race to have results like we had at Southern Ohio, where we were on top every time we hit the track. Hopefully we can pick up where we were on Friday night in our next race."
Ferns, who recently graduated from high school, tentatively is scheduled to have next weekend off.
Taylor Ferns and Ferns Racing would like to thank their valued partners: Jimmy's Towing Recovery & Transport, Indy Race Parts, Motor City Auto Transport Inc., National Auto Placement, Project Podium, Women's Sports Foundation, Lyn St. James Women in the Winner's Circle Foundation, FK Rod Ends, Lucas Oil, K&N Filters, Lansing Sanitary Supply (LSS), Simpson Race Products, ButlerBuilt, Allstar Performance, Stanton Racing Engines, Hoosier Tire Midwest, Race4Girls and Racing2Cure.