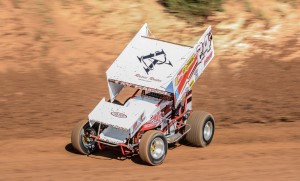 From Peterson Media
The 2014 season has seen Sebastopol, CA driver, Geoff Ensign excel all over the world. A great start to his US season was preceded by a great winter in Australia, and that great winter has earned Ensign in a prestigious race at the Knoxville Nationals in August, and he is currently looking for a ride.
"I am hoping I can find a team that is looking for a driver to go run the Nationals, as well as the World Challenge race," Ensign said. "After running all winter in Australia, I earned a berth in the race, and would love to compete in it."
The SPEED SPORT Knoxville World Challenge runs as the finale of the Friday night Qualifying for the 54th Knoxville Nationals. This international invitational event, which pays the winner $10,000, and $2500 to start the race, will match drivers that have qualified through specific racing events in Australia, Canada and New Zealand over the last 12 months.
Over the winter, Ensign performed well in Australia as he captured the Victorian State Title, a very prestigious race in Australia.
In the United States thus far, Ensign has been on fire, as he has won all five Petaluma 360 races that have been ran to date, he has picked up a second place finish with the Civil War Series, and he also has shown he can overcome a bad start to a night, as he has also picked up a top-five finish with the Civil War Series after starting his night out in the C Main.
Ensign was in action at the Knoxville Raceway for the Knoxville Nationals in 2012, and he ran in a transfer spot in his heat race on qualifying night only to have his engine explode going down the back stretch, essentially ruining his week.
"I have been very lucky and fortunate to find opportunity all over the world to showcase my talent," he said. "I am hoping that with this race locked in, I can find a team and go have some fun for a week."
PETERSEN MEDIA: Petersen Media is a promotional agency that can handle all your needs for public relations, marketing, and any other promotional needs. Petersen Media utilizes multiple tactics to help you reach, and keep your audience involved.