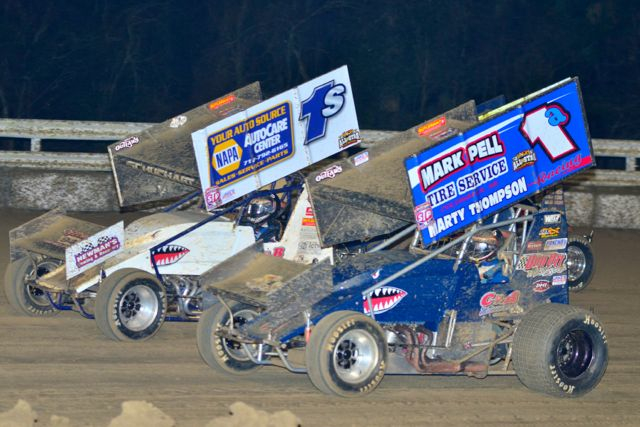 By Linda Mansfield
JACKSON, Minn., June 13 — As the nation celebrates Father's Day on Sunday, one of the most unique family teams in motorsports is Shark Racing in the World of Outlaws STP Sprint Car Series.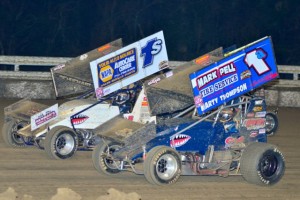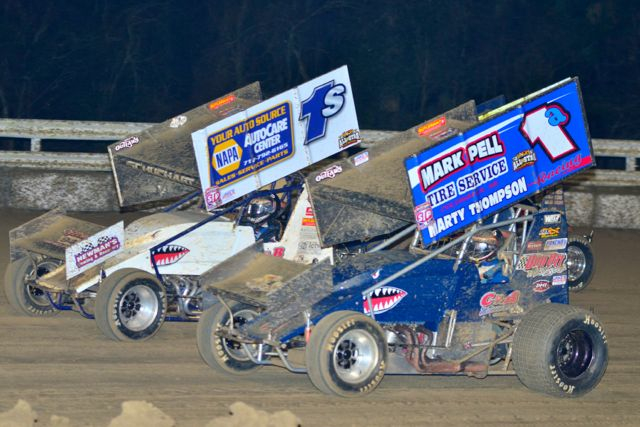 The team owner is Bobby Allen, one of the original outlaws and a member of the National Sprint Car Hall of Fame. He fields two sprint cars driven by his grandson, Logan Schuchart, and his son, Jacob Allen.
Schuchart, 21, is the son of one of Bobby's daughters with Doris Allen, Dana Allen, and Craig Schuchart. Jacob Allen, 19, is Bobby's son with Lisa Ralston Shelton.
Somehow it all works. Both young drivers from Hanover, Pa. are best friends and rookies on the WoO trail this year. They've both won KSE Hard-Charger Awards already this season, and they've both proven to be very popular with the fans.
Schuchart drives the #1s while Allen drives the #1a. Neither have primary sponsors, but they're duking it out with some of the best sprint car drivers in the world thanks to the support of companies and individuals such as Your Auto Source NAPA Autocare Center, Pell's Tire Service, Marty Thompson, Don Ott Racing Engines, Rich Fogle Custom Pole Buildings, Newman's Towing & Recovery, CnB Mushroom Farms, Brenneman Painting, Speedway 94, Dirt: The Game, Silpada Jewelry, Lebo Skin Care, DMI, Penske Shocks, ButlerBuilt Seats, Tony Stewart Racing, SR Lubricant Solutions and Mycroleum.
Fans may think the name of the team and the shark logos on both sprint cars are just part of an overall catchy marketing scheme, but actually it's all a tribute to another father — Bobby Allen's father, Joe — and to the sacrifices all of America's veterans made for our country.
Joseph Allen was a pilot for the U.S. Army and a member of the famous "Flying Tigers" in World War II. The Tigers' shark-faced fighters are among the most recognizable of any individual combat aircraft and combat unit of that war. They demonstrated innovative tactical victories when the war was not going well for the United States.
After the war Joe Allen was a commercial airline pilot. He also drove race cars, including some on the beach at Daytona, Fla., in the early days of NASCAR. His son got his love of speed honestly, and racing has been a way of life for the family for years.
Bobby Allen started to include "shark teeth" painted on his sprint cars after Joe Allen died of cancer in the early '80s.
His tribute has grown through several formats until it was formally established as the team's name in 2008 when Schuchart started driving 358 sprint cars. It's also the name of the sprint cars Allen builds, which are Shark chassis.
Both Schuchart and Jacob Allen consider their grandfather/father to be their racing mentor, and both realize the unique opportunity they have to learn from one of sprint car racing's pioneers.
On the other side, Bobby is trying to pass along the wealth of information and experience he has gained in his career to them both. It's part of his legacy, and he hopes that the experience his rookies are gaining this year will help them secure rides and sponsors for prolific careers of their own.
As Father's Day is celebrated on Sunday, the family's love of racing is a perfect example of how a father's legacy can be passed on through the young men who come after him. It can be seen in person through Bobby Allen, Schuchart and Jacob Allen, while Bobby's tribute to his own father can be seen through the shark logos on the sides of the team's sprint cars.
Both Schuchart and Allen are in action tonight at Jackson Speedway in Jackson, Minn., and tomorrow night at Knoxville Raceway in Knoxville, Iowa. It's all part of the most popular traveling sprint car series in the world. The series' Web site is at WorldofOutlaws.com. Free audio coverage of all the races and pay-per-view video coverage of selected races are available at DirtVision.com. Some of the races are telecast on CBS Sports Network and MAVTV too.
The team, Schuchart and Allen have Facebook pages and Twitter accounts, and Schuchart has a Web site at Shark1s.com. Team apparel can be ordered through that Web site as well.