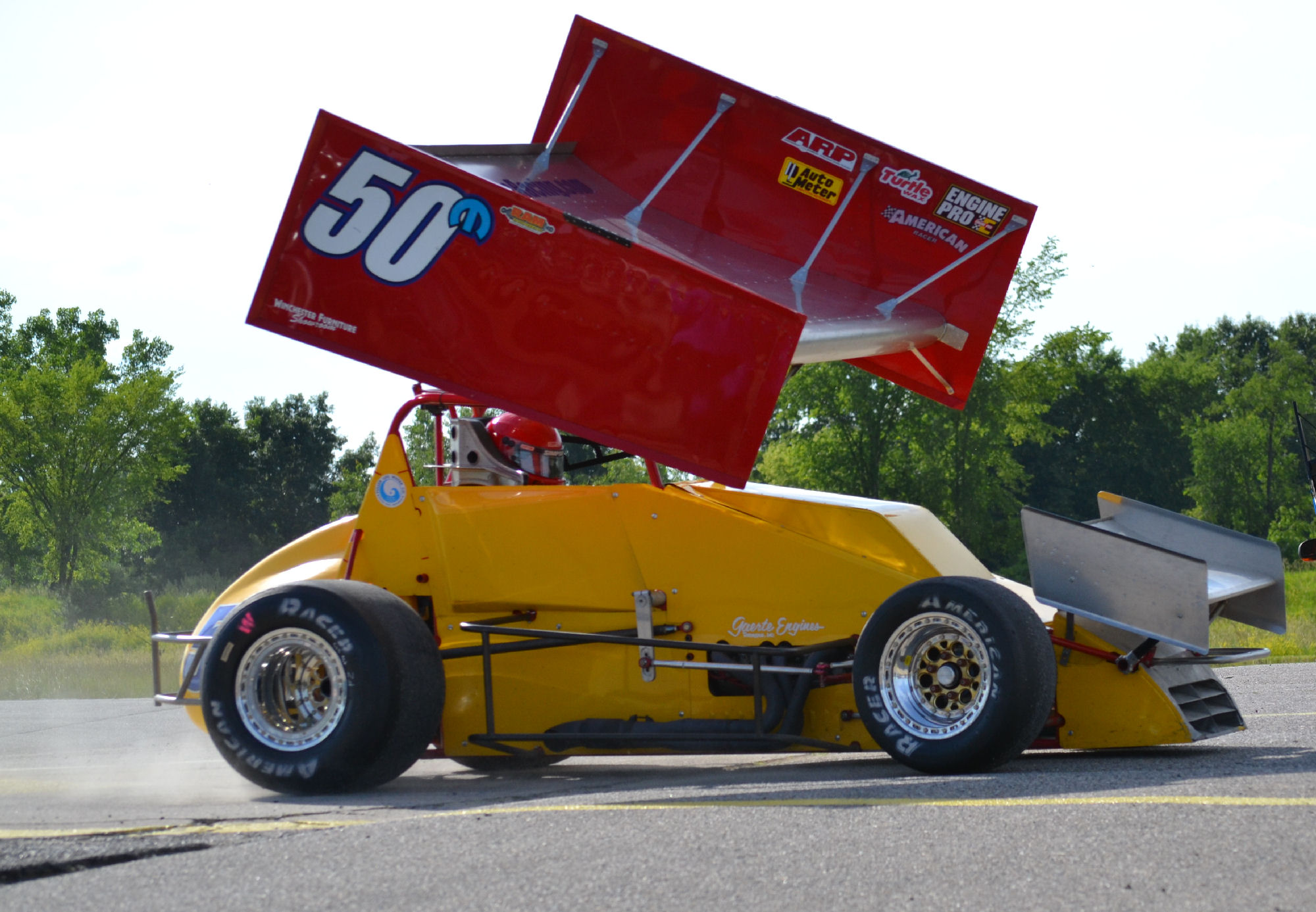 By Bob Buffenbarger
Brian Gerster turned in a masterful drive through heavy traffic en-route to the 50 lap Must See Xtreme Sprint Car feature at Owosso Speedway Saturday evening in front of a big crowd. This was Gerster's first ever trip to Owosso Speedway.
Pole sitter Ryan Gillenwater jumped out to big lead early with Jimmy McCune, David Byrne, Gerster and Kody Swanson all giving pursuit early. Two spins in the first nine laps were the only yellows to slow action and the remaining 41 circuits were fast paced.
When the green appeared again Gerster was on a mission picking off cars after starting 7th. Lap 14 saw Gerster guide the Meyers #50 into 2nd and one lap later he took the top spot from then leader McCune. Gerster was never seriously challenged but maneuvered his way through traffic that looked like the start of a feature especially in the closing laps.
Meanwhile behind Gerster, McCune and Swanson were waging a battle running  side by side and nose to tail with McCune prevailing over Swanson. A great run by Jeff Bloom netted him fourth with David Byrne fifth after a nice run.
Three entertaining heats were won by Gerster, McCune and Troy DeCaire
Feature- 50 Laps
1. Brian Gerster, 2. Jimmy McCune, 3. Kody Swanson, 4. Jeff Bloom, 5. David Byrne,6. Troy DeCaire, 7. Ryan Litt, 8. Aaron Pierce, 9. Billy Wease, 10. Tyler Underwood, 11. Jim Sheets, 12. Dustin Daggett, 13. Ryan Gillenwater, 14. John Turnbull Jr., 15. Ike Beasley, 16. Tim Cox, 17. Cody Hoover