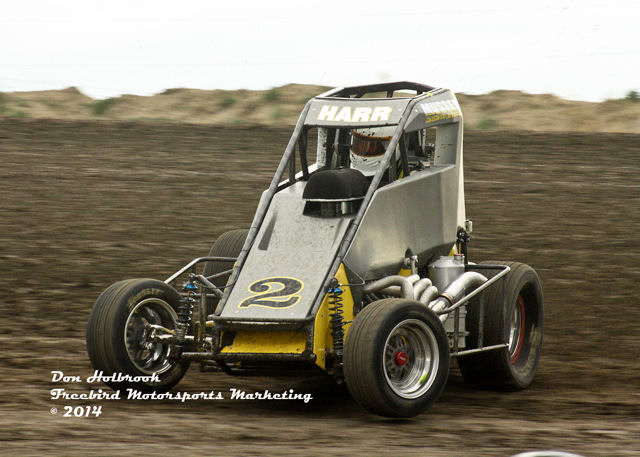 RMMRA Media
Ft. Morgan, CO. (June 21, 2014) – Bob Harr driving the Bear Electric, Musser Racing, Halaar Racing, Musser/Chevy won back to back Rocky Mountain Midget Racing Association (RMMRA) "A" Feature Saturday night at I-76 Speedway in Ft. Morgan, Colorado.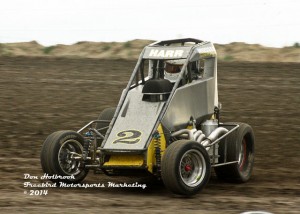 Rookie Midget driver Brad Hilton set the pace for the field of cars to start the 16 Lap "A" Feature. Scott Fennel took the charge at the start but after lap one, Harr passed Fennell for the led going into turn 4. Keith Rauch starting fifth row inside charged through the field, after lap two, Rauch was challenging Harr for the lead. Harr and Rauch were in their own world and was battling it out for the lead, which left the rest of the field challenging for positions. On the last lap going for the checker flag, coming out of turn four, Rauch tried to pass Rauch one final time but at the finish line it was Harr, Rauch, Tony Rossi, Fennell, and Greg Schaefer rounding out the top five positions.
Results:  (Unofficial)
Heat One (8 Laps) – 1. Keith Rauch, 2. Greg Schaefer, Bob Harr, Scott Fennell, Brad Tilton, Larry Bensenberg (DNS).
Heat Two (8 Laps) – 1. Chris Sheil, 2. Tony Rossi, 3. Mark Chisholm, 4. Mark Bensenberg (R), 5. Doug Bensenberg (R).
"A" Feature (16 Laps) – 1. Bob Harr, 2. Keith Rauch, 3. Tony Rossi, 4. Scott Fennell, 5. Greg Schaefer, 6. Chris Sheil, 7. Mark Chisholm, 8. Brad Hilton (R), 9. Doug Bensenberg (R), 10. Mark Bensenberg (R), 11. Larry Bensenberg (DNF).