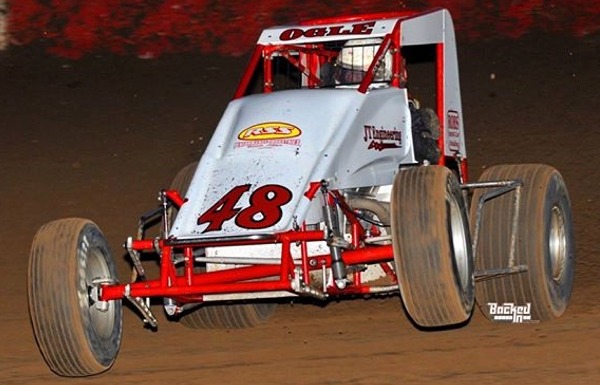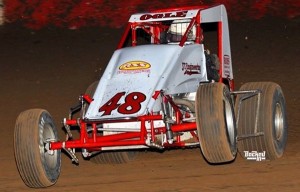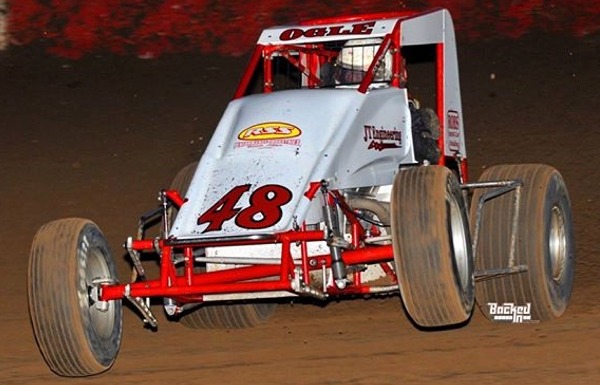 From Lance Jennings
Peoria, AZ — (June 26, 2014) — This Saturday, June 28th, the powerful USAC SouthWest Sprint Cars will battle at Prescott Valley Speedway. Hosted by General Manager Bugs Norbury, the tenth point race will also showcase Super Stocks, Prescott Valley Dwarf Cars, Vintage Cars, SCRA Factory Stocks, and Copper State Mod Lites. The Pit Gate opens at 4:00pm, the Front Gates at 5:00pm, and Racing is scheduled for 7:00pm.
Saturday's event will mark the second of five appearances at the Yavapai County Fairgrounds. At the May 3rd debut, veteran Shon Deskins led all 30-laps to claim his first SouthWest main event triumph. A talented roster of drivers will be on hand at Prescott Valley with their sights on adding the 3/8-mile oval to their win list.
After winning his third consecutive feature on June 14th at Canyon Speedway Park, R.J. Johnson of Phoenix leads the standings by twenty-seven points. Piloting Bill Michaels' #77M Kodiak Products / Beal's Auto Body Sherman, the defending champion has four main event wins, five heat race victories, one hard charger award, thirteen top-10 finishes, and 89 feature laps led. Johnson will be looking for his 16th USAC SouthWest victory and continuing his bid for another title.
Peoria's Josh Pelkey ranks second in the championship point chase. Driving Robbie and Gaye Allen's 12 ABC Body Shop / Napa Auto Parts Maxim, Pelkey charged to third at Canyon Speedway Park after starting eighth. To date, the 1997 ASCA Champion has two feature wins, three heat race victories, two hard charger awards, fifteen top-10 finishes, and 53 feature laps led. Josh will have his sights on his fourth SouthWest win and taking over the point lead.
"Chargin" Charles Davis Jr. of Buckeye sits third in the SouthWest standings. Racing the Massey Motorsports' #50 RSS Industries / MP Environmental RSS, Davis scored fourth in the June 14th main event after starting seventh. At press time, the five-time state champion has two feature wins, nine heat race victories, thirteen top-10 finishes, and 57 feature laps led on the year. "Chargin" Charles will be looking for his ninth series win and the $1,500 payday.
Phoenix's Shon Deskins is fourth in the chase for the championship. Piloting his #20 MP Environmental / Performance Plus Spike, Deskins ran tenth at Canyon Speedway Park. To date, the veteran driver has one feature win, four heat race victories, and ten top-10 finishes on the year. On Saturday, Shon will have his sights on claiming his second winning trophy at Prescott Valley.
After running second on June 14th, "The Magic Man" Mike Martin of Yuma has climbed to fifth in the standings. Racing his #16 PPG Professional Paints / Desert Building Materials Maxim, Martin has four heat race victories, one semi-main win, one hard charger award, nine top-10 finishes, and one feature lap led. The former "Hall of Fame Classic Winner" will be looking for his first win of the season on Saturday night.
Among the other drivers expected to be in action are Matt Rossi, "The Kid" Tye Mihocko, Mike Colegrove, Andy Reinbold, Nick Aiuto, "The Radio Flyer" Bruce St. James, Michael Curtis, Stevie Sussex, Brian Hosford, Tom Ogle, Mike Bonneau, Chris Bonneau, Josh Shipley, Mark Morin, Dennis Giles, and more.
Prescott Valley Speedway is located on the Yavapai County Fairgrounds at 10501 Highway 89A in Prescott Valley, Arizona. Adult tickets (11 and up) are $18 and Kids tickets (10 and under) are FREE. For more event information, visit the track's website at www.pvraceway.com or call 928.925.9858.
The USAC SouthWest Sprint Car Series thanks Sunoco Race Fuels, Hoosier Tire, Racers Advantage Store, and the Hose Advantage Store for their support. For more information on the group, visit www.southwestsprintcars.com, www.usacracing.com, or follow the series on Facebook (www.facebook.com/SouthwestSprintCars).
———————————————–
PRESCOTT VALLEY USAC SOUTHWEST SPRINT CAR WINS:
1-Shon Deskins.
USAC SOUTHWEST SPRINT CAR POINT STANDINGS:
1. R.J. Johnson-557, 2. Josh Pelkey-530, 3. Charles Davis Jr.-519, 4. Shon Deskins-462, 5. Mike Martin-408, 6. Matt Rossi-402, 7. Tye Mihocko-387, 8. Mike Colegrove-355, 9. Andy Reinbold-339, 10. Nick Aiuto-319, 11. Bruce St. James-315, 12. Michael Curtis-301, 13. Stevie Sussex-271, 14. Brian Hosford-260, 15. Tom Ogle-247, 16. Mike Bonneau-242, 17. Chris Bonneau-225, 18. Josh Shipley-207, 19. Mark Morin-170, 20. Dennis Giles-152.