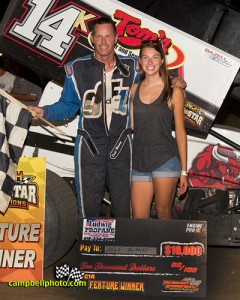 From Brian Liskai
Fremont, OH — (June 28, 2014) — Coming into the 32nd Annual Ohio Sprint Speedweek Dale Blaney had only one University of Northwestern Ohio All Star Circuit of Champions win, that coming in April. Now he wishes every week could be speedweek.
"The Low Rider" took the lead from James McFadden on lap 42 and drove to his fourth win of speedweek and a $10,000 payday at Fremont Speedway on Ludwig Propane Night. Blaney NEVER finished out of the top two in the six speedweek events (3 nights were lost to rain). He now has 104 career All Star victories. It was his third win of the season at Fremont and he now has 22 career victories at "The Track That Action Built," 16 of which are All Star wins.
For Blaney, the week was worth around $30,000 in earnings. He and car owner Tony Kennedy agreed to donate $1,500 to the Kick-It Foundation to help combat childhood cancer. Fremont Speedway has a goal to raise at least $50,000 by September for the foundation.
For Blaney, he becomes the first five time Ohio Sprint Speedweek champion (also in 1995, 2003, 2004, 2006 and 2014) and took a huge step in becoming the first five time UNOH All Star national champion.
"We should have speedweek every week. I love coming to all these Ohio tracks…they've been really great to me and the fans have really been great to me and I appreciate it more than you know. My guys are awesome. George (Fisher, crew chief) is unbelievable right now. We're working so good together and Tony has put together a great team and I'm the lucky guy who gets to drive this thing," said Blaney of his Kennedy Cattle/Ti22 Performance/GF1 Chassis/Penske Shocks backed #14K.
"Every time I would get a run on him (McFadden) the caution would come out. I thought for sure he'd move up a little bit but it worked out. What we earned this week will pay for a year in college for my daughter I guess," joked Blaney. "I'm very, very happy. Those guys (the crew) have earned it. Tony's risked a lot and we're doing pretty well right now. I hope we can keep it rolling. We have a lot of big races coming up…the Doty, the Royal. We're looking forward to the next race but we have a big opportunity to do some good here."
"Nobody's won five Ohio Sprint Speedweek titles…that's another notch to be up there with the likes of Frankie Kerr. I'm proud of the All Stars and teams and Rich Farmer has done a fantastic job with Fremont," added Blaney.
For Australian driver James McFadden, who up until a month ago had never laid eyes on Fremont Speedway, his second place finish was a bit of a disappointment after having lead the first 41 laps. However, in three appearances at Fremont he has a fourth, a $10,000 win and a second place finish at "The Track That Action Built."
"Dale Blaney is pretty much the master around this joint. This is the second time he's gotten around us with 10 to go. I'm disappointed in myself. I screwed up and hit the tires there and that was the race right there. I feel bad for the boys…they give me a great car and I just stepped on it," said McFadden beside his Tim Norman/Joe Gaerte owned machine. "We've got great car speed…I just can't finish it off."
"I'll go back to the drawing board to see what I can do different to beat that 14 car. It's awesome to race with him…he's probably my favorite driver and he also clean to race with. It's cool to see another Australian up here (Jamie Veal finished third). It proves how good our racing is back home and hopefully some of these fans can come over and visit us," added McFadden beside his Gaerte Engines/XYZ Machining/Red Line Oil/Hoosier Tires/All Star Performance backed machine.
Veal had a coming out party for the Ohio crowd during speedweek, adding another podium finish.
"I feel good to finish third especially against James and Dale Blaney, two of the best sprint car drivers in the world to race against. It was a pretty good week and I hope to keep it rolling over the next few weeks with the big races coming up," said Veal beside his SWI Engineering #35AU.
On Thursday John Ivy crashed his 305 sprint car and the crew had to spend the previous day thrashing to get a car ready for Saturday. The Fremont, Ohio driver rewarded the effort by holding off a hard-charging Bobby Clark to earn his first win of the season in the Fremont Federal Credit Union 305 Sprints. For Ivy, the track's defending division champion, it is his 46th career Fremont win and he is sixth on the track's all-time win list.
"I was wondering what to do there with about five to go. I didn't know whether I should stay here (on the bottom) or move up a little bit so I just let it roll up there a little bit. I think the tire started to seal up there at the end," said Ivy beside his Fremont Fence/B&L Heating and Plumbing/Little Bar on the Prairie/Sonny's Machining and Welding/Big D's Pizza/Kistler Engines/Nagy Equipment Sales/Willey's Towing/Kear's Speed Shop backed machine.
"I didn't think we'd ever get here. I saw that caution come out there on lap 18 and I was saying to myself 'I've been here before and I hope it doesn't end up the same way.' I have to thank Joey and my brother and big Kenny and everybody on this car. Those guys busted their busts yesterday to get this back together," said Ivy in the Engine Pro Victory Lane.
Not to be outdone by the exciting feature finishes, the AAA Ohio Auto Club Dirt Trucks put on a whale of a show. Shawn Valenti, who has eight wins at Fremont this season, and the track's all-time winningest driver, Art Ball, had the fans on their feet the final four laps as they raced door to door. When the checkered flew, it was 75-year-old Ball in the Engine Pro Victory Lane for the second time this season and for the 76th time of his career at Fremont Speedway.
"Honestly that was a whole lot of fun," said a very happy Ball beside his Chaney Roofing/Distel's Septic Service/Harley and Bev Lee/Ritzler Accounting/Faber Sub-Contracting/Lash Family Racing/Handy Graphix/TA Custom Cabinetry/Pierce Engineering backed truck.
It was a restart with five laps to go when Ball went for the lead.
"He (Valenti) wanted the top and I wanted the bottom and it worked. He always races clean and that's what I like about Shawn. I have one more win than my age now and that means I can come back and not lose one if I don't win a feature next year," added Ball with a grin from ear to ear.
McFadden and Danny Holtgraver brought the field of 24 to green for the 50-lap All Star feature. The race would stay green through the first 35 laps.
McFadden took the lead over Holtgraver, Rob Chaney, Caleb Griffith, Brian Lay and Veal. Griffith would drive into third on lap two and around Holtgraver for second a lap later. With five laps in McFadden had a comfortable lead over Griffith, Holtgraver, Veal, Chaney, Lay, Chad Kemenah and 9th starter Blaney.
As the leaders prepared to encounter heavy lapped traffic that was racing side by side by lap 15, Griffith closed on McFadden with Veal, Holtgraver, Chaney and Blaney in tow. McFadden picked his way through the lapped cars with Griffith and Veal locked in a great battle for second. Veal would take the runner-up spot on lap 19 but Griffith stayed close as the two battled back and forth over the next 8 laps.
At the half-way point McFadden was unchallenged for the lead while Veal and Griffith continued to battle for second while Chaney was fighting with Blaney for fourth. Blaney, utilizing the bottom groove, would move into fourth on lap 26 and closed on Griffith two laps later, taking third on lap 29.
With 15 laps to go McFadden, Veal and Blaney were locked in a tremendous race for the lead as they sliced through traffic. Max Stambaugh would stop on the back stretch on lap 36 to bring out the first caution. The restart order was McFadden, Veal, Blaney, Griffith and Chaney. When the green flew McFadden got an excellent restart with Blaney driving under Veal for second. But, Lee Jacobs would spin to necessitate another restart. After another lap was completed Brian Smith would spin. A lap and another caution when Byron Reed stopped on the track.
So, with 10 laps to go, the restart order was McFadden, Blaney, Chaney (who had moved into third on the previous restart), Veal, Griffith, Holtgraver and D.J. Foos who had worked his way up from the 17th starting spot. Again McFadden would get a tremendous restart over Blaney. But, on lap 42 McFadden would make a small bobble in turns three and four and Blaney pounced, shooting to his outside to drive into the lead.
Blaney could not shake McFadden as Veal and Chaney battled for third with Holtgraver, Griffith and Foos in tow. With three laps to go McFadden closed on Blaney but the Low Rider was able to fend off the challenge to take the win. Behind Blaney, McFadden and Veal at the finish were Chaney, Griffith, Foos, Holtgraver, Kemenah, Lay and Derek Hagar.
In the 25-lap 305 sprint feature Ivy and Thursday night's winner Paul Weaver brought the field to green with Ivy gaining the advantage over Weaver, Clark, Jimmy Colvin, Dustin Dinan and Josh Harrison. Brandon Moore would bring the caution out after one lap was recorded.
On the restart Ivy pulled away from Weaver who had his hands full with Clark while Colvin, Dinan, Harrison, Jason Keckler, Nate Dussel and Alvin Roepke put on a show for fourth. The running order didn't change much until the leaders caught the back of the pack by lap 10 but Kyle Peters would spin to give everyone a clear track.
The restart order was Ivy, Weaver, Clark, Colvin, Dinan, Dussel, Roepke, Harrison, Jordan Ryan, Keckler and Seth Schneider. When the green flew so did Ivy. With nine laps to go Ivy led Weaver and Clark with the battle for fourth going on between Colvin, Dinan, Dussel and Roepke.
Just as Clark passed Weaver for second, Peters would spin again, giving everyone a shot at Ivy. When the green flew Clark drove to Ivy's outside with Weaver, Dinan, Roepke and Ryan in pursuit. With three laps to go Ivy and Clark were side by side. Coming to the white flag Ivy drifted up to block Clark's advance as they exited turn four and that caused Clark to get a bad entry to turn one on the final lap.
Ivy would drive to the win over Clark, Weaver, Dinan and Ryan.
Matt Foos and Valenti brought the field to green for the 20-lap AAA Ohio Auto Club Dirt Truck feature and right away the crowd new they were in for a thriller as Foos, Valenti, Cory Ward and Ball raced side by side and nose to tail for the lead. However, after a lap was completed Andrew Lutman stopped on the track for a caution.
When the green flew the quartet of Foos, Valenti, Ward and Ball continued their battle. After Foos led by a bumper the first three laps, Valenti would slip by and begin to pull away as Foos, Ward and Ball continued to battle for second. Ball would finally take the second spot on lap 14 as they raced into lapped traffic.
Kent Brewer would stop in turn one on lap 15 to set up a fantastic finish. The restart order was Valenti, Ball, Foos, Ward, Jimmy McGrath Jr., Brad Keckler and Jim McGrath Sr. When the green flew Valenti went to the top with Ball racing to his inside. The pair raced door to door over the next three laps.
As they raced to the white flag Ball drove under Valenti to lead by a bumper with Ward getting around Foos. Valenti would bobble ever so slightly in turn two on the final lap, giving Ball an advantage. However, as they raced into the final two corners, Valenti regained his momentum and it was a drag race to the checkers. Ball would win by less than half a truck length over Valenti with Ward, McGrath Jr. and Foos rounding out the top five.
Fremont Speedway will be back in action Saturday, July 5 on Miller Rigging Night. It will be a Classic Car Cruise-In Night as well with fans encouraged to bring their classic cars out to put on display. It will be a Kistler Racing Products FAST (Fremont Attica Sprint Title) Championship Series event for the 410 sprints which will reward the champion with a $10,000 payday at the end of the season. The 305 sprints and dirt trucks will also be in action.
For more information go to www.fremontohspeedway.com or www.fastondirt.com
Fremont Speedway – 6/28/2014
Ludwig Propane Night
Fort Ball Pizza Palace 410 Sprints (44 Cars)
[#]-Starting Position
Qualifying – Kistler Engines
1. 3G-James McFadden, 12.940; 2. 11N-Randy Hannagan, 12.964; 3. 45L-Brian Lay, 13.037; 4. 5T-Travis Philo, 13.057; 5. 40DD-Caleb Griffith, 13.065; 6. 14H-Todd Heller, 13.067; 7. 9X-Rob Chaney, 13.072; 8. 1ST-Gary Taylor, 13.080; 9. 10H-Danny Holtgraver, 13.080; 10. 35AU-Jamie Veal, 13.119; 11. 63-Chad Kemenah, 13.160; 12. 70-Derek Hagar, 13.162; 13. 60K-Jody Keegan, 13.170; 14. 14K-Dale Blaney, 13.174; 15. 83M-Broc Martin, 13.195; 16. 22-Cole Duncan, 13.209; 17. 5R-Byron Reed, 13.212; 18. 6M-Max Stambaugh, 13.256; 19. 11F-D.J. Foos, 13.316; 20. 45-Tim Shaffer, 13.362; 21. 46AU-Stuart Williams, 13.363; 22. W20-Greg Wilson, 13.401; 23. 2-Shane Stewart, 13.431; 24. 81-Lee Jacobs, 13.443; 25. 57X-Andrew Palker, 13.471; 26. 71AU-Ryan Davis, 13.509; 27. 83-Stevie Smith, 13.550; 28. 97-Bryan Sebetto, 13.556; 29. 19P-Paige Polyak, 13.615; 30. 78-Todd Kane, 13.627; 31. 24H-Brandon Wimmer, 13.667; 32. 53-Cap Henry, 13.727; 33. 16-Chris Andrews, 13.797; 34. 2+-Brian Smith, 13.806; 35. 35-Stuart Brubaker, 13.844; 36. 9Z-Duane Zablocki, 13.844; 37. 40I-Mark Imler, 13.983; 38. 44W-Austin Wheatley, 13.989; 39. 9-Dean Jacobs, 14.013; 40. O7X-Dain Naida, 14.031; 41. 22B-Ryan Broughton, 14.411; 42. 83X-Nate Reeser, 14.423; 43. 9W-Jac Haudenschild, 14.584; 44. 39M-Matt Merrill, 16.360
Heat 1 – Kear's Speed Shop (10 Laps – Top 5 finishers transfer to the A-feature)
1. 10H-Danny Holtgraver[4] ; 2. 40DD-Caleb Griffith[5] ; 3. 5R-Byron Reed[2] ; 4. 16-Chris Andrews[9] ; 5. 3G-James McFadden[6] ; 6. 46AU-Stuart Williams[1] ; 7. 57X-Andrew Palker[7] ; 8. 22B-Ryan Broughton[11] ; 9. 40I-Mark Imler[10] ; 10. 19P-Paige Polyak[8] ; 11. 60K-Jody Keegan[3]
Heat 2 – All Pro Aluminum Heads (10 Laps – Top 5 finishers transfer to the A-feature)
1. 35AU-Jamie Veal[4] ; 2. 6M-Max Stambaugh[2] ; 3. 14K-Dale Blaney[3] ; 4. W20-Greg Wilson[1] ; 5. 2+-Brian Smith[9] ; 6. 11N-Randy Hannagan[6] ; 7. 14H-Todd Heller[5] ; 8. 44W-Austin Wheatley[10] ; 9. 83X-Nate Reeser[11] ; 10. 71AU-Ryan Davis[7] ; 11. 78-Todd Kane[8]
Heat 3 – Dragon Race Fuels (10 Laps – Top 5 finishers transfer to the A-feature)
1. 2-Shane Stewart[1] ; 2. 45L-Brian Lay[6] ; 3. 11F-D.J. Foos[2] ; 4. 9X-Rob Chaney[5] ; 5. 63-Chad Kemenah[4] ; 6. 83M-Broc Martin[3] ; 7. 24H-Brandon Wimmer[8] ; 8. 9W-Jac Haudenschild[11] ; 9. 83-Stevie Smith[7] ; 10. 35-Stuart Brubaker[9] ; 11. 9-Dean Jacobs[10]
Heat 4 – Kinsler Fuel Injection (10 Laps – Top 5 finishers transfer to the A-feature)
1. 45-Tim Shaffer[2] ; 2. 22-Cole Duncan[3] ; 3. 81-Lee Jacobs[1] ; 4. 70-Derek Hagar[4] ; 5. 97-Bryan Sebetto[7] ; 6. 53-Cap Henry[8] ; 7. 1ST-Gary Taylor[5] ; 8. 9Z-Duane Zablocki[9] ; 9. 5T-Travis Philo[6] ; 10. O7X-Dain Naida[10] ; 11. 39M-Matt Merrill[11]
Dash – Howard Johnsons of Lima (6 Laps, finishing order determined first 6 starting positions of A-feature
1. 3G-James McFadden[3] ; 2. 10H-Danny Holtgraver[5] ; 3. 40DD-Caleb Griffith[1] ; 4. 9X-Rob Chaney[4] ; 5. 35AU-Jamie Veal[2] ; 6. 45L-Brian Lay[6]
B-Main – MSD Ignitions (12 Laps – Top 4 finishers transfer to the A-feature)
1. 11N-Randy Hannagan[1] ; 2. 14H-Todd Heller[3] ; 3. 1ST-Gary Taylor[4] ; 4. 5T-Travis Philo[2] ; 5. 57X-Andrew Palker[8] ; 6. 83M-Broc Martin[6] ; 7. 83-Stevie Smith[10] ; 8. 9-Dean Jacobs[19] ; 9. 53-Cap Henry[14] ; 10. 9Z-Duane Zablocki[16] ; 11. 46AU-Stuart Williams[7] ; 12. 35-Stuart Brubaker[15] ; 13. 24H-Brandon Wimmer[13] ; 14. 40I-Mark Imler[17] ; 15. 22B-Ryan Broughton[21] ; 16. 9W-Jac Haudenschild[23] ; 17. 83X-Nate Reeser[22] ; 18. 71AU-Ryan Davis[9] ; 19. 39M-Matt Merrill[24] ; 20. 44W-Austin Wheatley[18] ; 21. 78-Todd Kane[12] ; 22. 19P-Paige Polyak[11]
A-Main – UNOH (50 Laps)
1. 14K-Dale Blaney[9]; 2. 3G-James McFadden[1]; 3. 35AU-Jamie Veal[5]; 4. 9X-Rob Chaney[4]; 5. 40DD-Caleb Griffith[3]; 6. 11F-D.J. Foos[17]; 7. 10H-Danny Holtgraver[2]; 8. 63-Chad Kemenah[7]; 9. 45L-Brian Lay[6]; 10. 70-Derek Hagar[8]; 11. 22-Cole Duncan[10]; 12. 11N-Randy Hannagan[11]; 13. W20-Greg Wilson[19]; 14. 14H-Todd Heller[13]; 15. 5T-Travis Philo[12]; 16. 81-Lee Jacobs[21]; 17. 1ST-Gary Taylor[14]; 18. 2+-Brian Smith[24]; 19. 45-Tim Shaffer[18]; 20. 5R-Byron Reed[15]; 21. 16-Chris Andrews[23]; 22. 97-Bryan Sebetto[22]; 23. 6M-Max Stambaugh[16]; 24. 2-Shane Stewart[20]
Hard Charger: 11F-D.J. Foos[+11]
Fremont Federal Credit Untion 305 Sprints (24 Cars)
[#]-Starting Position
Heat 1 – American Power Sports (8 Laps – Top 8 finishers transfer to the A-feature)
1. 1-Nate Dussel[7] ; 2. 8I-John Ivy[5] ; 3. 10S-Roger Shammo[2] ; 4. 10-Josh Harrison[6] ; 5. 36-Seth Schneider[3] ; 6. 12-Kyle Capodice[8] ; 7. O2-Kevin Lee[4] ; 8. 32-Ryan French[1]
Heat 2 – Kistler Racing Products (8 Laps – Top 8 finishers transfer to the A-feature)
1. 25-Jason Keckler[1] ; 2. 19R-Steve Rando[3] ; 3. 1W-Paul Weaver[2] ; 4. 6-Dustin Dinan[4] ; 5. 7A-Alvin Roepke[6] ; 6. 8M-T.J Michael[7] ; 7. 11G-Luke Griffith[8] ; 8. 29P-Mark Pinski[5]
Heat 3 – Hoosier Racing Tires (8 Laps – Top 8 finishers transfer to the A-feature)
1. 9-Jimmy Colvin[1] ; 2. 8-Bobby Clark[2] ; 3. 3J-Trey Jacobs[4] ; 4. 7M-Brandon Moore[3] ; 5. 5R-Jordan Ryan[7] ; 6. 68G-Tyler Gunn[5] ; 7. 22M-Dan McCarron[6] ; 8. 1X-KylePeters[8]
A-Main – (25 Laps)
1. 8I-John Ivy[1]; 2. 8-Bobby Clark[3]; 3. 1W-Paul Weaver[2]; 4. 6-Dustin Dinan[7]; 5. 5R-Jordan Ryan[15]; 6. 7A-Alvin Roepke[14]; 7. 1-Nate Dussel[11]; 8. 9-Jimmy Colvin[4]; 9. 25-Jason Keckler[9]; 10. 10-Josh Harrison[6]; 11. 36-Seth Schneider[13]; 12. 12-Kyle Capodice[16]; 13. 68G-Tyler Gunn[18]; 14. O2-Kevin Lee[19]; 15. 22M-Dan McCarron[21]; 16. 11G-Luke Griffith[20]; 17. 8M-T.J Michael[17]; 18. 32-Ryan French[22]; 19. 7M-Brandon Moore[8]; 20. 10S-Roger Shammo[12]; 21. 29P-Mark Pinski[23]; 22. 1X-KylePeters[24]; 23. 3J-Trey Jacobs[10]; 24. 19R-Steve Rando[5]
Hard Charger: 5R-Jordan Ryan[+10]
AAA Auto Club Dirt Trucks (20 Trucks)
[#]-Starting Position
Heat 1 – American Power Sports (8 Laps – Top 10 finishers transfer to the A-feature)
1. 7B-Shawn Valenti[2] ; 2. 36M-Cory McCaughey[1] ; 3. 5JR-Jimmy McGrath Jr.[9] ; 4. 18W-Cory Ward[4] ; 5. O-Jim Keegan[7] ; 6. 4S-Keith Sorg[5] ; 7. 85S-Bradley Stuckey[10] ; 8. 8KB-Kent Brewer[6] ; 9. 18R-Duffy Rubel[3] ; 10. 79-Andrew Lutman[8]
Heat 2 – Kistler Racing Products (8 Laps – Top 10 finishers transfer to the A-feature)
1. 2-Matt Foos[2] ; 2. 3X-Brad Keckler[1] ; 3. O1-Art Ball[9] ; 4. 37-Eric Devanna[4] ; 5. 5-Jim McGrath[3] ; 6. D1-Dustin Keegan[7] ; 7. 7-Dana Frey[8] ; 8. 33-Jeff Ward[10] ; 9. 22-Brandon Leighton[6] ; 10. 3-Andy Earnhart[5]
A-Main – (20 Laps)
1. O1-Art Ball[3]; 2. 7B-Shawn Valenti[2]; 3. 18W-Cory Ward[4]; 4. 5JR-Jimmy McGrath Jr.[6]; 5. 2-Matt Foos[1]; 6. 3X-Brad Keckler[8]; 7. 33-Jeff Ward[16]; 8. 5-Jim McGrath[7]; 9. 4S-Keith Sorg[9]; 10. 7-Dana Frey[14]; 11. D1-Dustin Keegan[12]; 12. 22-Brandon Leighton[18]; 13. 85S-Bradley Stuckey[11]; 14. 3-Andy Earnhart[19]; 15. 8KB-Kent Brewer[13]; 16. 37-Eric Devanna[10]; 17. 18R-Duffy Rubel[15]; 18. 36M-Cory McCaughey[20]; 19. O-Jim Keegan[5]; 20. 79-Andrew Lutman[17]
Hard Charger: 33-Jeff Ward[+9]