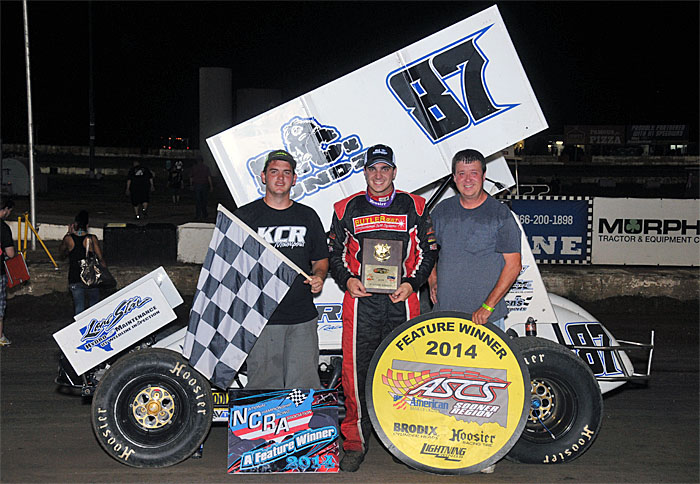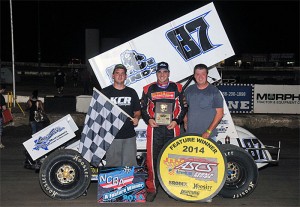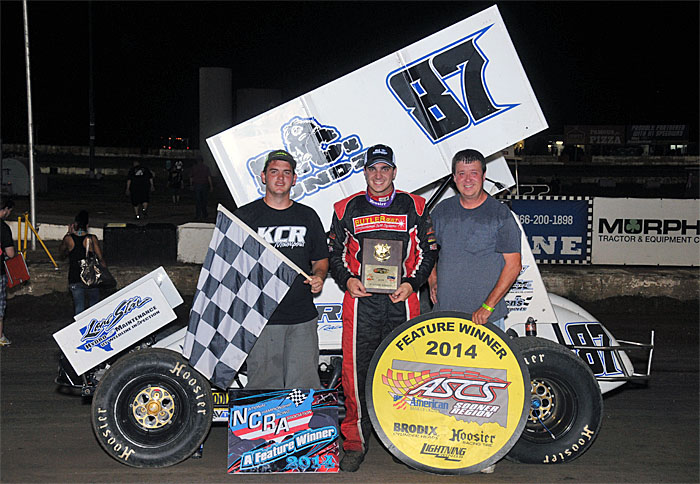 From Lonnie Wheatley
Park City, KS — (June 29, 2014) — A Sunday night in Kansas saw Aaron Reutzel victorious in the continuation of the American Bank of Oklahoma ASCS Sooner Region vs. National Championship Racing Association showdown with the Harvest of Gold Challenge at the 81 Speedway in Park City, Kan.
Evening the series challenge after C.J. Johnson grabbed the NCRA victory at Dodge City Raceway Park on Saturday; Reutzel pocketed $2,000 for his sixth overall win of 2014.
Matt Covington moved up one to finish second with eighth starting Jeremy Campbell third. Tony Bruce, Jr. crossed fourth from twelfth with Josh Baughman making up the top-five.
After an overheating engine forced a DNF in his Heat, sending the No. 53 to the B-Feature, Jack Dover clawed his way to sixth after coming from fourteenth in the B-Main to second; gridding Dover sixteenth in the A-Feature. Thirteenth starting Billy Alley was seventh with Jordan Weaver eighth. Jon Freeman crossed ninth with Sean McClelland rounding out the top-ten.
The American Bank of Oklahoma ASCS Sooner Region is off until July 18 with the region's return to the Creek County Speedway in Sapulpa, Okla. For continued updates, log onto http://www.ascsracing.com.
American Bank of Oklahoma ASCS Sooner Region
vs.
National Championship Racing Association
81 Speedway – Park City, Kan.
Sunday, June 19, 2014
Car Count: 29
Heat 1 (10 Laps): 1. 87-Aaron Reutzel; 2. 17X-Josh Baughman; 3. 48-Jake Martens; 4. 3-Billy Alley; 5. 35L-Cody Ledger; 6. 72-Raymond Seemann; 7. (DNF) 5-Jason Schroeder; 8. (DNF) 53-Jack Dover
Heat 2 (10 Laps): 1. 85-Forrest Sutherland; 2. E85-Luke Cranston; 3. 1-Sean McClelland; 4. 93-Dustin Morgan; 5. 7M-Kevin Ramey; 6. 17W-Harli White; 7. 8-Alex Sewell
Heat 3 (10 Laps): 1. 95-Matt Covington; 2. 81-Jon Freeman; 3. 1X-Tony Bruce Jr; 4. 11AM-Mike Goodman; 5. 99-Scott Lehman; 6. 5-Jason Schroeder; 7. 72-Raymond Seemann
Heat 4 (10 Laps): 1. 92-Jordan Weaver; 2. 10C-Jeremy Campbell; 3. 98-J.D. Johnson; 4. 45X-C.J. Johnson; 5. 33-Kris Miller; 6. 91-Jeff Stasa; DNS 50-Gavin Stout
B Feature 1 (12 Laps): 1. 93-Dustin Morgan[2]; 2. 53-Jack Dover[14]; 3. 35L-Cody Ledger[4]; 4. 7M-Kevin Ramey[5]; 5. 33-Kris Miller[3]; 6. 45X-C.J. Johnson[1]; 7. 99-Scott Lehman[6]; 8. 91-Jeff Stasa[8]; 9. 20G-Jake Greider[13]; 10. (DNF) 17W-Harli White[9]; 11. (DNF) 72-Raymond Seemann[7]; 12. (DNF) 8-Alex Sewell[12]; 13. (DNF) 5-Jason Schroeder[10]; DNS 5L-Joe Bob Lee
A Feature (30 Laps): 1. 87-Aaron Reutzel[1]; 2. 95-Matt Covington[3]; 3. 10C-Jeremy Campbell[8]; 4. 1X-Tony Bruce Jr[12]; 5. 17X-Josh Baughman[5]; 6. 53-Jack Dover[16]; 7. 3-Billy Alley[13]; 8. 92-Jordan Weaver[4]; 9. 81-Jon Freeman[7]; 10. 1-Sean McClelland[11]; 11. 35L-Cody Ledger[17]; 12. 93-Dustin Morgan[15]; 13. 98-J.D. Johnson[9]; 14. 48-Jake Martens[10]; 15. 85-Forrest Sutherland[2]; 16. 33-Kris Miller[19]; 17. 99-Scott Lehman[20]; 18. (DNF) 7M-Kevin Ramey[18]; 19. (DNF) E85-Luke Cranston[6]; 20. (DNF) 11AM-Mike Goodman[14]