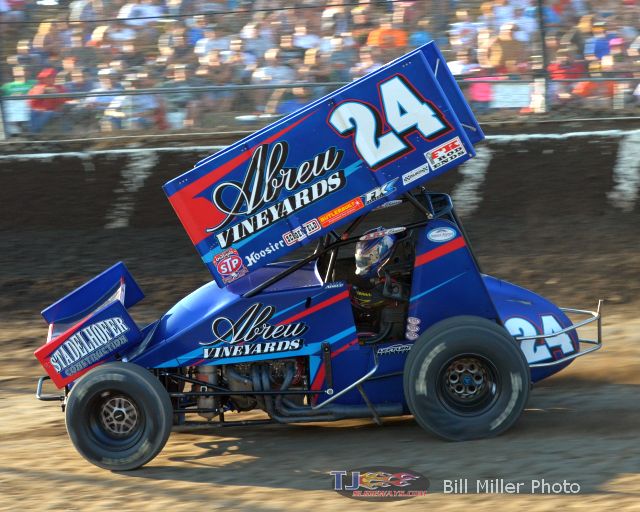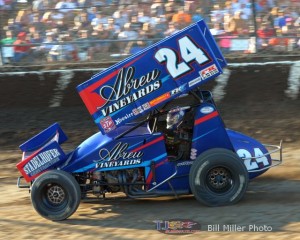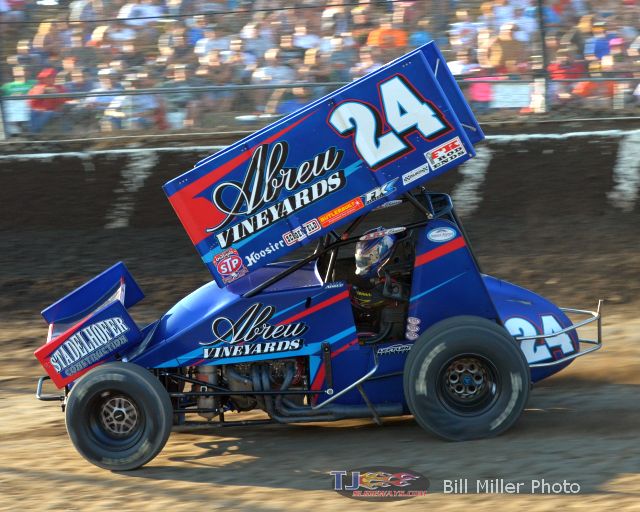 From Ben Deatherage
Medford, OR — (June 30, 2014) — It was an extremely hot day at Southern Oregon Speedway in White City on Monday June 30th as the American Sprint Car Series-Northwest Region would be on hand for the second round of Speedweek Northwest. Thirty-three drivers were on hand for competition from the states of Oregon, Washington, California, Montana, and Nevada as well as the Canadian province of Alberta.
Despite a pileup on the opening start of the feature the race would go green to checker in a great one. Rico Abreu from Rutherford, California would seize the lead on the second start and would not look back as he put on a clinic. Abreu would construct a massive lead and would make several key paces in traffic to win the feature by over half a lap with only seven cars finishing on the first lap.
It would be the first ASCS-Northwest Region victory for Abreu and the Abreu Vineyards/Butler Built/Alpine Star/XYZ Machine/Shaver Specialties #24 A.R.T. team. Abreu's win would make him the second winner in two nights of Speedweek Northwest and the seventh different winner in eight ASCS-Northwest Region events.
"Wow!," said Rico Abreu in victory lane, "what a track this is by far the best this place has ever been. I got thank Brian Crockett, he knows how to put a track together and this track was beautiful. I also got to thank Paul Silva, Trevor Canales, and my uncle Jimmy they all work so hard to make this thing happen and it feels so special to be standing up here."
Roseville, California's Sean Becker was second driving the Cherry Street Mini Storage/Menne Ranch/GoCorder.com/PonyBracket.com #75Z Maxim for car owners Dan and Cindi Menne while the Scott and Jason Finley owned Finley Farms/CLT Logging/Carlson Trucking/Rider Racing Engines #77 Maxim piloted by Kyle Hirst from Chico, California was third. The balance of the top five would consist of Chico, California's Jonathan Allard in fourth in the Clyde and Marion Lamar owned Tri-C Machine/Butler Built/Platinum Powdercoating #3C Maxim followed by Trey Starks from Puyallup, Washington in his Starks Timber Processing/T&C Concepts/MASCO Petroleum/Southstar Equipment Limited #55 J&J of in fifth
Heat races winners were Jared Ridge of Snohomish, Washington in his Snohomish Auto Parts/Ridge Runner Wings/JRS Motorsports/Shaver Specialties #12 XXX, Junction City's Shane Forté in the Oregon Fuel Injection/Guaranty Chevrolet/Davis Cabinets/Grant Springer Racing Engines #26F Maxim, Trey Starks, and Central Point native Garen Linder driving his Cook Crane Corporation/Taco Delight/Triple Tree Restaurant & Lounge/Rodgers Racing Engines #22 KPC.
In the two consolation features the winners were David Hoiness of Billings, Montana in his Schnitzer Steel/Briggs Distributing/Ideal Manufacturing/Wesmar Racing Engines #27DD J&J and the Winmar Property Restoration/Tristarcars.ca/AMS Racing Engines #44 Schnee of Kelly Miller out of Lethbridge, Alberta, Canada.
Round three of Speedweek Northwest will see the ASCS-Northwest Region trek north to the Coos Bay Speedway on the scenic Oregon Coast. For more information log on to www.ascsnorthwest.com.
Race Summary:
ASCS-Northwest Race #8/Speedweek Northwest Round #2
Monday June 30th, 2014
Southern Oregon Speedway
White City, Oregon
A Feature: 1. 24-Rico Abreu[1]; 2. 75Z-Sean Becker[2]; 3. 77-Kyle Hirst[4]; 4. 3C-Jonathan Allard[7]; 5. 55-Trey Starks[3]; 6. 01-Andy Forsberg[19]; 7. 71-Colin Baker[13]; 8. 0-Bud Kaeding[15]; 9. 5H-Chase Johnson[9]; 10. 12-Jared Ridge[8]; 11. 3J-J.J. Hickle[11]; 12. 3D-David Hibbard[16]; 13. 21W-Vern Wheeler Jr[20]; 14. 27DD-David Hoiness[17]; 15. 26F-Shane Forte[10]; 16. 68-Rob Held[6]; 17. 22-Garen Linder[5]; 18. 44-Kelly Miller[18]; 19. 37-Mitchell Faccinto[12]; 20. 72-Phil Dietz[14]
B Feature 1: 1. 27DD-David Hoiness[2]; 2. 01-Andy Forsberg[3]; 3. 22M-Mason Moore[4]; 4. 9R-Reece Goetz[5]; 5. 94-Steven Tiner[1]; 6. 4J-Allison Journey[6]; 7. W5-Jesse Williamson[8]; 8. 96-Greg Hamilton[9]; 9. 84K-Wayne Kniffen[7]
B Feature 2: 1. 44-Kelly Miller[1]; 2. 21W-Vern Wheeler Jr[6]; 3. 49-Mike Monahan[3]; 4. 5R-Steve Reeves[2]; 5. 5N-Seth Nunes[5]; 6. 11L-Jeremy Lowe[8]; 7. 6A-Kady Adelman[7]; 8. 16-Nick Tomlinson[4]
Heat 1: 1. 12-Jared Ridge[2]; 2. 75Z-Sean Becker[8]; 3. 37-Mitchell Faccinto[4]; 4. 94-Steven Tiner[3]; 5. 3J-J.J. Hickle[9]; 6. 01-Andy Forsberg[7]; 7. 9R-Reece Goetz[5]; 8. W5-Jesse Williamson[1]; 9. 11L-Jeremy Lowe[6]
Heat 2: 1. 26F-Shane Forte[1]; 2. 68-Rob Held[4]; 3. 24-Rico Abreu[8]; 4. 71-Colin Baker[6]; 5. 0-Bud Kaeding[7]; 6. 22M-Mason Moore[5]; 7. 4J-Allison Journey[2]; 8. 6A-Kady Adelman[3]
Heat 3: 1. 55-Trey Starks[2]; 2. 5H-Chase Johnson[4]; 3. 3C-Jonathan Allard[8]; 4. 44-Kelly Miller[3]; 5. 5R-Steve Reeves[5]; 6. 49-Mike Monahan[6]; 7. 84K-Wayne Kniffen[1]; 8. 21W-Vern Wheeler Jr[7]
Heat 4: 1. 22-Garen Linder[2]; 2. 77-Kyle Hirst[7]; 3. 72-Phil Dietz[1]; 4. 3D-David Hibbard[4]; 5. 27DD-David Hoiness[8]; 6. 16-Nick Tomlinson[3]; 7. 5N-Seth Nunes[5]; DNS 96-Greg Hamilton
Current ASCS-Northwest Region Points (Top Ten):
1. 71-Colin Baker 952; 2. 3-J.J. Hickle 899; 3. 68-Rob Held 877; 4. 9R-Reece Goetz 864; 5. 21W-Vern Wheeler Jr. 859; 6. 77-Kyle Hirst 796; 7. 22-Garen Linder 756; 8. 16-Nick Tomlinson 673; 9. 33V-Henry Van Dam 659; 10. 6A-Kady Adelman 643
Current Speedweek Northwest Points (Top Ten):
1. 24-Rico Abreu 292; 2. 77-Kyle Hirst 285; 3. 75-Sean Becker 277; 4. 71-Colin Baker 249; 5. 55-Trey Starks 233; 6. 3-J.J. Hickle 227; 7. 01-Andy Forsberg 216; 8. 5H-Chase Johnson 213; 9. 22-Garen Linder 206; 10. 37-Mitchell Faccinto 205