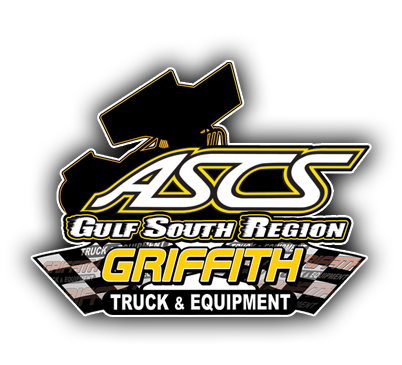 By Bryan Hulbert
GOLIAD, Texas (July 4, 2014) – Independence Day was one of celebration for Travis Elliot as the Alvin, Texas driver finally parked the Motor Mike No. 15T in Victory Lane at the Shady Oaks Speedway with the Griffith Truck and Equipment Gulf South Region.
Taking off from the pole, Elliot led start-to-finish to become the 55th different winner with the Gulf South Region. Wes Miller grabbed second with Klint Angelette taking the show position. Tommy Bryant and Brandon Berryman made up the top five.
After nearly going upside-down on the start, Ray Allen Kulhanek, who originally started tenth, charged from twentieth to sixth. Chris Sweeney was seventh followed fifteenth starting John Pate. Mike Walling from eighteenth was the final driver running. Travis Rilat was the first DNF and completed the top ten.
After rains delayed the night's program for just over an hour, track crews need to be thanked for being able to bring the track back.
The Griffith Truck and Equipment Gulf South Region races next at the Battleground Speedway in Highlands, Texas on Saturday, July 5. For continued updates, log onto http://www.ascsracing.com.
Griffith Truck and Equipment Gulf South Region
Shady Oaks Speedway – Goliad, Texas
Friday, July 4, 2014
Car Count: 21
Heat 1 (8 Laps): 1. 28-Tommy Bryant; 2. 15T-Travis Elliott; 3. 4J-John James; 4. 17T-Greg Rilat; 5. 51-Caleb Martin; 6. 24-Brandie Jass; 7. 12-Scott Smith
Heat 2 (8 Laps): 1. 11-Channin Tankersley; 2. 31-Brandon Berryman; 3. 39C-Travis Rilat; 4. 7-Wyatt Rector; 5. 87-Aaron Reutzel; 6. 29-Mike Walling; 7. (DNF) 17-Blake Hahn
Heat 3 (8 Laps): 1. 19-Klint Angelette; 2. 2-Wes Miller; 3. 21T-Ray Allen Kulhanek; 4. 93-Chris Sweeney; 5. 53-Andrew VanBlarcum; 6. 36-John Pate; 7. 33S-Steve Hubbard
A Feature (25 Laps): 1. 15T-Travis Elliott[1]; 2. 2-Wes Miller[2]; 3. 19-Klint Angelette[5]; 4. 28-Tommy Bryant[4]; 5. 31-Brandon Berryman[3]; 6. 21T-Ray Allen Kulhanek[10]; 7. 93-Chris Sweeney[8]; 8. 36-John Pate[15]; 9. 29-Mike Walling[18]; 10. (DNF) 39C-Travis Rilat[6]; 11. (DNF) 11-Channin Tankersley[7]; 12. (DNF) 7-Wyatt Rector[12]; 13. (DNF) 17-Blake Hahn[19]; 14. (DNF) 24-Brandie Jass[14]; 15. (DNF) 53-Andrew VanBlarcum[16]; 16. (DNF) 12-Scott Smith[20]; 17. (DNF) 87-Aaron Reutzel[11]; 18. (DNF) 17T-Greg Rilat[9]; 19. (DNF) 51-Caleb Martin[13]; 20. (DNF) 33S-Steve Hubbard[17]; DNS 4J-John James