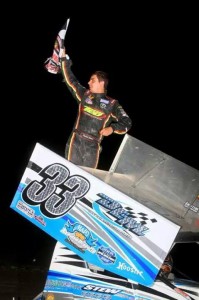 From ESS
Vernon, NY — (July 6, 2014) — It was a strange night at the Rolling Wheels Raceway for the stars of the Lucas Oil Empire Super Sprint tour. Rain delayed the start of the program for several hours and then the unthinkable happened on more than one occasion. At the end of the night, it was Stewart Friesen coming home with his second tour win in the SUNY Canton/Einstein Construction Group Speedweek 25-lap E&V Energy Tour of the States main-event.
"I got to thank Barb (Patterson) and Doug (Emery)," said Friesen. "This is awesome. Doug gave me a great race car tonight. I don't know if we had anything for the Cobra (Hebing) there, we were going to be close or maybe a distance second. That was a lot of fun and I'm thankful for the opportunity to drive it."
Davie Franek and Steve Poirier started on the front row of the first night of racing for Speedweek with Poirier taking the lead at the start. Poirier maintained that lead through an early caution and then a red flag period on lap four.
Jeff Cook, Etienne Girard and Patrick Vigneault came together in turns one and two. Girard got the worst end of the deal flipping high into the air before landing on all four wheels. He was shaken in the incident but uninjured as were Vigneault and Cook.
Poirier blasted back to lead at the green with a new challenger emerging in the second position in Chuck Hebing. Hebing drove around the extreme top of the speedway to make his way to the front from the fourth position. He began hounding Poirier for the lead.
On lap 10, as the pair raced in traffic, Poirier and Hebing entered turn one with Hebing entering above the cushion and Poirier bouncing off of it. As they raced off of the second corner Hebing dove under Poirier for the lead. Poirier shot to the right and he spun off the top of the speedway. He had broken the front end and his spin brought out the caution.
At this point Hebing looked to go on for his fifth career win at the big five-eighths mile facility. He was trailed by Jessica Zemken, Franek and Friesen who now ran fourth after starting in position 12.
At the halfway point of the feature it was Hebing running away while Friesen, driving an Donath Motor Worx powered Eagle, raced second. Behind them Jason Barney and Bryan Howland began racing for spots in the top five after both drivers started deep in the field.
"I tried to keep the car in clean air to build my momentum up," stated Friesen. "I had to roll the corners. If a guy got chocked up a little bit you could really zing by them on the top or the bottom."
Zemken slowed and stopped on lap 16 with smoke billowing from her No. 1z as she lost an engine. At this point Hebing continued to hold Friesen at bay for the top spot in the feature.
Race resumed and Hebing picked up right where he left off, with the top spot. One lap later that changed as the top wing broke apart on Hebing's car causing him to slow and stop in the first turn giving the lead to Friesen.
"We had a little fortune go our way there with Hebing ripping that side board off," said Friesen. "I got up and tried the line he was running, it was a lot fun and it was really fast, but it felt like it was going to break the car down. These things are pretty brittle. I'm glad he was able to hold on to it because I've seen what can happen when that happens."
With the green flag out once more, Friesen drove his Doug Emery owned No. 33 away from the field to go on for the $2,000 triumph. Howland advanced from 18th spot to finish second at the line. Howland was pleased with a result on the quick racing surface.
"It was a lucky night for us," commented Howland, of Union Springs, N.Y. "We rolled the car into the trailer in one piece. We held on for a second place run. I don't know what Stewy does, but him and Doug are a lethal combination. You are pretty much racing for second every time they show up. I tried to race with him on the last two restarts but the car wouldn't fire worth a crap.
Franek, of Wantage, N.J., held on to finish in third after battling with both Howland and Danny Varin in the final laps.
"I think there was a little bit of a lack of experience of the driver part," stated Franek. "The track was heavy and fast. At the beginning the race you had to run above the curb and the drivers didn't want to go up there. Usually we are good when the track is like that. It was just a lack of experience on my part."
Varin, of Fonda, N.Y., came home in the fourth position with Cory Sparks having a solid night after starting 17th to finish in fifth. Rounding out the top ten were Barney who was as high as third but was running our of fuel, Tommy Wickham, Paige Polyak, Sammy Reakes IV and Matt Tanner.
ESS/Rolling Wheels Speedweek Notes – A nice field of 32 sprints in the pits…young Paige Polyak from Ohio made her first ever ESS start aboard a car owned by ESS Hall of Famer Mike Woodring…Sammy Reakes IV made his first start of 2014 after job commitments kept him away until now…Despite threatening weather all night, thanks to the track crews, the sprint and modified teams that show get in against all odds and a big crowd was rewarded with an exciting show.
SUNY Canton/Einstein Construction Group A-Main – Stewart Friesen ($2,000), Bryan Howland, Davie Franek, Danny Varin, Cory Sparks, Jason Barney, Tommy Wickham, Paige Polyak, Sammy Reakes IV, Matt Tanner, Scott Kreutter, Dave Axton, Glenn Styres, Paul Habeck, Steve Poirier, Chuck Hebing, Jessica Zemken, Steve Collins, Jeff Cook, Kevin Ward Jr., Paul Kinney, Patrick Vigneault, Etienne Girard.
Did Not Qualify – Zach Weigand, Joe Trenca, Charlie Donk, Steve Hutchinson Jr., Shawn Donath, Yan Bilodeau, Tim Axton, Mike Stelter, Steve Glover.
Lap Leaders – Poirier 1-10, Hebing 11-16, Friesen 17-25
Car Mate Custom Built Trailers Heat 1 – Poirier, Kreutter, Friesen, Hebing, Zemken, Kinney
Car Mate Custom Built Trailers Heat 2 – Cook, Polyak, Ward Jr., Varin, Girard, Sparks
Car Mate Custom Built Trailers Heat 3 – Tanner, Franek, Reakes IV, Vigneault, Styres, Howland
Walt's Hobby/Cobra Coaches Dash – Tanner
Lacaillade Masonry B-Main – Wickham, Collins, D. Axton, Habeck
Provisional Starter – Barney
Bonuses:
Westward Painting Company Halfway – Hebing $100
Insinger Race Performance Fuels Hard Charger – Barney (17 pos.) $50
Fondations 55 – Pick 5 – Sparks $50
Lacaillade Masonry B-Main – Wickham $50
Car Mate Trailers Heats – Poirier, Cook, Tanner $25
Go Nuclear Late Models Go Fast – Hebing $25
Bitner Automotive Blistering Fast Tme – Hebing $25
The Lucas Oil Empire Super Sprints are brought to you by: Lucas Oil, Mach 1 Chassis, SUNY Canton, E&V Energy, Le Groupe Ultra, Hoosier Racing Tires, Insinger Performance, Fondations 4 Saisons, Cobra Coaches, Westward Painting Company, Fondations 55, Einstein Construction Group, Camara Slate, Car Mate Trailers, Brodix Cylinder Heads, Ohsweken Speedway, Lacaillade Masonry, FX Chevy and many, many associate sponsors!!
Dean Reynolds
8:01 AM (7 minutes ago)
to Lucas
clip_image002clip_image004
For Immediate Release:
Contact Dean Reynolds: DeanR@empiresupersprints.com
(315) 458-1714 (Office), (315) 391-6965 (Cell)
Jason Barney Nips Matt Tanner to Win at Fulton Speedway During ESS CNY Speedweek
By MIKE MALLETT
FULTON, N.Y. – One night after losing a Lucas Oil Empire Super Sprint A-Main in the closing laps, Jason Barney rebounded strongly at the Fulton Speedway with a win in the 25-lap feature worth $2,125. The win came on night four of SUNY Canton/Einstein Construction Speedweek.
The win was Barney's first of the season and came after he wrestled the lead away from Larry Wight and then held off the challenges of a hard charging Matt Tanner in the final laps.
"I owed my guys this one," said Barney in Victory Lane. "We had the greatest car last night and the driver let them down and I wasn't going to let that happen tonight. We came in with a game plan and stuck to it. What an unbelievable week."
Wight charged to the lead from the pole at the green flag and led over Tanner who started alongside him on the front row. Wight was a half-straightaway in front by the time the first caution came out as Charlie Donk stopped in turn two with a broken frontend.
At the green, Wight again led with Steve Poirier taking over second and Tanner falling in line in third. All three drivers worked with the top of the speedway with Barney charging on the bottom of the track to fourth after starting ninth.
With nine laps showing complete, Wight caught the back of the field and began working traffic. By this point Barney had moved into the second spot by working the extreme bottom of the track.
As Barney got close to making a move on Wight the final caution of the race came out for Zach Weigand. Weigand hit an implement tire on the bottom of the speedway wrecking the front-end of his family owned No. 20.
Wight jumped out to lead again on the restart. He flew to the outside of the speedway opening up a full straightaway gap on Barney as he sat in second battling with Tanner and Poirier.
Things changed again for Wight as he hit traffic on lap 16. That impeded his progress enough allowing Barney to again charge up to his back bumper. Wight struggled with the slower cars while Barney continued to make up ground passing cars on the bottom.
Barney made his move on lap 21 as Wight got caught behind two slower cars battling for position. Barney drove off the bottom of turn two and found an opening between the two cars. He shot through the gap into the lead. From there he opened a slight edge on both Wight and Tanner.
"He (Wight) got out about a straightaway on us and I kept working on my line and working my line," commented Barney. "I kept trying to get off the corners the best I could without hitting those tires. I got close to them but I had to go for it. I knew I had to sneak up on Larry (Wight) in lapped traffic and that was only chance I was going to have to get him."
There were only two laps remaining when Barney found himself in the same predicament as Wight earlier. He was caught behind lapped cars running his line. As a result Tanner and Wight pulled up to his backside.
On the final lap Barney was behind a slower car on the bottom and Tanner jumped to the top. Barney made a bonsai move off of the second turn to get under car going down the backstretch. He raced to the bottom of turns three and four while Tanner threw it in on the top. At the checkered it was Barney in his Pit Stop Convenience Stores No. 87 by a car-length over Tanner.
For the second year in a row Tanner came home in the second spot. Tanner made a final lap effort on the top-side but it was to no avail giving him a second place effort which is his best effort of Speedweek.
"I thought that last lap I had something for Jason (Barney)," said the Stephentown, N.Y., native. "The top down here was burned off and he got a good run off the bottom. Congratulations to those guys. I don't know but I'm starting to get sick of the seconds and thirds this year. We've struggled a little this week but we are looking forward tomorrow to Utica-Rome. That is a place we usually run well."
Wight crossed the line in the third position but was later disqualified for utilizing an illegal tire on his No. 99L. As a result Steve Poirier was credited with the third position. It was his best finish of Speedweek to this point.
"The way Speedweek got started we are happy with third," commented Poirier. "I tried the bottom once but I couldn't stay down there. I put a bigger left rear tire on the car because we didn't plan on running the bottom. I felt like the power steering had a problem. At one point I got tired and stayed where I was."
Jessica Zemken advanced form the 17th starting position to finish in fourth while Paul Kinney came from 15th to complete the top five. Making up the next five were Chuck Hebing, Ohio star Paige Polyak, Michael Parent, Davie Franek, who came into the night the Speedweek point leader and Doug Emery.
ESS/Fulton Notes – A big field of 35 sprints filled the pits in front of a big crowd…Emery, Wight and Jim Gleason joined the Speedweek for the first time…After his spectacular flip, Etienne Girard made his return but engine woes saw him a DNQ…Bryan Howland also had issues under the hood which hindered his ability to repeat his win one year ago.
SUNY Canton/Einstein Construction Group A-Main – Jason Barney ($2,125), Matt Tanner, Steve Poirier, Jessica Zemken, Paul Kinney, Chuck Hebing, Paige Polyak, Michael Parent, Davie Franek, Doug Emery, Cory Sparks, Joe Trenca, Steve Hutchinson Jr., Sammy Reakes IV, George Suprick, Parker Evans, Scott Kreutter, Dave Axton, Tim Axton, Danny Varin, Zach Weigand, Jeff Cook, Charlie Donk, Kevin Ward Jr., Larry Wight.
Note – Larry Wight placed third but was credited for last with an unapproved left rear tire.
Did Not Qualify – Etienne Girard, Tommy Wickham, Paul Habeck, Paul Pekkonen, Kelly Hebing, Yan Bilodeau, Dave Wickham, Jim Gleason, Mike Stelter, Clint Ide, Bryan Howland
Car Mate Custom Built Trailers Heat 1 – Jeff Cook, Davie Franek, Jason Barney, Steve Hutchinson Jr., Jessica Zemken
Car Nate Custom Built Trailers Heat 2 – Matt Tanner, Larry Wight, Charlie Donk, Cory Sparks, Paige Polyak
Car Mate Custom Built Trailers Heat 3 – Kevin Ward Jr., Danny Varin, Steve Poirier, Paul Kinney, Parker Evans
Car Mate Custom Built Trailers Heat 4 – Chuck Hebing, Scott Kreutter, Doug Emery, Sammy Reakes IV, George Suprick
Donath Motor Worx/Cobra Coaches Dash – Kevin Ward Jr.
Lacaillde Masonry B-Main – Michael Parent, Zach Weigand, Dave Axton, Joe Trenca
Provisional Starter – Tim Axton
Bonuses:
Westward Painting Company Halfway – Barney $100
Insinger Performance Hard Charger – Zenken (12 pos.) $50
Fondations 55 Pick 5 – Kinney $50
Lacaillade Masonry B-Main – Parent $50
Car Mate Trailers Heats – Cook, Tanner, Ward Jr., Hebing $25
Go Nuclear Late Models Go Fast – Barney $50
Bitner Automotive Blistering Fast Time – Hebing $50