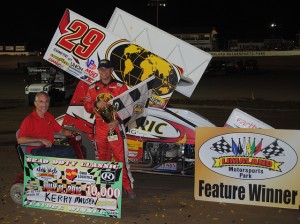 By T.J. Buffenbarger
There are a multitude of events in sprint car racing that carry the namesake of someone that is no longer with us. The Brad Doty Classic honors someone that not only is still with us, but still garners so much respect from people in motorsports that likely never saw him wheel a sprint car. It is a testament to the kind of person Doty is and how he goes about his media work and the Brad Doty Classic. The Brad Doty Classic evolving from a way to help a fallen comrade to having Doty co-promote the event as one of the biggest nights in sprint car racing.
I am thankful for the opportunity to see Doty race and win a World of Outlaws feature in 1987, which was unique with the roll Steve Kinser was on that season. Sadly I was also at Eldora the night he was injured, but also around to see people in the sport rally to help however they could. I was sitting in the tower the night Doty took his ceremonial laps at Eldora and never wished more I was at another race track than at that moment. I've also seen a lot of Brad Doty Classics and witnessed the race evolve into what we see today.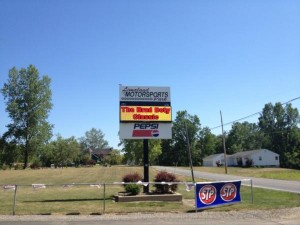 What has transpired since Doty's accident is a remarkable transformation from driver to media member and now promoter. Doty is sprint car racing's go to color commentator, his commentary in Sprint Car and Midget Magazine is grounded and sound every month.
The aspect I enjoy most about discussing the Brad Doty classic is they drivers don't want to win the race for a trophy, a crown, or a title. They want to win it for the person and the chance to get their photos with him in victory lane as one of the few winners of the Brad Doty Classic. It has a different feel for than hearing a driver talking about sitting on the throne at Eldora or being on stage at Knoxville.
Doty also tackles promoting his race with the same ferocity as he did driving. Throughout the year Doty will not miss an opportunity to ask if you are coming to his race, but does so in a manner where you feel like he's inviting you to come into the living room and have a cup a coffee and talk racing. This comes across best on the social media outlet Twitter (@braddoty18) where Brad's humble, enjoyable personality comes across very well in 140 characters.
After a Hall of Fame driving career, writing, television, promoter, and now social media star Doty remains possibly the most likeable person in sprint car racing. Tonight will be a showcase of that as fans and teams converge on Limaland Motorsports Park from all walks of life. The Brad Doty Classic is a tribute to a great person and an excellent event all in one.