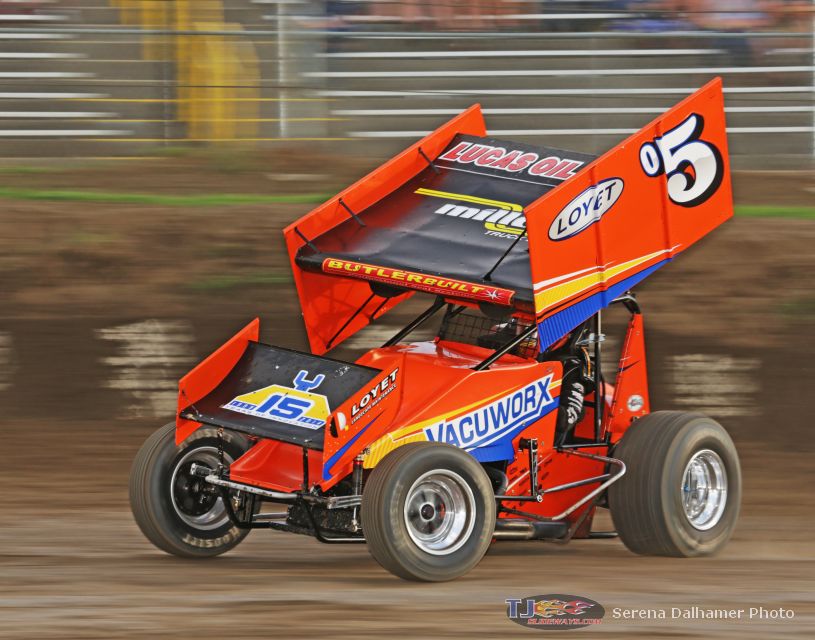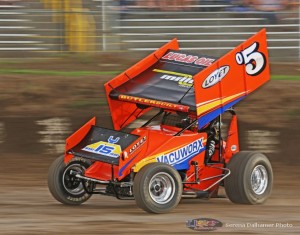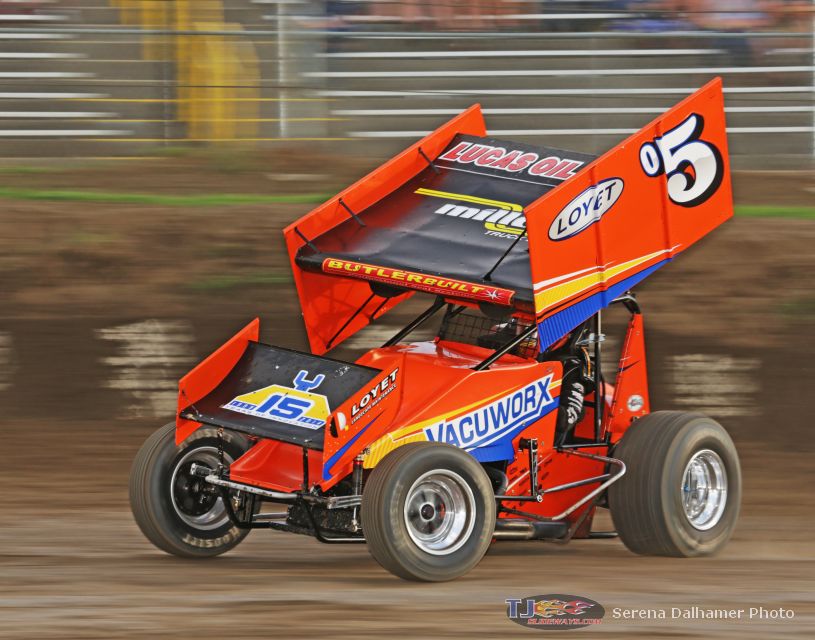 From Bryan Hulbert
Great Falls, MT —  (July 11, 2014) — Losing the lead on the final lap in 2013 at the Electric City Speedway in Great Falls, Mont. Brad Loyet was not about to let the win slip through his hands again as the ASCS National points leader raced to his second Protect the Harvest A-Feature victory of 2014 in front of a capacity crowd with the Lucas Oil American Sprint Car Series presented by MAVTV American Real.
"Last year I just gift wrapped that one for Tony Bruce, but this feels awesome," said Loyet. "It feels good to come out here and get a win. My guys work hard and right there before the feature, they asked what I thought and we changed it up a little bit on the set-up and we just shot out of there like a cannon."
Gridding the Miller Truck Lines No. 05 tenth, Loyet wasted little time working to the front of the field. Advancing to the runner-up spot by the third round, Loyet set his sights on Blake Hahn for the race lead, "I knew I had a better car than Blake on the bottom, and I was worried he was going see me down there and start running the bottom on the restarts. They had a really good car, so hats off to those guys."
Stalking Hahn in slower traffic, the duo took the race three wide on multiple occasions; the most notable coming before a Lap 16 caution for Joe Ramaker in which the pair went three deep in traffic with two different cars through turns three and four.
Finally getting the run on Lap 21, Loyet snagged the lead the following lap.
Blake Hahn's runner up finish is his second of the season with the Lucas Oil ASCS presented by MAVTV American Real.
"I thought we could have had something but Brad definitely had something on the bottom. Leading it, I didn't want to get off the top because I thought we were pretty fast so it was hard to get off the top but overall the car was good," commented Hahn of his runner up finish.
Challenged in the closing laps for the second step on the podium by Matt Covington, the T&L Foundry No. 95 ended up settling for third.
"I think I had a car good enough to win, but just made a couple mistakes there early in the race and let Brad get around me," said Covington. "He did great, Blake did a good job by coming off the top otherwise we were both going to go by him. All three of us just had good cars."
After running fifth to second in the night's B-Feature, Seth Bergman mounted a charge from eighteenth to fourth with Sam Hafertepe, Jr. coming from thirteenth to round out the top-five.
Johnny Herrera from eleventh was sixth with Jeff Swindell from sixteenth after an engine change following a Heat Race win on seven cylinders forced the Heartland Catfish No. 94 off the front row. Aaron Reutzel suffered engine problems early, putting the BC Funds No. 87 in the B-Feature. Finishing third, the Clute, Texas driver surged from nineteenth to eighth.
Tony Bruce, Jr. was another driver suffering engine problems. Changing the power-plant following his Heat Race, Bruce then gave up his fifteenth starting spot with a trip to the work area, ultimately coming from twenty-second to ninth. Trever Kirkland raced as high as fifth, but ended up slipping back to complete the top-ten.
A total of 33 drivers drew in for four Heat Races going to Jeff Swindell, Paxton Lambrecht, Trever Kirkland, and Matt Covington. The night's B-Feature was won by Phil Dietz, who suffered suspension damage that relegated the No. 72 twenty-first.
Joined with the ASCS Frontier Region, Trever Kirkland garnered high points. Kelly Miller, Paxton Lambrecht, Joe Perry, and David Hoiness were the top-five point earners. Five drivers made their first National Tour A-Feature start on Friday: Bryan Brown, Jerry Brey, Steve Reeves, Paxton Lambrecht, and Ryder Olson.
The Lucas Oil ASCS presented by MAVTV American Real head to the Billings Motorsports Park on Saturday, July 12. Jason Johnson is the defending race winner at the three-eighths mile oval. Races are scheduled to begin at 7:00 P.M. (MT).
For continued updates on the American Sprint Car Series, log onto http://www.ascsracing.com.
Lucas Oil American Sprint Car Series presented by MAVTV American Real
Electric City Speedway – Great Falls, Mont.
Friday, July 11, 2014
Car Count: 33
Speedmart Heat Races – 8 Laps in distance, taking the winners plus the next 12 highest in passing points to the A-Feature.
Heat 1 (8 Laps): 1. 45X-Johnny Herrera[6]; 2. 23-Seth Bergman[7]; 3. 98-Joe Ramaker[9]; 4. 12-Jerry Brey[2]; 5. 94-Jeff Swindell[1]; 6. 2-Shad Peterson[5]; 7. 17-Blake Hahn[4]; 8. 22-Chris Roberts[3]; 9. 38B-Bryan Brown[8]
Heat 2 (8 Laps): 1. 7X-Paxton Lambrecht[2]; 2. 21-Ryder Olson[1]; 3. 18-Tony Bruce Jr[3]; 4. 28-Joe Perry[7]; 5. 87-Aaron Reutzel[4]; 6. 1-Bill Boyce[5]; 7. 24-Leroy Brush[6]; DNS 4-Cliff Nelson Jr.
Heat 3 (8 Laps): 1. 37-Trever Kirkland[6]; 2. 1X-Vernon Hill[1]; 3. 27DD-David Hoiness[3]; 4. 44-Damon McCune[4]; 5. 77-Bob Shiplet[5]; 6. 5R-Steve Reeves[7]; 7. 4N-John Nelson[8]; 8. (DNF) 11-Cliff Nelson[2]
Heat 4 (8 Laps): 1. 95-Matt Covington[2]; 2. 44K-Kelly Miller[1]; 3. 15H-Sam Hafertepe Jr[3]; 4. 05-Brad Loyet[6]; 5. 72-Phil Dietz[4]; 6. 41-Jason Johnson[7]; 7. 0J-Jeremy McCune[8]; 8. 35M-Cody Masse[5]
Smiley's Racing Products B-Feature – 15 laps, taking the top 6 to the A-Feature.
B Feature 1 (15 Laps): 1. 72-Phil Dietz[4]; 2. 23-Seth Bergman[5]; 3. 87-Aaron Reutzel[3]; 4. 41-Jason Johnson[7]; 5. 5R-Steve Reeves[6]; 6. 1-Bill Boyce[8]; 7. 38B-Bryan Brown[9]; 8. 44-Damon McCune[1]; 9. 24-Leroy Brush[12]; 10. 35M-Cody Masse[14]; 11. 4-Cliff Nelson Jr.[17]; 12. 2-Shad Peterson[13]; 13. (DNF) 22-Chris Roberts[16]; 14. (DNF) 77-Bob Shiplet[2]; 15. (DNF) 0J-Jeremy McCune[11]; 16. (DNF) 11-Cliff Nelson[15]; DNS 4N-John Nelson
Protect the Harvest A-Feature
A Feature (30 Laps): 1. 05-Brad Loyet[10]; 2. 17-Blake Hahn[2]; 3. 95-Matt Covington[3]; 4. 23-Seth Bergman[18]; 5. 15H-Sam Hafertepe Jr[13]; 6. 45X-Johnny Herrera[11]; 7. 94-Jeff Swindell[15]; 8. 87-Aaron Reutzel[19]; 9. 18-Tony Bruce Jr[16]; 10. 37-Trever Kirkland[5]; 11. 41-Jason Johnson[20]; 12. 44K-Kelly Miller[8]; 13. 7X-Paxton Lambrecht[4]; 14. 28-Joe Perry[7]; 15. 27DD-David Hoiness[12]; 16. 12-Jerry Brey[14]; 17. 1X-Vernon Hill[9]; 18. 21-Ryder Olson[6]; 19. 5R-Steve Reeves[21]; 20. (DNF) 98-Joe Ramaker[1]; 21. (DNF) 72-Phil Dietz[17]; 22. (DNF) 1-Bill Boyce[22]
Lap Leader(s): Blake Hahn 1-21; Brad Loyet 22-30
KSE Hard Charger: Seth Bergman +14
Hawk Performance Fastest Lap: Matt Covington 12.497 seconds
CSI Rebound: Joe Ramaker
Provisional(s): N/A
=======================================================
2014 A-Feature Winner(s): Aaron Reutzel -2, Rico Abreu – 2, Tony Bruce, Jr. – 2, Christopher Bell – 2, Brad Loyet – 2, Patrick Stasa – 1, Derek Hagar – 1, Jeff Swindell – 1, Seth Bergman – 1, Sam Hafertepe, Jr. – 1
2014 Lucas Oil ASCS Driver Standings (Top 10): 1. Brad Loyet 1,901; 2. Jason Johnson 1,833; 3. Jeff Swindell 1,775; 4. Johnny Herrera 1,771; 5. Sam Hafertepe, Jr. 1,745; 6. Aaron Reutzel 1,741; 7. Seth Bergman 1,681; 8. Blake Hahn 1,673; 9. Matt Covington 1,661; 10. Tony Bruce, Jr. 1,643;