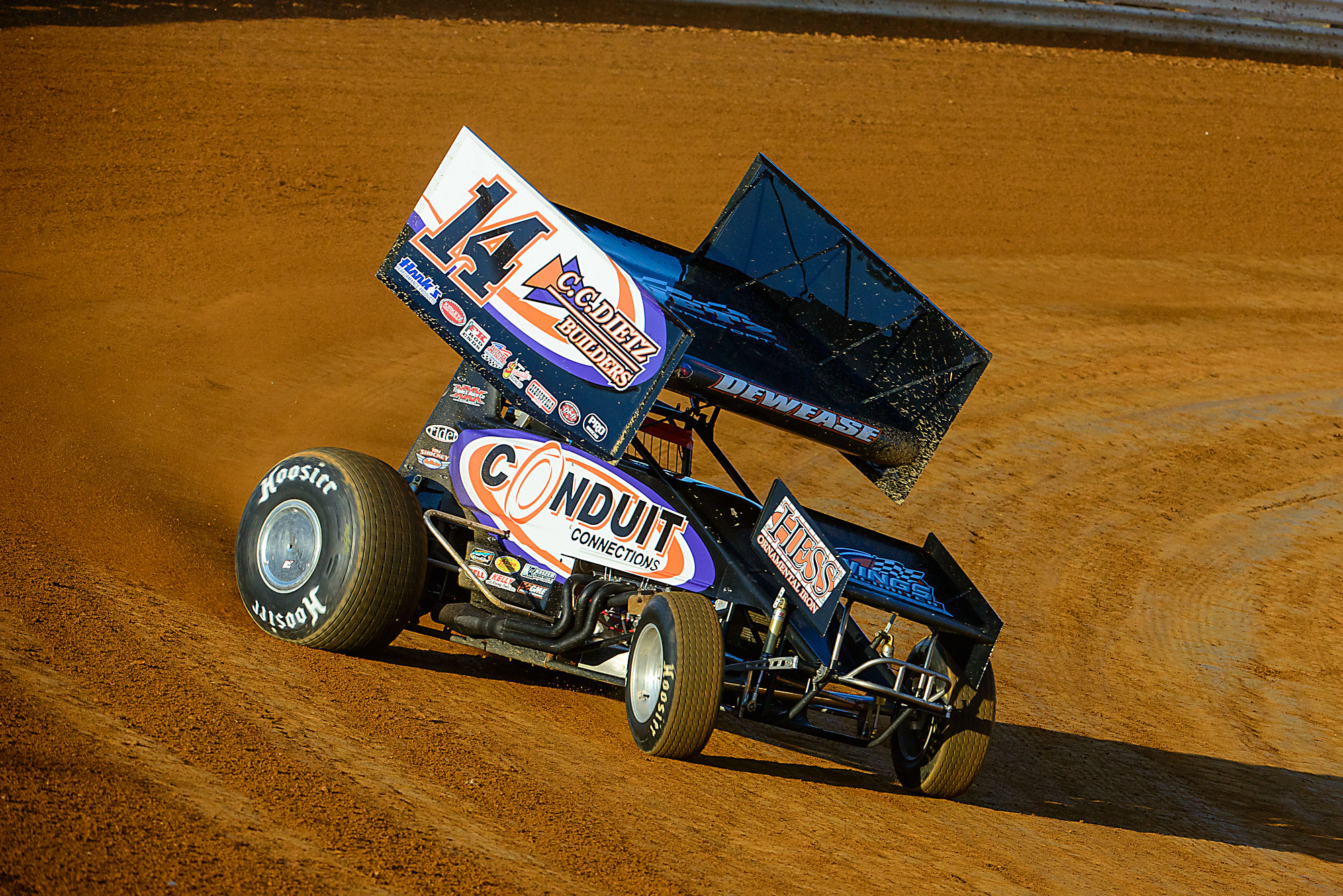 From Lincoln Speedway
Abbottstown, PA — (July 12, 2014) — Former champ Lance Dewease sounded like the 299-time sprint car winner that he is after scoring his 37th career win at Lincoln Speedway Saturday night.
"When we start where we did here tonight, we'd better win that thing!" said Dewease after exiting the C.C. Dietz/Conduit Connections/Hess Ornamental Iron Works #14 in victory lane, "You know Brian (Montieth) is coming on a track like this. I knew I had to get to the top and not come off of it. I also saw the 55 come up there. Robbie (Kendall) has been really fast here lately. He has my old mechanic working on that thing, and they have that car running around here really nice right now.
Handicapping placed Dewease fifth for the start. Matt Boland led the first 14 laps from his outside front row starting spot, before giving way to Dewease on lap 15. Dewease caught polesitter Nathan Berwager for fourth following a third-lap caution restart, got by Billy Dietrich for third on lap 12, and then moved past fourth-starting Tim Glatfelter for the runner-up spot on lap 14.
One lap later, Dewease made his race-winning move exiting turn four.
Meanwhile, Montieth, who started tenth, made his usual high-side charge to the front and caught Robbie Kendall for second on lap 19. Montieth tried the slider in turn four of the final lap, but wasn't able to hold it and settled for second, 1.16 seconds behind Dewease.
"It's not the year we've wanted, but we're getting better on the short tracks, and we're here in victory lane. That's all that matters," said Dewease, "We've had our ups and downs this year. When we think we're getting better, we take a couple steps back. Then we come back forward a little bit. But that's all part of growing with a new team. Different parts…different pieces…different year. We're slowly getting on it. Our Speedweek was really good at the short tracks and really bad at the big tracks, which is kinda' opposite for me."
Third through fifth were seventh-starting Kendall, Dietrich, and Boland. Sixth through tenth were 13th-starting Cory Haas, points leader Alan Krimes, Glatfelter, J.J. Grasso, and Gerard McIntyre, Jr.
Heats for the 24 410 sprinters were won by Boland, Bill Stine, and Kendall.
Tyler Ross won in only his second appearance of the year in the 20-lap "358" sprint car feature. Ross, now driving the Tim Eldreth #23J, started sixth and took just six laps to catch polesitter and race-long leader Isaac Sneeringer for the lead.
He led the rest of the way despite a late-race challenge of seventh-starting Chandler Leiby, taking the checkered flag just six-tenths of-a-second in front of Leiby at the end for his second career Lincoln win.
Third through fifth were 11th-starting Niki Young, Jeff Halligan, and Matt Campbell. Sixth through tenth were "358" sprint championship winner Doug Hammaker, Sneeringer, Matt Findley, Jeff Rohrbaugh, and points leader Chase Dietz.
Heats for the 28 358 sprinters were won by Ross, Cody Fletcher, and Hammaker, with Chris Frank winning the consolation.
Pasadena, MD's Kurt Zimmerman took advantage of a crash that involved the top three drivers to come from the back after an early-race spin and win the 20-lap All-American Outlaw feature.
Zimmerman started eighth after winning at Lincoln the last time out, and was running sixth behind Fred and Justin Cullum when leaders Hunter Nester, Randy Doty, and Dylan Keim all got together while racing for the lead on the front stretch of the 13th lap.
Nester and Doty both went to the pits, Keim joined the rear of the field and roared back for a fourth-place finish.
Zimmerman got by Justin Cullum on the restart, and then took the lead from Fred Cullum on lap 16, just before a caution came out for a spinning Jim Minter in turns three and four.
Zimmerman was never challenged the rest of the way for his second consecutive Lincoln win, crossing one second ahead of Fred Cullum, with Justin Cullum third, Keim fourth, and Carney Fryfogle completing the top five.
Heats for the 17 All American Outlaws were won by Nester and Zimmerman.
The WORLD OF OUTLAWS visit Lincoln Speedway this Thursday night, July 17th , for their second and final visit to the Pigeon Hills oval. Time Trials will get underway at 7:30 PM, with pits gates opening at 3 PM and general admission opening at 4 PM. There is no rain date for this show.
Then next Saturday night, July 19th, there will be no racing at Lincoln Speedway as the World of Outlaws will be at Williams Grove for the conclusion of the Summer Nationals.
To get all the latest news, results, schedule changes and rule changes, visit Lincoln Speedway's website at http://www.lincolnspeedway.com or join them on Facebook (https://www.facebook.com/lincolnspeedway) or Twitter (@lincolnspeedway) to stay up-to-date on all the action or pending weather conditions at Central Pennsylvania's "Premier" Saturday night race track – The Fabulous Lincoln Speedway.
Saturday, July 12, 2014
LINCOLN SPEEDWAY
Abbottstown, PA
LAWRENCE CHEVROLET 410 SPRINTS:
Feature (25 Laps) – 1. 14-Lance Dewease ($3,200); 2. 21-Brian Montieth; 3. 55K-Robbie Kendall; 4. 8-Billy Dietrich; 5. 22T-Matt Boland; 6. 11C-Cory Haas; 7. 87-Alan Krimes; 8. 69G-Tim Glatfelter; 9. 37-JJ Grasso; 10. 16-Gerard McIntyre; 11. 99M-Kyle Moody; 12. 15-Adam Wilt; 13. 51-Freddie Rahmer; 14. 59-Jim Siegel; 15. 35-Steve Owings; 16. 2W-Glenndon Forsythe; 17. 85-Nathan Berwager; 18. 1*-Tim Wagaman; 19. 21T-Scott Fisher; 20. 88-Brandon Rahmer (DNF); 21. 69H-Shane Hoff (DNF); 22. 71X-Bill Stine (DNF); 23. 52-Austin Hogue (DNF); 24. 17N-Niki Young (DNF). No Time
Lap Leaders – Matt Boland (1-14), Lance Dewease (15-25)
1st Heat (10 Laps/6 to qualify) – 1. 22T-Matt Boland; 2. 87-Alan Krimes; 3. 85-Nathan Berwager; 4. 16-Gerard McIntyre, Jr.; 5. 11C-Cory Haas; 6. 21T-Scott Fisher; 7. 35-Steve Owings; 8. 1*-Tim Wagaman (DNF). No Time
2nd Heat (10 Laps/6 to qualify) – 1. 71X-Bill Stine; 2. 52-Austin Hogue; 3. 8-Billy Dietrich; 4. 69G-Tim Glatfelter; 5. 99M-Kyle Moody; 6. 59-Jim Siegel; 7. 69H-Shane Hoff; 8. 88-Brandon Rahmer. Time – 2:27.737
3rd Heat (10 Laps/6 to qualify) – 1. 55K-Robbie Kendall; 2. 21-Brian Montieth; 3. 37-JJ Grasso; 4. 14-Lance Dewease; 5. 15-Adam Wilt; 6. 51-Freddie Rahmer; 7. 2W-Glenndon Forsythe; 8. 17N-Niki Young (DNF). No Time
358 SPRINTS:
Feature (20 Laps) – 1. 23J-Tyler Ross; 2. 119-Chandler Leiby; 3. 91-Niki Young; 4. 45H-Jeff Halligan; 5. 16-Matt Campbell; 6. 66-Doug Hammaker; 7. 19Z-Isaac Sneeringer; 8. 28-Matt Findley; 9. 45-Jeff Rohrbaugh; 10. 2D-Chase Dietz; 11. 97-Brie Hershey; 12. 21-CJ Tracy; 13. 66A-Cody Fletcher; 14. 5-Phil Walter; 15. 29A-Chris Arnold; 16. 10-Zach Euculano; 17. 47-Michael Hamer; 18. 89-Ashley Cappetta; 19. 00-Chris Frank (DNF); 20. 5A-Brian Allman (DNF); 21. 13-Ryan Higgins (DNF); 22. 11-Leah Starner (DNF); 23. 29W-Ryan Wilson (DNF); 24. 9R-Brent Rumberger (DNF). No Time
Lap Leaders – Isaac Sneeringer (1-5), Tyler Ross (6-20)
1st Heat (10 Laps/6 to qualify) – 1. 23J-Tyler Ross; 2. 119-Chandler Leiby; 3. 29W-Ryan Wilson; 4. 91-Niki Young; 5. 2D-Chase Dietz; 6. 11-Leah Starner; 7. 00-Chris Frank; 8. 9R-Brent Rumberger; 9. 6S-Bill Sherman (DNF); 10. 59T-Tim Stallings (DNF). Time – 2:24.28
2nd Heat (10 Laps/6 to qualify) – 1. 66A-Cody Fletcher; 2. 28-Matt Findley; 3. 47-Michael Hamer; 4. 45H-Jeff Halligan; 5. 97-Brie Hershey; 6. 89-Ashley Cappetta; 7. 13-Ryan Higgins (DNF); 8. 69M-Sean Campbell (DNF); 9. 38D-Kyle Denmyer (DNF). No Time
3rd Heat (10 Laps/6 to qualify) – 1. 66-Doug Hammaker; 2. 5-Phil Walter; 3. 16-Matt Campbell; 4. 19Z-Isaac Sneeringer; 5. 45-Jeff Rohrbaugh; 6. 10-Zach Euculano; 7. 5A-Brian Allman; 8. 21-CJ Tracy; 9. 29-Chris Arnold. Time – 2:28.78
Consolation (10 Laps/6 to qualify) – 1. 00-Chris Frank; 2. 13-Ryan Higgins; 3. 21-CJ Tracy; 4. 29-Chris Arnold; 5. 5A-Brian Allman; 6. 9R-Brent Rumberger; 7. 6S-Bill Sherman; 8. 38D-Kyle Denmyer; 9. 59T-Tim Stallings (DNF); 10. 69M-Sean Campbell (DNF). No Time
ALL AMERICAN OUTLAWS:
Feature (20 Laps) – 1. 9-Kurt Zimmerman; 2. 59-Fred Cullum; 3. 95-Justin Cullum; 4. 07-Dylan Keim; 5. 89-Carnie Fryfogle; 6. 99-Bryan Green; 7. 3M-Steve Jorda; 8. 66-Scott Jorda; 9. 1-Jim Minter; 10. 21-Danny Gladhill; 11. 53-Tony Jorda; 12. 1N-Hunter Nester (DNF); 13. 6-Randy Doty (DNF); 14. 29-Phil Williams (DNF); 15. 71-Jim Chenoweth (DNF); 16. 19R-Roy Denike (DNF). No Time
Lap Leaders – Hunter Nester (1-12), Fred Cullum (13-15), Kurt Zimmerman (16-20)
1st Heat (8 Laps) – 1. 1N-Hunter Hester; 2. 95-Justin Cullum; 3. 99-Bryan Green; 4. 71-Jim Chenoweth; 5. 3-Steve Jorda; 6. 29-Phil Williams; 7. 21-Danny Gladhill; 8. 53-Tony Jorda. Time – 2:40.15
2nd Heat (8 Laps) – 1. 9-Kurt Zimmerman; 2. 6-Randy Doty; 3. 07-Dylan Keim; 4. 1-Jim Minter; 5. 59-Fred Cullum; 6. 89-Carnie Fryfogle; 7. 19R-Roy Denike; 8. 66-Scott Jorda; DNS – 01-Tim Fake. Time – 2:40.78