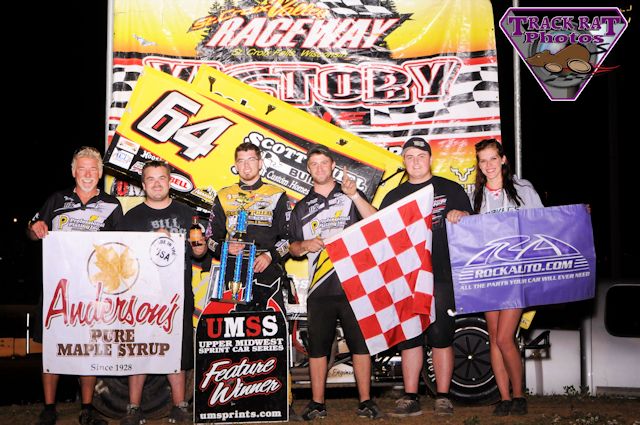 By Greg Parent
St. Croix Falls, WI
With the IRA 410 Outlaw Sprints rained out at Rice Lake, Scotty Thiel and his team decided to head over to the St. Croix Valley Raceway on Saturday July 12 and pull their 360 sprint car out of the hauler in an attempt to repeat his Open Wheel Nationals title from last year.  At the end of the night, the young Sheboygan racer once again was "The Real Deal" at the 1/4 mile bullring winning in his second appearance of the season with the UMSS.  Thiel celebrated with his crew following his eighth career UMSS victory in Anderson's Pure Maple Syrup/Rock Auto Victory Lane to conclude the 2014 edition of this popular event.
Commenting after winning, Thiel stated, "We are racing with the IRA full-time this season and running wherever we can when they don't race.  With Rice Lake raining out early, it was an easy decision to head over here and race with the UMSS at a track where we have had success at in the past.  The UMSS always thanks us for racing with them, and that is something we don't always see over on the other side of the state.  I have to thank my parents, my awesome crew and all of our sponsors for giving me the opportunity to drive a sprint car.  It's a blast!"
With the field pared down a few cars from the opening night due to three drivers heading to Knoxville and four cars out of action on account of crash damage or mechanical issues, the fourteen cars on hand ran two heats and two Challenge races to set the lineup for their 25 lap main event.  2013 UMSS Champion Chris Graf of Glencoe won the first heat while 2011-2012 UMSS Champion Jerry Richert, Jr. of Forest Lake topped the second heat.  Challenge race victories went to Thiel and rookie Ryan "Showtime" Bowers of Ham Lake.  Bowers continues to impress in his first year behind the wheel of a winged sprint car, and he was the high point driver following the usual double round of qualifiers.  Bowers found the pill draw to his liking when he pulled the zero pill for a straight-up start based on passing and finishing points from the heats and challenge races.  Thiel would line up outside Bowers on the front row.
Thiel left little doubt in anyone's mind that he would be the car to beat, as he blasted to the early lead on the second start attempt following a caution on the opening lap when Cam Schafer spun in turn four.  Schafer would restart tail-end and make an impressive charge through the field though.  A stretch of 22 laps of green flag racing saw Thiel pull out to a commanding lead while Graf garnered the runner-up spot on lap 8 from Bowers.  With Schafer coming all the way from the tail to battle Graf for second, his bid for a victory came to an end up when he sat sideways in turn four with steam coming from under the hood with 22 laps scored.  Thiel's big lead was erased with Graf and Bowers now right behind him.  Thiel was able to hold off Graf over the final three circuits for the win.  Graf, Bowers, 12th starter Cody Hahn, and Chad Patterson completed the top five.  For Patterson, the 2011 UMSS Co-Rookie of the Year, it was his best career finish in a winged sprint and he and his dad wore big smiles on their faces after the races.
The popular Open Wheel Nationals Steering Wheel trophy was awarded to the driver with the best combined two night finishes.  Rookie Ryan Bowers earned the trophy with two third place tallies.  The GRP Motorsports $200 Highest Finishing Past Champion Bonus went to Chris Graf with a second and fourth place finish.  Bowers also claimed the $200 GRP Motorsports Highest Finishing Rookie Bonus as well.  Although he did not win, Bowers had a great weekend for himself and his MBR team.  The UMSS winged sprints next race will be a makeup of an earlier rain out this
coming Sunday
night
July 20
at the Granite City Speedway.  The Traditional sprints will also be on the program.  Could Bowers pick up his first career win at Granite City or will another driver grace Victory Lane?  Fans can follow the UMSS racing action by checking out our website at
www.umsprints.com
or by keeping tabs on our Facebook page.  There is still plenty of racing left in the 2014 season, as the winged warriors march towards the championship.
UMSS Race Results – St. Croix Valley Raceway July 12, 2014 (Race #11)
3rd Annual Open Wheel Nationals
GRP Motorsports Ultimate Sprint Race #1 (7 laps): 20G Chris Graf, 15 Chad Patterson, 34TW Gunner Cummings, 199 Ryan Bowers, 5c Cam Schafer, 28 John Sernett, 5 Anna Kouba.
Meeks Video Ultimate Sprint Race #2 (7 laps):  63 Jerry Richert Jr, 37 Sye Anderson, 3TK Tony Kaus, 64 Scotty Thiel, 9 Jared Goerges, 34 Rick Kobs, 23 Cody Hahn.
Driverwebsites Challenge Race #1 (8 laps): Thiel, Schafer, Kobs, Anderson, Cummings, Graf, Kouba.
Sprintsource Challenge Race #2 (8 laps): Bowers, Goerges, Kaus, Patterson, Hahn, Sernett, Richert.
Mastell Brother Trailer Service Feature (25 laps): Thiel, Graf, Bowers, Hahn, Patterson, Goerges, Cummings, Kaus, Richert, Kobs, Sernett, Kouba DNF, Schafer DNF, Anderson DNF.
Lap Leaders: Thiel 1-25.
Cautions: (2)