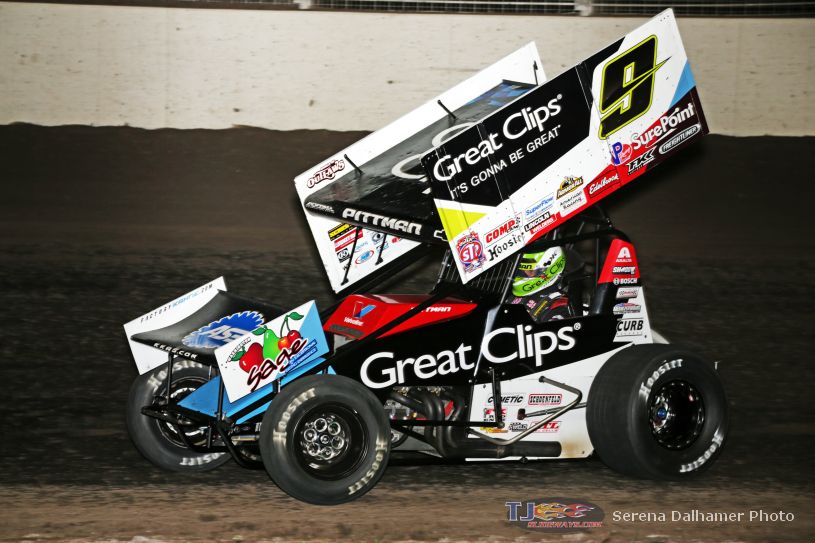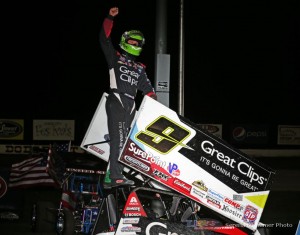 From the World of Outlaws
Abbottstown, PA — (July 17, 2014) — The Pennsylvania Posse gave Daryn Pittman a run for his money Thursday night at Lincoln Speedway – ultimately though the Posse was no match for Pittman as he notched his 10th World of Outlaws STP Sprint Car Series win of the season.
Pittman, who earlier this season swept both nights at Williams Grove after finishing third at Lincoln in his Great Clips car, credited his crew for providing him with the car he needed Thursday night to hold off strong challenges from J.J. Grasso, Alan Krimes and Brian Montieth.
"How about that crew I've got? Hats off to Kale Kahne. Man, he does a great job," Pittman said. "Kolten, Carber – these guys work their tails off every day and just give me a really good car. I'm only as good as the equipment I use and this car is pretty good every night."
20-time champion Steve Kinser led the field to the green flag but it was Pittman who led the first lap. Early on, J.J. Grasso challenged Pittman, before an issue side-lined Grasso for the night. As Kinser fell back in the field, Posse members Krimes and Montieth made their moves.
As cautions plagued the early laps of the race, Krimes, who started in fourth, advanced his way to second by lap seven. Through restart after restart, Krimes challenged Pittman but was not able to get around. Farther back in the field, Montieth, who started in 15th, had moved into the top-ten by lap eight.
As the laps ticked by, Krimes faced a challenge from Joey Saldana, but was able to hold him off. By lap 11, Montieth, who was dominate on the high-side of the track, had moved into the top-five and shortly after, found his way around Saldana. With his sights set on the lead, just a few laps later, Montieth took over the second spot.
"I knew when there was a car going around me on the outside it was more than likely him," Krimes said. "He gets going around the top pretty good around here. I tried to move up a little bit when he got around us and I was alright in three and four up there, but I wasn't very good in the top of one and two."
As Pittman ran the bottom, Montieth, dominate at the top in his Premiere Auto Works car, picked up position after position. Montieth caught Pittman in turns one and two with 18 complete. As Pittman slid to the top onto the backstretch, Montieth moved to the bottom, drag racing Pittman. Montieth took one last shot, sliding out of four, trying to hold the lead.
"Anybody who's raced here very long knows the last car number they want to see behind them with a couple of laps to go is that 21," Pittman said. "I moved to the top in one and two and the top in three and four and thought that's probably where he's at and I thought if I can make a couple of good laps here, I think we'll be OK."
Montieth was able to close the gap a couple of times as Pittman battled lapped traffic, but was never able to find a way around the Outlaws champion.
With the win, Pittman notched his first ever double-digit win season with the World of Outlaws. He is also now the winningest driver of the season, so far.
"This is a big accomplishment for me personally," Pittman said. "I've never gotten to double-digit wins in one year with the Outlaws so I'm pretty proud of that. This is a tough part of the country to come in and win, and this is probably one of the toughest racetracks to come in and win – just a great accomplishment for this team."
Montieth, a native of Phoenixville, Pa., said he has raced with Pittman enough to know not to show him his line around the track until he knew he could get around Pittman.
"He's raced with me," Montieth said. "I didn't really want to show him my nose until I knew I could get by him. If it weren't for the double restarts; I really made a lot of time up on them. We just keep finishing second a lot – we'll see what happens tomorrow night (at Williams Grove)."
Krimes, who finished the night in third in his Midnight Antiques car, said he was pleased to represent the Pennsylvania Posse fans and drivers.
"It always feels good to represent the local guys here," said Krimes, a Denver, Pa. native. "We've got a great group of guys that run here weekly and anytime you add the Outlaws to the mix there are probably 25 to 30 cars that can win on any given night here. To come out of here in the top three – we beat a lot of really good cars."
Pittman's win, combined with a 14th place finish by points leader Donny Schatz helped him continue to close the gap in the race for the Outlaws championship. Schatz's lead is now only 50 points over Pittman. Third place Paul McMahan is 93 points out of the lead.
Earlier in the night, Joey Saldana scored the quick time during time trials. It was his 18th quick time of the season.
The World of Outlaws STP Sprint Car Series continues its swing through Pennsylvania stopping next at the historic Williams Grove Speedway Friday and Saturday nights for Summer Nationals. After that, the Outlaws head to Lebanon Valley Speedway and Fulton Speedway in New York.
LINCOLN SPEEDWAY NOTES: Tonight's win gave Daryn Pittman his first double digit Outlaws season… Joey Saldana scored his 18th quick time of the season… Cory Haas was the KSE Hard Charger of the night, advancing 17 positions after starting in last… The Pennsylvania Posse took three of the top-five top spots at Lincoln.
SEASON WINNERS: Daryn Pittman – 10 (Thunderbowl Raceway on March 14, Calistoga Speedway on April 6, Devil's Bowl Speedway on April 19, Williams Grove Speedway on May 16 and May 17, Orange County Fair Speedway, May 18, New Egypt Speedway, May 20, Dodge City Raceway Park on July 4 and 5 and Lincoln Speedway on July 17); Donny Schatz – 9 (Volusia Speedway Park on Feb. 15, The Dirt Track at Las Vegas on March 6, Devil's Bowl Speedway on April 19, Lawrenceburg Speedway on May 27, I-96 Speedway on May 31, River Cities Speedway on June 20, 34 Raceway on June 27, Cedar Lake Speedway on June 29 and Lernerville Speedway in July 15); Joey Saldana – 5(Perris Auto Speedway on April 12, Salina Highbanks on April 25, The Dirt Track at Charlotte on May 23, I-80 Speedway on June 6 and Jackson Speedway on June 13); Brad Sweet – 5 (Volusia Speedway Park on Feb. 14, Tucson International Raceway on March 8, Calistoga Speedway on April 5, Knoxville Raceway on June 14 and Beaver Dam Raceway on June 28); Kerry Madsen – 4(Stockton Dirt track on March 22, El Paso Speedway Park on April 15, Lakeside Speedway on June 7 and Eldora Speedway on July 12); David Gravel – 3(Merced Speedway on March 28, Eldora Speedway on May 3, and Wilmot Raceway on May 9); Paul McMahan – 3(The Dirt Track at Las Vegas on March 5, Tri-State Speedway on May 10 and Limaland Motorsports Park on July 9); Cody Darrah – 2(Kings Speedway on April 11 and Lernerville Speedway on July 15); Rico Abreu – 1(Thunderbowl Raceway on March 15); Sammy Swindell – 2(Federated Auto Parts Raceway at I-55 on April 26 and Eldora Speedway on July 11); Dale Blaney – 1 (Attica Raceway Park on May 30); Christopher Bell – 1(Jacksonville Speedway on May 7); Roger Crockett – 1(I-94 Speedway on June 21); Mark Dobmeier – 1 (Huset's Speedway on July 2); Steve Kinser – 1 (Volusia Speedway Park on Feb. 16); Stevie Smith – 1 (Lincoln Speedway on May 14); Shane Stewart – 1(Eldora Speedway on May 2) .
World of Outlaws STP Sprint Car Series Statistical Report; Lincoln Speedway; Abbotstown, Pa.; July 17, 2014
A-Main – (35 Laps) – 1. 9-Daryn Pittman [1] [$10,000]; 2. 21-Brian Montieth [15] [$5,500]; 3. 87-Alan Krimes [4] [$3,200]; 4. 71M-Joey Saldana [6] [$2,800]; 5. 48-Danny Dietrich [17] [$2,500]; 6. 83-David Gravel [10] [$2,300]; 7. 19M-Brent Marks [13] [$2,200]; 8. 59J-Jim Siegel [5] [$2,100]; 9. 11C-Cory Haas [26] [$1,250]; 10. 49-Brad Sweet [9] [$2,000]; 11. 51-Paul McMahan [23] [$1,500]; 12. 52-Austin Hogue [11] [$1,200]; 13. 51S-Stevie Smith [20] [$1,100]; 14. 15-Donny Schatz [19] [$1,050]; 15. 1Z-Lucas Wolfe [7] [$1,000]; 16. 4-Cody Darrah [21] [$900]; 17. 29-Kerry Madsen [25] [$]; 18. 2-Shane Stewart [18] [$800]; 19. 11K-Kraig Kinser [24] [$800]; 20. 27-Greg Hodnett [14] [$800]; 21. 16-Gerard McIntyre [12] [$800]; 22. 11-Steve Kinser [2] [$800]; 23. 98H-Dave Blaney [8] [$800]; 24. 35-Steve Owings [22] [$800]; 25. 37-J.J. Grasso [3] [$800]; 26. 8-Billy Dietrich [16] [$800]. Lap Leaders: Daryn Pittman 1-35. KSE Hard Charger Award: 11C-Cory Haas [+17]
Qualifying – 1. 71M-Joey Saldana, 13.329; 2. 98H-Dave Blaney, 13.370; 3. 1Z-Lucas Wolfe, 13.452; 4. 87-Alan Krimes, 13.487; 5. 49-Brad Sweet, 13.561; 6. 83-David Gravel, 13.579; 7. 52-Austin Hogue, 13.598; 8. 16-Gerard McIntyre, 13.605; 9. 19M-Brent Marks, 13.608; 10. 59J-Jim Siegel, 13.630; 11. 27-Greg Hodnett, 13.638; 12. 37-J.J. Grasso, 13.653; 13. 9-Daryn Pittman, 13.655; 14. 21-Brian Montieth, 13.672; 15. 11-Steve Kinser, 13.686; 16. 8-Billy Dietrich, 13.691; 17. 48-Danny Dietrich, 13.726; 18. 2-Shane Stewart, 13.753; 19. 15-Donny Schatz, 13.769; 20. 51S-Stevie Smith, 13.782; 21. 4-Cody Darrah, 13.818; 22. 35-Steve Owings, 13.835; 23. 1A-Jacob Allen, 13.864; 24. 51-Paul McMahan, 13.867; 25. 51R-Freddie Rahmer, 13.897; 26. 11K-Kraig Kinser, 13.908; 27. 15A-Adam Wilt, 13.936; 28. 11C-Cory Haas, 13.967; 29. 3Z-Brock Zearfoss, 13.982; 30. 14-Lance Dewease, 13.982; 31. 29-Kerry Madsen, 14.003; 32. 1X-Tim Wagaman, 14.046; 33. 93-Glenndon Forsythe, 14.071; 34. 1s-Logan Schuchart, 14.113; 35. 94-Ryan Smith, 14.116; 36. 55K-Robbie Kendall, 14.134; 37. 99M-Kyle Moody, 14.166; 38. 12-Mike Bittinger, 14.230; 39. 7S-Jason Sides, 14.267
Heat 1 – (8 Laps – Top 5 finishers transfer to the A-feature) – 1. 9-Daryn Pittman [1]; 2. 49-Brad Sweet [3]; 3. 19M-Brent Marks [2]; 4. 48-Danny Dietrich [5]; 5. 71M-Joey Saldana [4]; 6. 4-Cody Darrah [6]; 7. 51R-Freddie Rahmer [7]; 8. 99M-Kyle Moody [10]; 9. 93-Glenndon Forsythe [9]; 10. 3Z-Brock Zearfoss [8]
Heat 2 – (8 Laps – Top 5 finishers transfer to the A-feature) – 1. 59J-Jim Siegel [2]; 2. 21-Brian Montieth [1]; 3. 83-David Gravel [3]; 4. 98H-Dave Blaney [4]; 5. 11K-Kraig Kinser [7]; 6. 14-Lance Dewease [8]; 7. 2-Shane Stewart [5]; 8. 35-Steve Owings [6]; 9. 1s-Logan Schuchart [9]; 10. 12-Mike Bittinger [10]
Heat 3 – (8 Laps – Top 5 finishers transfer to the A-feature) – 1. 11-Steve Kinser [1]; 2. 27-Greg Hodnett [2]; 3. 15-Donny Schatz [5]; 4. 52-Austin Hogue [3]; 5. 1Z-Lucas Wolfe [4]; 6. 29-Kerry Madsen [8]; 7. 15A-Adam Wilt [7]; 8. 1A-Jacob Allen [6]; 9. 94-Ryan Smith [9]; 10. 7S-Jason Sides [10]
Heat 4 – (8 Laps – Top 5 finishers transfer to the A-feature) – 1. 37-J.J. Grasso [2]; 2. 87-Alan Krimes [4]; 3. 8-Billy Dietrich [1]; 4. 16-Gerard McIntyre [3]; 5. 51-Paul McMahan [6]; 6. 55K-Robbie Kendall [9]; 7. 11C-Cory Haas [7]; 8. 51S-Stevie Smith [5]; 9. 1X-Tim Wagaman [8]
Dash – (6 Laps, finishing order determined first 8 starting positions of A-feature) – 1. 9-Daryn Pittman [2]; 2. 11-Steve Kinser [1]; 3. 37-J.J. Grasso [3]; 4. 87-Alan Krimes [5]; 5. 59J-Jim Siegel [4]; 6. 71M-Joey Saldana [8]; 7. 1Z-Lucas Wolfe [6]; 8. 98H-Dave Blaney [7]
Last Chance Showdown – (12 Laps – Top 4 finishers transfer to the A-feature) – 1. 51S-Stevie Smith [2] [-]; 2. 2-Shane Stewart [1] [-]; 3. 35-Steve Owings [4] [-]; 4. 4-Cody Darrah [3] [-]; 5. 1A-Jacob Allen [5] [$200]; 6. 11C-Cory Haas [8] [$180]; 7. 29-Kerry Madsen [11] [$175]; 8. 51R-Freddie Rahmer [6] [$160]; 9. 14-Lance Dewease [10] [$150]; 10. 15A-Adam Wilt [7] [$150]; 11. 99M-Kyle Moody [17] [$150]; 12. 93-Glenndon Forsythe [13] [$150]; 13. 94-Ryan Smith [15] [$150]; 14. 1X-Tim Wagaman [12] [$150]; 15. 3Z-Brock Zearfoss [9] [$150]; 16. 12-Mike Bittinger [18] [$150]; 17. 55K-Robbie Kendall [16] [$150]; 18. 1s-Logan Schuchart [14] [$150]; 19. 7S-Jason Sides [19] [$150]
World of Outlaws STP Sprint Car Series Championship Standings