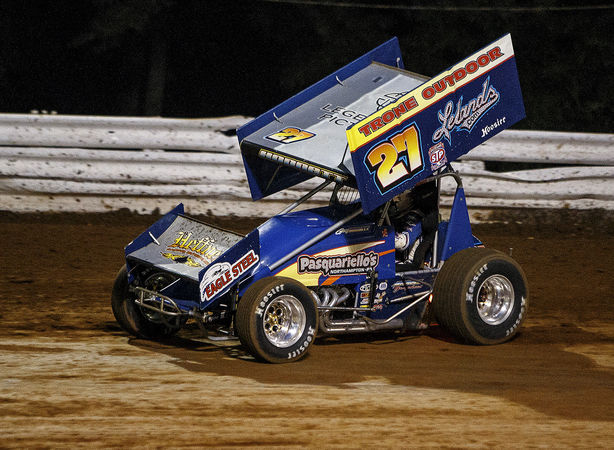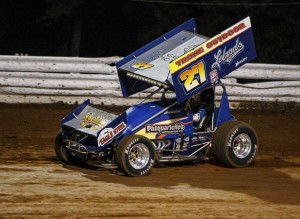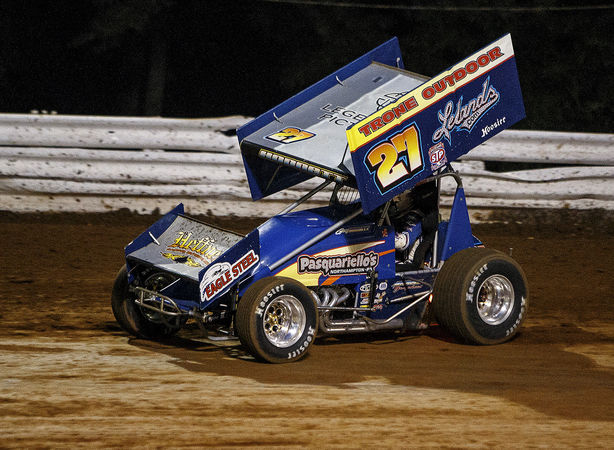 From Aaron Fielder
Mechanicsburg, PA — (July 18, 2014) —  Greg Hodnett led the Pennsylvania Posse to a World of Outlaws STP Sprint Car Series win Friday night at Williams Grove Speedway, striking back on night one of the Summer Nationals after Outlaw Daryn Pittman won Thursday night at Lincoln Speedway.
Hodnett, who started the A main in fourth in his Lelands.com/Pasquariello's Auto Shop car, dominated the second half after getting around Outlaw Joey Saldana and fellow Posse Brent Marks on a restart. Hodnett said the double file restarts that had hurt him the night before at Lincoln, helped him at Williams Grove.
"We're just fortunate to be standing here," Hodnett said. "It's a great field of cars."
Hodnett, who has 12 previous World of Outlaws STP Sprint Car Series wins, became the 18th different winner of the season.
Saldana started on the front row with Justin Barger. Cody Darrah and Hodnett started in row two. As the green flag flew on the feature, Saldana jumped out to a large lead while Brent Marks moved from his sixth place starting position into third.
By lap 13, Marks, who had moved to second, was challenging Saldana for the lead as the two worked through lapped traffic. A red flag flew on lap 15 after contact between Kerry Madsen and Cody Darrah. The wreck ended Madsen's night and relegated Darrah to the back of the field.
When the race returned to green, Hodnett, who had advanced to the third position, made his move. Hodnett got around Marks, and then battled Saldana for the next two laps.
"I had been trying the bottom and middle a couple of times through the night and I knew if I was slow enough we could do it – and off a restart usually you are," Hodnett said. "So we got a good run down the front straight off of four, off the bottom, just kind of let it take its head and stay on the back wheels and try not to slip the tires. We got down into turn one and two, and pretty much just got under Joey enough to keep moving him up and keep pushing, pushing, pushing trying to get under him to get a good, clean run off the bottom. Fortunately for us that's what happened."
Hodnett took the lead on lap 17 and was never seriously challenged again.
"We're going to make the most of this one tonight because you never know when you'll get another one!" Hodnett said."
Marks finished second in his BAPS Auto Paint Supply car after getting around Saldana shortly after the mid-race restart. Despite that, Marks, who was closing the gap on Saldana when the red flag came out, said he did not want to see the race stoppage. He said he screwed up on the restart and that allowed Hodnett to get around him.
He credited his team for providing the equipment he needed to score his best ever Outlaws finish.
"We had a great car all night," Marks said. "I give all the credit to my guys – they bust their butts all the time to get me to the racetrack and we're able to do all these Outlaw races this year which has really helped me out. It got me on the front stretch here with a podium finish – finally.
"It was fortunate we had a really good run tonight. We were able to sneak in there through the invert and win the heat race and get in the dash. Coming from [sixth] to second is pretty neat here with the Outlaws show at Williams Grove. It's a great feeling."
Saldana, who has five wins on the season, closed out the night in the third position in his Motter Equipment car. He credited the competition in Central Pennsylvania and at Williams Grove on Friday night.
"My car was getting looser as the race went on," Saldana said. "I think that's why I took off. I was pretty good way too soon. To win these you've got to be good at the end not the beginning. We just missed it a little bit. You've got to learn from your mistakes and hope that we come out tomorrow and do a better job."
Hodnett and Marks weren't the only members of the Posse to have a good night. Lucas Wolfe scored the quick time and the Posse swept the Heat races. In the first heat race of the night, Ryan Taylor fought a fierce battle with Steve Kinser, beating the 20-time champion on the last lap.
Donny Schatz's points lead continued to shrink after his ninth place finish. He now leads Daryn Pittman by 42 points. Third place Paul McMahan is 87 points out of the lead.
The World of Outlaws STP Sprint Car Series returns to historic Williams Grove Speedway Saturday for night two of the Summer Nationals. After that, the Outlaws head to Lebanon Valley Speedway and Fulton Speedway in New York.
WILLIAMS GROVE SPEEDWAY NOTES: Greg Hodnett became the 18th different winner of the season… Pennsylvania Posse members Ryan Taylor, Greg Hodnett, Justin Barger and Brent Marks won their heat races tonight… Joey Saldana was the highest finishing Outlaw of the night in third… Paul McMahan was the KSE Hard Charger of the night, advancing 10 positions to finish in sixth.
SEASON WINNERS: Daryn Pittman – 10 (Thunderbowl Raceway on March 14, Calistoga Speedway on April 6, Devil's Bowl Speedway on April 19, Williams Grove Speedway on May 16 and May 17, Orange County Fair Speedway, May 18, New Egypt Speedway, May 20, Dodge City Raceway Park on July 4 and 5 and Lincoln Speedway on July 17); Donny Schatz – 9 (Volusia Speedway Park on Feb. 15, The Dirt Track at Las Vegas on March 6, Devil's Bowl Speedway on April 19, Lawrenceburg Speedway on May 27, I-96 Speedway on May 31, River Cities Speedway on June 20, 34 Raceway on June 27, Cedar Lake Speedway on June 29 and Lernerville Speedway in July 15); Joey Saldana – 5(Perris Auto Speedway on April 12, Salina Highbanks on April 25, The Dirt Track at Charlotte on May 23, I-80 Speedway on June 6 and Jackson Speedway on June 13); Brad Sweet – 5 (Volusia Speedway Park on Feb. 14, Tucson International Raceway on March 8, Calistoga Speedway on April 5, Knoxville Raceway on June 14 and Beaver Dam Raceway on June 28); Kerry Madsen – 4(Stockton Dirt track on March 22, El Paso Speedway Park on April 15, Lakeside Speedway on June 7 and Eldora Speedway on July 12); David Gravel – 3(Merced Speedway on March 28, Eldora Speedway on May 3, and Wilmot Raceway on May 9); Paul McMahan – 3(The Dirt Track at Las Vegas on March 5, Tri-State Speedway on May 10 and Limaland Motorsports Park on July 9); Cody Darrah – 2(Kings Speedway on April 11 and Lernerville Speedway on July 15); Rico Abreu – 1(Thunderbowl Raceway on March 15); Sammy Swindell – 2(Federated Auto Parts Raceway at I-55 on April 26 and Eldora Speedway on July 11); Dale Blaney – 1 (Attica Raceway Park on May 30); Christopher Bell – 1(Jacksonville Speedway on May 7); Greg Hodnett – 1 (July 18 at Williams Grove Speedway); Roger Crockett – 1(I-94 Speedway on June 21); Mark Dobmeier – 1 (Huset's Speedway on July 2); Steve Kinser – 1 (Volusia Speedway Park on Feb. 16); Stevie Smith – 1 (Lincoln Speedway on May 14); Shane Stewart – 1(Eldora Speedway on May 2).
World of Outlaws STP Sprint Car Series Statistical Report; Williams Grove Speedway; Abbotstown, Pa.; July 19, 2014
A-Main – (25 Laps) – 1. 27-Greg Hodnett [4] [$8,000]; 2. 19M-Brent Marks [6] [$4,000]; 3. 71M-Joey Saldana [1] [$2,500]; 4. 2-Shane Stewart [10] [$2,200]; 5. 9-Daryn Pittman [13] [$2,100]; 6. 51-Paul McMahan [16] [$2,000]; 7. 21-Brian Montieth [12] [$1,800]; 8. 1Z-Lucas Wolfe [5] [$1,600]; 9. 15-Donny Schatz [17] [$1,500]; 10. 51S-Stevie Smith [20] [$1,300]; 11. 11-Steve Kinser [11] [$1,200]; 12. 1s-Logan Schuchart [19] [$1,100]; 13. 49-Brad Sweet [9] [$1,000]; 14. 5-Justin Barger [2] [$700]; 15. 20-Ryan Taylor [8] [$600]; 16. 14-Lance Dewease [23] [$600]; 17. 17B-Steve Buckwalter [21] [$600]; 18. 5G-Curt Michael [18] [$600]; 19. 8H-Doug Esh [22] [$600]; 20. 69K-Don Kreitz Jr [26] [$]; 21. 16-Gerard McIntyre [14] [$600]; 22. 83-David Gravel [25] [$]; 23. 4-Cody Darrah [3] [$600]; 24. 2X-Ryan Bohlke [24] [$600]; 25. 29-Kerry Madsen [7] [$600]; 26. 29W-Ryan Wilson [15] [$600]. Lap Leaders: Joey Saldana 1-16, Greg Hodnett 17-25. KSE Hard Charger Award: 51-Paul McMahan [+10]
Qualifying – 1. 1Z-Lucas Wolfe, 16.893; 2. 27-Greg Hodnett, 17.024; 3. 3-Pat Cannon, 17.029; 4. 4-Cody Darrah, 17.079; 5. 49-Brad Sweet, 17.105; 6. 29-Kerry Madsen, 17.112; 7. 71M-Joey Saldana, 17.212; 8. 2-Shane Stewart, 17.238; 9. 11-Steve Kinser, 17.243; 10. 21-Brian Montieth, 17.308; 11. 5-Justin Barger, 17.348; 12. 9-Daryn Pittman, 17.386; 13. 20-Ryan Taylor, 17.387; 14. 16-Gerard McIntyre, 17.429; 15. 29W-Ryan Wilson, 17.455; 16. 19M-Brent Marks, 17.482; 17. 51-Paul McMahan, 17.484; 18. 15-Donny Schatz, 17.493; 19. 5G-Curt Michael, 17.494; 20. 1s-Logan Schuchart, 17.518; 21. 51S-Stevie Smith, 17.529; 22. 17B-Steve Buckwalter, 17.531; 23. 8H-Doug Esh, 17.593; 24. 25-Aaron Ott, 17.604; 25. 52-Austin Hogue, 17.617; 26. 69K-Don Kreitz Jr, 17.626; 27. 14-Lance Dewease, 17.637; 28. 98H-Dave Blaney, 17.677; 29. 7M-Chad Layton, 17.678; 30. 48-Danny Dietrich, 17.689; 31. 45-Tim Shaffer, 17.691; 32. 83-David Gravel, 17.702; 33. 87-Alan Krimes, 17.715; 34. 94-Ryan Smith, 17.753; 35. 75-Nicole Bower, 17.755; 36. 15A-Adam Wilt, 17.783; 37. 7S-Jason Sides, 17.808; 38. 93-Glenndon Forsythe, 17.816; 39. 2X-Ryan Bohlke, 17.853; 40. 11K-Kraig Kinser, 17.898; 41. 11C-Cory Haas, 17.951; 42. 12W-Troy Fraker, 19.150; 43. 1A-Jacob Allen, nt
Heat 1 – (8 Laps – Top 5 finishers transfer to the A-feature) – 1. 20-Ryan Taylor [1]; 2. 11-Steve Kinser [2]; 3. 1Z-Lucas Wolfe [4]; 4. 51S-Stevie Smith [6]; 5. 51-Paul McMahan [5]; 6. 49-Brad Sweet [3]; 7. 52-Austin Hogue [7]; 8. 7M-Chad Layton [8]; 9. 7S-Jason Sides [10]; 10. 11C-Cory Haas [11]; 11. 87-Alan Krimes [9]
Heat 2 – (8 Laps – Top 5 finishers transfer to the A-feature) – 1. 27-Greg Hodnett [4]; 2. 16-Gerard McIntyre [1]; 3. 29-Kerry Madsen [3]; 4. 15-Donny Schatz [5]; 5. 17B-Steve Buckwalter [6]; 6. 48-Danny Dietrich [8]; 7. 69K-Don Kreitz Jr [7]; 8. 93-Glenndon Forsythe [10]; 9. 12W-Troy Fraker [11]; 10. 94-Ryan Smith [9]
Heat 3 – (8 Laps – Top 5 finishers transfer to the A-feature) – 1. 5-Justin Barger [2]; 2. 71M-Joey Saldana [3]; 3. 14-Lance Dewease [7]; 4. 2X-Ryan Bohlke [10]; 5. 29W-Ryan Wilson [1]; 6. 75-Nicole Bower [9]; 7. 3-Pat Cannon [4]; 8. 5G-Curt Michael [5]; 9. 45-Tim Shaffer [8]; 10. 1A-Jacob Allen [11]; 11. 8H-Doug Esh [6]
Heat 4 – (8 Laps – Top 5 finishers transfer to the A-feature) – 1. 19M-Brent Marks [1]; 2. 9-Daryn Pittman [2]; 3. 2-Shane Stewart [3]; 4. 4-Cody Darrah [4]; 5. 1s-Logan Schuchart [5]; 6. 83-David Gravel [8]; 7. 25-Aaron Ott [6]; 8. 98H-Dave Blaney [7]; 9. 15A-Adam Wilt [9]; 10. 11K-Kraig Kinser [10]
Dash – (6 Laps, finishing order determined first 8 starting positions of A-feature) – 1. 71M-Joey Saldana [2]; 2. 5-Justin Barger [1]; 3. 4-Cody Darrah [4]; 4. 27-Greg Hodnett [5]; 5. 1Z-Lucas Wolfe [6]; 6. 19M-Brent Marks [8]; 7. 29-Kerry Madsen [3]; 8. 20-Ryan Taylor [7]
C-Main – (10 Laps – Top 2 finishers transfer to the B-feature) – 1. 94-Ryan Smith [1] [-]; 2. 15A-Adam Wilt [3] [-]; 3. 7S-Jason Sides [4] [$125]; 4. 75-Nicole Bower [2] [$125]; 5. 11C-Cory Haas [7] [$125]; 6. 11K-Kraig Kinser [6] [$100]; 7. 12W-Troy Fraker [8] [$100]; 8. 93-Glenndon Forsythe [5] [$100]; 9. 1A-Jacob Allen [9] [$100]
B-Main – (12 Laps – Top 4 finishers transfer to the A-feature) – 1. 49-Brad Sweet [2] [-]; 2. 21-Brian Montieth [3] [-]; 3. 8H-Doug Esh [5] [-]; 4. 5G-Curt Michael [4] [-]; 5. 25-Aaron Ott [6] [$200]; 6. 48-Danny Dietrich [11] [$180]; 7. 69K-Don Kreitz Jr [8] [$175]; 8. 52-Austin Hogue [7] [$160]; 9. 7M-Chad Layton [10] [$150]; 10. 83-David Gravel [13] [$150]; 11. 98H-Dave Blaney [9] [$150]; 12. 94-Ryan Smith [15] [$150]; 13. 15A-Adam Wilt [16] [$150]; 14. 3-Pat Cannon [1] [$150]; 15. 45-Tim Shaffer [12] [$150]; 16. 87-Alan Krimes [14] [$150]
World of Outlaws STP Sprint Car Series Championship Standings