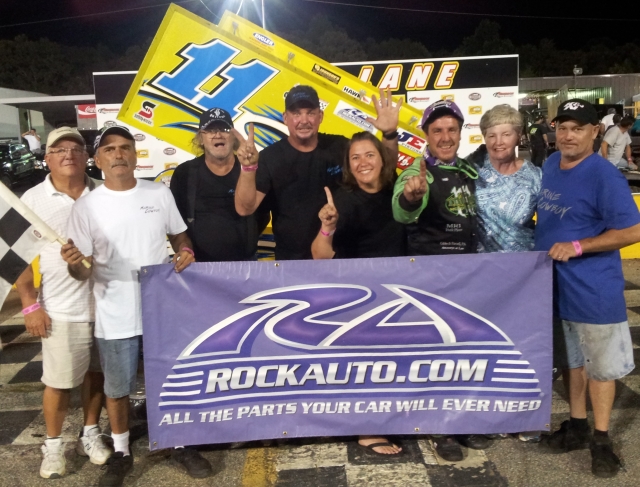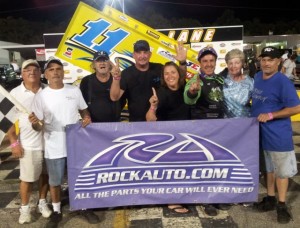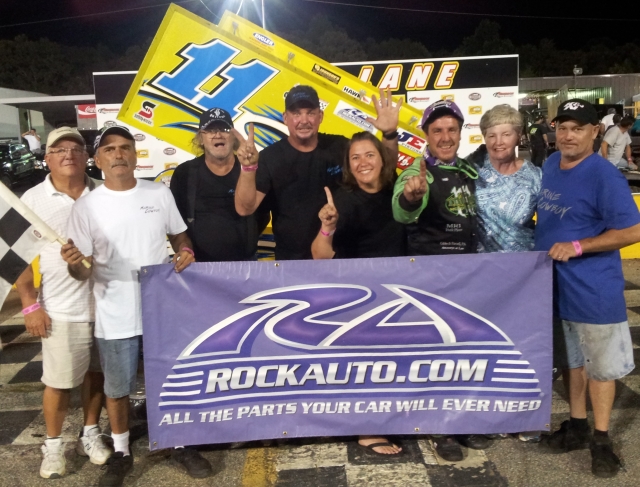 From Pete Walton
Anderson, SC — (July 26, 2014) — In poker, a pair might be the worst hand, but for Joey "The Ace" Aguilar, a pair was exactly what he was looking for at Anderson Motor Speedway. Aguilar, a longtime pavement sprint car ace from Tampa, Florida, powered around the outside of 2012 Carolina RaceSaver Sprint Car Series champion Jake McLain from Indian Trail, North Carolina in turn one on lap 14 of Saturday night's United Sprint Car Series filtercharged by K&N 40-lap Summer Nationals A-main finale and drove away to his second victory in two nights in dominating fashion, despite a late-race charge from past regional series Champion, Johnny Bridges from Cherryville, North Carolina.
The victory was Aguilar's career-third USCS feature win and seventh straight sprint car victory across three different sanctions. The result also locked Aguilar into next month's USCS Wind Creek Casino/Hotel Wetumpka Sprint Car Shootout at Atlanta Motor Speedway on August 29th.
"This is incredible; it's truly been a blast running up here this weekend," an elated Aguilar said in www.rockauto.com Victory Lane. "The series, the track staff, all the fans who came out tonight, everyone has treated us well and we really appreciate it. We had another unbelievable car tonight; it took a lot of work after we broke the axle in hot laps, but we did it and this means a lot."
Bridges, who worked his way around McLain after a restart on lap 20, closed the gap between he and Aguilar substantially over the final ten laps, but ran out of time to make a challenge for the win. "We just needed about five more laps," the Cherryville, North Carolina driver said following the checkered flag. "We were faster than he was there late in the run but we just didn't catch traffic and breaks quite like we needed there to be close enough. Still a solid result though, and we got to roll the car on the trailer in one piece tonight so that's a huge improvement."
McLain, the series' 2008 Southern Thunder regional Rookie of the Year from Indian Trail, North Carolina, led the first 13 laps and finished with a USCS career-best result in third. "Wow, I really don't know what to say after all that," a speechless McLain said after the race in front of a cheering crowd. "That restart just before halfway killed us; we had our momentum built up and I knew we weren't going to be able to punch the throttle like Johnny could on the green. This is cool though, we outran some of the best in the business tonight, Morgan (Turpen) and Terry (Gray) and it means the world to me to be standing here on the podium tonight."
The race was slowed by a caution only once over the course of the 40 laps, when ten-time series champion Terry Gray slowed to a crawl on the backstretch with motor cooling problems.
Turpen, the Cordova, Tennessee female top gun and winner on the pavement at Southern National Motorsports Park back in April, ended the night in fourth and Mooresville, North Carolina native Tim Perry finished fifth, scoring his career-best USCS result as well.
Argos, Indiana pavement veteran Tom Paterson ended his night in the sixth position and Bill Moore, from Mt. Ulla, North Carolina crossed the line seventh. K&N pole-sitter Jay Dunham, out of Grovetown, Georgia fell back late in the race and brought his #51 machine home in eighth after cutting a tire during his heat race earlier in the night. Local driver Dave Thorman from Greenville, South Carolina scored a career-best ninth place finish and Indian Trail, North Carolina's Brandon McLain fought back from a fire underneath his car during the first Hoosier Tire Speed Dash to round out the top ten.
Johnny Bridges set the K&N Filters Fast Time during two-lap time trials on Saturday evening with a lap of 13.040 seconds (103.528 mph), shattering the all-time track record of 13.260 seconds that he set the day before.
The Hoosier Tire Speed Dash originally scheduled for Friday evening was won by Terry Gray, while his teammate Morgan Turpen won the second Hoosier Tire Speed Dash. Turpen followed up her dash win with a victory in the Engler Machine and Tool First Heat, while Joey Aguilar grabbed the victory in the Butlerbuilt Second Heat.
Bridges was the provisional pole starter after receiving his time back following heat race action, but after a six came up in the K&N Filters Inversion Draw, Jay Dunham received the K&N Pole Award. Joey Aguilar passed the most cars in the A-main (four) to grab the evening's Wilwood Disc Brakes Hard Charger Award.
The United Sprint Car Series filtercharged by K&N continues their 2014 schedule on August 1st and 2nd with a two-night show at the Greenville Speedway in Greenville, Mississippi as part of the Ellis Palasini Black Widow Classic. For rules, schedules and more information on the United Sprint Car Series Outlaw Thunder Tour, please visit www.uscsracing.com or call 770-460-7223 or 770-865-6097.
RESULTS: USCS Sprint Car Series "Anderson Summer Nationals" Prelim Night; Anderson Motor Speedway; July 25th, 2014
K&N Filters Fast Time: Johnny Bridges; 13.040 seconds (103.528 mph; new all-time track record)
Friday Make-Up Hoosier Tire Speed Dash: Terry Gray, Morgan Turpen, Johnny Bridges, Jake McLain, Brandon McLain, Tom Paterson (DNS).
Saturday Hoosier Tire Speed Dash: Morgan Turpen, Joey Aguilar, Terry Gray, Jay Dunham, Jake McLain, Brandon McLain (DNS).
Engler Machine and Tool First Heat: Morgan Turpen, Johnny Bridges, Jake McLain, Tom Paterson, Tim Perry, Joe Larkin, Dave Thorman.
Butlerbuilt Second Heat: Joey Aguilar, Terry Gray, Jay Dunham, Greg Smyre, Bill Moore, Jim Payne, Brandon McLain.
USCS Sprint Car Series filtercharged by K&N Summer Nationals championship A-main: 40-laps
#11 – Joey Aguilar, Tampa, FL
#07 – Johnny Bridges, Cherryville, NC
#67 – Jake McLain, Indian Trail, NC
#10M – Morgan Turpen, Cordova, TN
#36 – Tim Perry, Mooresville, NC
#11X – Tom Paterson, Argos, IN
#06 – Bill Moore, Mt. Ulla, NC
#51 – Jay Dunham, Grovetown, GA
#5 – Dave Thorman, Greenville, SC
#21B – Brandon McLain, Indian Trail, NC
#87 – Greg Smyre, Hickory, NC
#10 – Terry Gray, Bartlett, TN
#100 – Jim Payne, Bryan, OH
#33 – Joe Larkin, Suwanee, GA (DNS)
USCS Sprint Car Series Race Awards:
K&N Fast Time Award: #07 – Johnny Bridges
Engler Machine and Tool First Heat: #10M – Morgan Turpen
Butlerbuilt Second Heat: #11 – Joey Aguilar
K&N Filters Pole Award: #51 – Jay Dunham
JE Pistons Top Guns Award: #11 – Joey Aguilar (1st place)
K&N Filters Podium (3rd place) Award: #67 – Jake McLain
Wilwood Disc Brakes Hard Charger Award: #11 – Joey Aguilar
Keizer Aluminum Wheels Top Five Award: #36 – Tim Perry
Saldana Racing Products Super Sixth Award: #11X – Tom Paterson
Pyrotect Racing Cells Lucky Seven Award: #06 – Bill Moore
DMI/Bulldog Rear Ends Top Ten Award: #21B – Brandon McLain