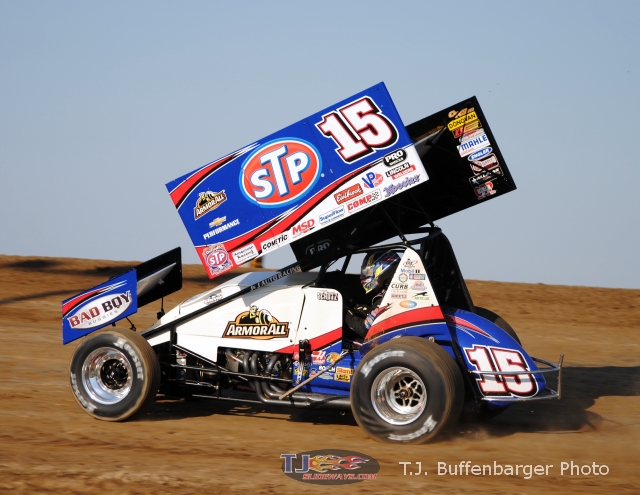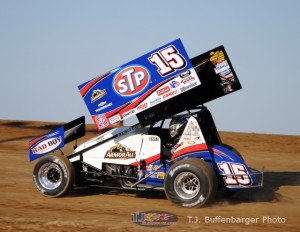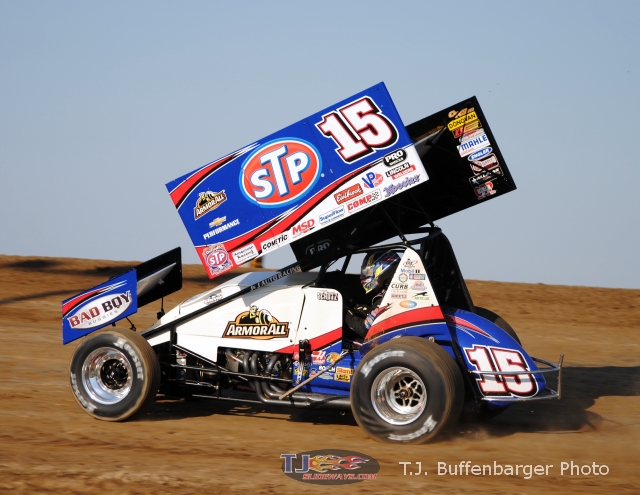 From the World of Outlaws
Cornwall, ON — (July 27, 2014) — Donny Schatz scored his second World of Outlaws STP Sprint Car Series win in as many nights Sunday after battling David Gravel and Kerry Madsen at Cornwall Motor Speedway. It was Schatz's 11th win of 2014, tying him with Daryn Pittman for the most on the season.
Schatz, who won the Outlaws' first and most recent appearance at the track in 2012, said Canada has been very good to him.
"[I] always look forward to coming," Schatz said. "When we saw those rain clouds earlier in the day we were trying to get them to go away and obviously it worked. Can't control Mother Nature, but she was obviously a race fan tonight. I hope you guys enjoyed it – it was great to be here tonight. The track was fun for me."
The driver of the No. 15 STP/Armor All car complimented his team for the work they have been doing to get him to 11 wins.
"This team is really operating right now," Schatz said. "They're doing a phenomenal job. Everything they keep doing to these racecars is making big changes. Makes for a happy driver."
Schatz extended his championship points lead again Sunday night. He now has an 83 point lead over Pittman. Third place Paul McMahan is 135 points out of the lead.
Kerry Madsen and David Gravel led the field to the green flag as Madsen jumped out to an early lead. Gravel got off track in the opening laps and slipped back to the fifth position. The first caution of the night flew on lap six.
As the green flag again flew, Schatz made his move, reeling in Madsen, as the Australia-native approached lapped traffic. After completing lap 10, Schatz slid Madsen and made it stick, taking over the lead on lap 11.
Shortly after, three cautions fell in quick succession. When the green flag again came out on lap 20, Schatz led Madsen, Paul McMahan, Kraig Kinser and David Gravel. In sixth, Logan Schuchart had advanced two positions from his eighth place starting position. By lap 30 Gravel was making a charge back after his earlier problem, moving into the third position, while Schuchart continued his advance forward to fourth.
The final caution of the night came out on lap 38 and set up a green, white, checkered finish. When the green flag dropped Schatz quickly built on his lead, with Madsen in second, and Gravel and Schuchart battling for third. Schuchart quickly slid Gravel and took over third.
Schatz took the checkered flag in first with Madsen second and Schuchart third.
Madsen's second place finish was his second in as many nights in his American Racing Custom Wheels car. He led the first ten laps of Sunday's feature.
"We'll take second all night long," Madsen said. "We want to win them but we got beat by a better car tonight. Anytime we can finish on the podium it's a great result… It's extremely tough competition so we're definitely not disappointed. This is a great momentum builder for us and gives us a lot of confidence in the team for the rest of the year and the big races coming up."
Madsen thanked his crew members and team owners Bob and Peter Gavranich.
Schuchart got his third podium finish of the season at Cornwall in his Your Auto Source car – the first came at Thunderbowl Raceway, where he finished second, and the second came at the Dirt Track at Charlotte, where he finished third.
Schuchart, who took the KSE Hard Charger Award of the night after advancing five positions, said the caution flags late in the race helped him make up ground and make the passes he needed to score a podium finish.
"We got racing pretty good but everyone is pretty equal so it makes it kind of hard. It was a slick track – it made it racy, it made it fun to drive on," Schuchart said. "I think the last couple yellows helped us to get a couple more cars."
"Anytime you run good, you like it. All these tracks are new tracks to us, especially up here in Canada. But we're having fun, we like it and we're happy to be here."
The World of Outlaws STP Sprint Car Series continues its swing through Canada at Ohswheken Speedway on Tuesday, July 29 for the Six Nations Showdown. The Outlaws then travel to Pevely, Mo. for the Prelude to the Ironman and the Ironman 55 at Federated Auto Parts Raceway at I-55 on August 1 and 2.
CORNWALL MOTOR SPEEDWAY NOTES: Donny Schatz tied Daryn Pittman for the most wins of the season at 11… Donny Schatz extended his points lead to 83 over Pittman… Logan Schuchart got his third podium finish of the season… Logan Schuchart took the KSE Hard Charger Award at Cornwall after advancing five positions to finish third… Logan Schuchart, Joey Saldana and David Gravel all won their heat races earlier in the night.
SEASON WINNERS: Daryn Pittman – 11 (Thunderbowl Raceway on March 14, Calistoga Speedway on April 6, Devil's Bowl Speedway on April 19, Williams Grove Speedway on May 16 and May 17, Orange County Fair Speedway, May 18, New Egypt Speedway, May 20, Dodge City Raceway Park on July 4 and 5, Lincoln Speedway on July 17 and Fulton Speedway on July 23); Donny Schatz – 11 (Volusia Speedway Park on Feb. 15, The Dirt Track at Las Vegas on March 6, Devil's Bowl Speedway on April 19, Lawrenceburg Speedway on May 27, I-96 Speedway on May 31, River Cities Speedway on June 20, 34 Raceway on June 27, Cedar Lake Speedway on June 29, Lernerville Speedway on July 15, Autodrome Drummond on July 26 and Cornwall Motor Speedway on July 27); Joey Saldana – 5 (Perris Auto Speedway on April 12, Salina Highbanks on April 25, The Dirt Track at Charlotte on May 23, I-80 Speedway on June 6 and Jackson Speedway on June 13); Brad Sweet – 5 (Volusia Speedway Park on Feb. 14, Tucson International Raceway on March 8, Calistoga Speedway on April 5, Knoxville Raceway on June 14 and Beaver Dam Raceway on June 28); David Gravel – 4(Merced Speedway on March 28, Eldora Speedway on May 3, Wilmot Raceway on May 9 and Lebanon Valley Speedway on July 20); Kerry Madsen – 4(Stockton Dirt track on March 22, El Paso Speedway Park on April 15, Lakeside Speedway on June 7 and Eldora Speedway on July 12); Paul McMahan – 3(The Dirt Track at Las Vegas on March 5, Tri-State Speedway on May 10 and Limaland Motorsports Park on July 9); Cody Darrah – 2(Kings Speedway on April 11 and Lernerville Speedway on July 15); Rico Abreu – 1(Thunderbowl Raceway on March 15); Sammy Swindell – 2(Federated Auto Parts Raceway at I-55 on April 26 and Eldora Speedway on July 11); Dale Blaney – 1 (Attica Raceway Park on May 30); Christopher Bell – 1(Jacksonville Speedway on May 7); Lance Dewease – 1 (July 20 at Williams Grove Speedway); Greg Hodnett – 1 (July 18 at Williams Grove Speedway); Roger Crockett – 1 (I-94 Speedway on June 21); Mark Dobmeier – 1 (Huset's Speedway on July 2); Steve Kinser – 1 (Volusia Speedway Park on Feb. 16); Stevie Smith – 1 (Lincoln Speedway on May 14); Shane Stewart – 1(Eldora Speedway on May 2) .
World of Outlaws STP Sprint Car Series Statistical Report; Cornwall Motor Speedway; Cornwall, Ont.; July 27, 2014
A-Main – (40 Laps) – 1. 15-Donny Schatz [3] [$10,000]; 2. 29-Kerry Madsen [1] [$5,500]; 3. 1s-Logan Schuchart [8] [$3,200]; 4. 83-David Gravel [2] [$2,800]; 5. 11K-Kraig Kinser [5] [$2,500]; 6. 77-Shane Stewart [6] [$2,300]; 7. 51-Paul McMahan [4] [$2,200]; 8. 9-Daryn Pittman [9] [$2,100]; 9. 49-Brad Sweet [14] [$2,050]; 10. 11-Steve Kinser [10] [$2,000]; 11. 5W-Lucas Wolfe [11] [$1,500]; 12. 71M-Joey Saldana [7] [$1,200]; 13. 1A-Jacob Allen [12] [$1,100]; 14. 4-Cody Darrah [15] [$1,050]; 15. 7S-Jason Sides [16] [$1,000]; 16. 77X-Wayne Johnson [13] [$900]; 17. 24K-Devin Caron [18] [$800]; 18. O1-Kyle Fraser [19] [$800]; 19. 15AW-April Wilson [17] [$800]; 20. 51L-Lee Ladouceur [20] [$800]. Lap Leaders: Kerry Madsen 1-10, Donny Schatz 11-40. KSE Hard Charger Award: 1s-Logan Schuchart [+5]
Qualifying – 1. 77-Shane Stewart, 10.328; 2. 51-Paul McMahan, 10.372; 3. 11K-Kraig Kinser, 10.397; 4. 15-Donny Schatz, 10.414; 5. 29-Kerry Madsen, 10.459; 6. 9-Daryn Pittman, 10.513; 7. 11-Steve Kinser, 10.548; 8. 5W-Lucas Wolfe, 10.619; 9. 83-David Gravel, 10.721; 10. 1s-Logan Schuchart, 10.746; 11. 71M-Joey Saldana, 10.767; 12. 1A-Jacob Allen, 10.825; 13. 77X-Wayne Johnson, 10.827; 14. 49-Brad Sweet, 10.830; 15. 4-Cody Darrah, 10.915; 16. 7S-Jason Sides, 10.979; 17. 15AW-April Wilson, 11.471; 18. 24K-Devin Caron, 11.497; 19. O1-Kyle Fraser, 11.512; 20. 51L-Lee Ladouceur, 11.432
Heat 1 – (10 Laps – Top 6 finishers transfer to the A-feature) – 1. 1s-Logan Schuchart [1]; 2. 11-Steve Kinser [2]; 3. 15-Donny Schatz [3]; 4. 77-Shane Stewart [4]; 5. 7S-Jason Sides [6]; 6. 77X-Wayne Johnson [5]; 7. O1-Kyle Fraser [7]
Heat 2 – (10 Laps – Top 6 finishers transfer to the A-feature) – 1. 71M-Joey Saldana [1]; 2. 5W-Lucas Wolfe [2]; 3. 51-Paul McMahan [4]; 4. 29-Kerry Madsen [3]; 5. 49-Brad Sweet [5]; 6. 15AW-April Wilson [6]; 7. 51L-Lee Ladouceur [7]
Heat 3 – (10 Laps – Top 6 finishers transfer to the A-feature) – 1. 83-David Gravel [2]; 2. 4-Cody Darrah [5]; 3. 11K-Kraig Kinser [4]; 4. 1A-Jacob Allen [1]; 5. 9-Daryn Pittman [3]; 6. 24K-Devin Caron [6]
Dash – (6 Laps, finishing order determined first 8 starting positions of A-feature) – 1. 29-Kerry Madsen [2]; 2. 83-David Gravel [1]; 3. 15-Donny Schatz [3]; 4. 51-Paul McMahan [5]; 5. 11K-Kraig Kinser [4]; 6. 77-Shane Stewart [6]; 7. 71M-Joey Saldana [8]; 8. 1s-Logan Schuchart [7]
World of Outlaws STP Sprint Car Series Championship Standings
| | | | | | | | | |
| --- | --- | --- | --- | --- | --- | --- | --- | --- |
| Pos. | Car | Driver | Total | Diff | Wins | Top 5's | Top 10's | QT |
| 1 | 15 | Donny Schatz | 7908 | 0 | 11 | 37 | 50 | 5 |
| 2 | 9 | Daryn Pittman | 7825 | -83 | 11 | 32 | 49 | 2 |
| 3 | 51 | Paul McMahan | 7773 | -135 | 3 | 29 | 51 | 8 |
| 4 | 71M | Joey Saldana | 7608 | -300 | 5 | 26 | 37 | 19 |
| 5 | 29 | Kerry Madsen | 7601 | -307 | 4 | 28 | 45 | 4 |
| 6 | 49 | Brad Sweet | 7443 | -465 | 5 | 19 | 38 | 2 |
| 7 | 4 | Cody Darrah | 7170 | -738 | 2 | 14 | 32 | 2 |
| 8 | 11 | Steve Kinser | 7098 | -810 | 1 | 8 | 28 | 0 |
| 9 | 11k | Kraig Kinser | 6870 | -1038 | 0 | 3 | 20 | 0 |
| 10 | 83 | David Gravel | 6496 | -1412 | 4 | 14 | 32 | 6 |
| 11 | 7s | Jason Sides | 6327 | -1581 | 0 | 2 | 12 | 0 |
| 12 | 1S | Logan Schuchart | 5955 | -1953 | 0 | 4 | 10 | 0 |
| 13 | 1 | Sammy Swindell | 5915 | -1993 | 2 | 11 | 19 | 1 |
| 14 | 1A | Jacob Allen | 5071 | -2837 | 0 | 0 | 1 | 0 |
| 15 | 5W | Lucas Wolfe | 3241 | -4667 | 0 | 2 | 8 | 1 |
| 16 | 59 | Tim Kaeding | 3099 | -4809 | 0 | 3 | 13 | 0 |
| 17 | 21 | Brian Brown | 2567 | -5341 | 0 | 2 | 7 | 0 |
| 18 | 77X | Wayne Johnson | 2415 | -5493 | 0 | 0 | 0 | 0 |
| 19 | 2 | Shane Stewart | 2245 | -5663 | 1 | 5 | 11 | 3 |
| 20 | W20 | Greg Wilson | 2156 | -5752 | 0 | 0 | 2 | 0 |