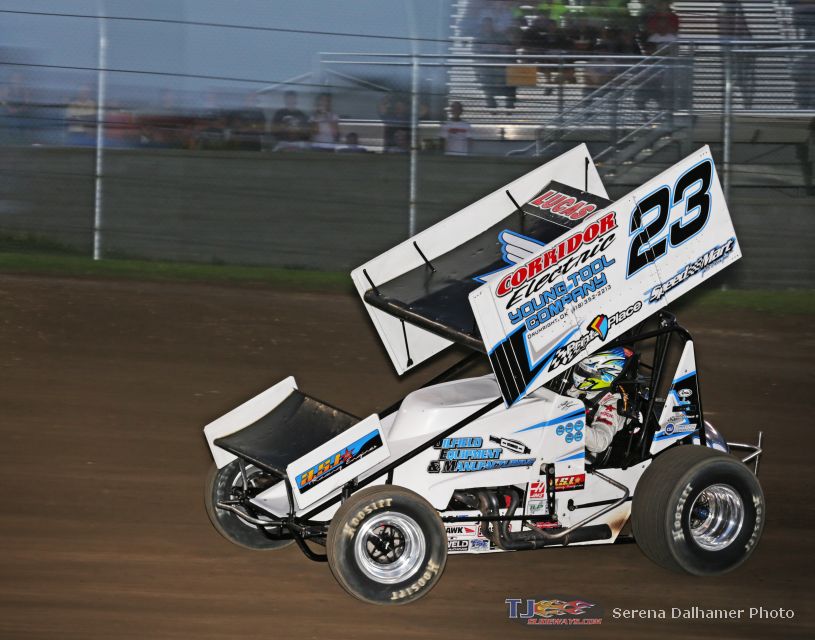 Inside Line Promotions
– ALGER, Wash. (July 30, 2014) – Seth Bergman was on a mission last weekend during the Bob's Burgers & Brew Summer Nationals at Skagit Speedway.
"That's a race I've always wanted to win," he said. "I grew up in that area and you want to leave your name at those race tracks. It meant something to me."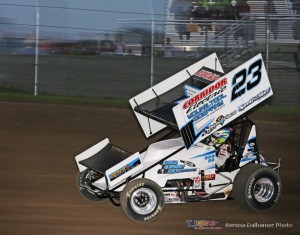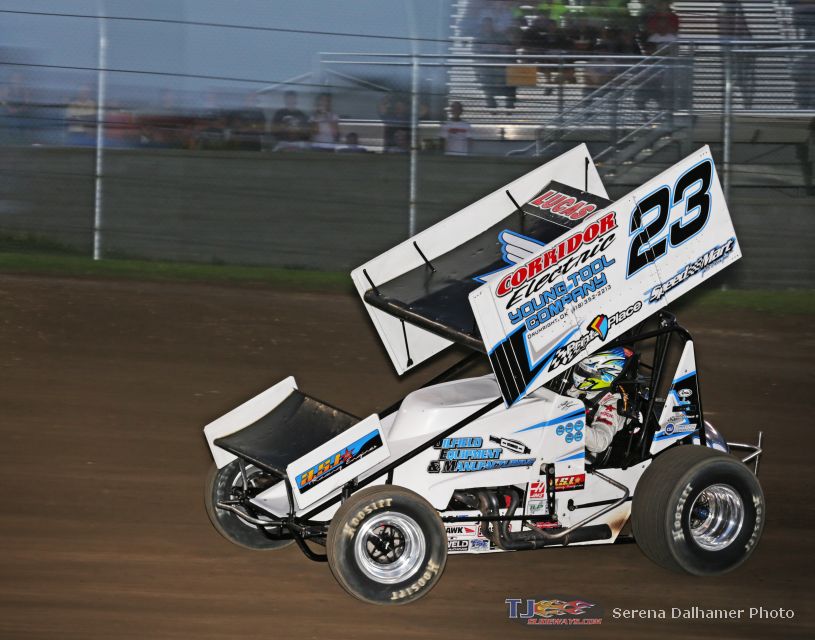 Bergman's focus never waned throughout the doubleheader, which started on Friday when he qualified third quickest. He then rallied from fourth to claim his heat race. Since the drivers who advanced to the feature through their heat race were inverted in the main event, Bergman lined up on the outside of the seventh row for the 30-lap feature.
"I knew starting back there I had to be on it," he said. "If you're going to be fast, you have to race from the back. The car was pretty close to perfect all weekend. I feel like I was on a mission."
That was evident in the main event as Bergman powered from 14th into third place prior to a late restart.
"Whenever I caught a car it seemed like I could pass them," he said. "We had a restart with five or six laps to go. Jason (Solwold) and I both passed the leader and I was trying to chase down Jason at the end of the race."
Bergman finished with a runner-up result, which provided him with the most points of any driver. It also gave him a spot in Saturday's A Main scramble, which Bergman won to start on the pole of the $10,000-to-win, 40-lap main event.
"We had a pretty good clean start," he said. "Jason was able to get around me with a little bit of momentum. We were both racing hard, but he was leaving the bottom way open on his entry. I kept dive bombing it into the corners because I wanted him to think the bottom was better. Luckily I got him to peel off the top and when he did I drove around him on the top."
Bergman took the lead on Lap 3 and he cruised from there. Despite a handful of cautions, Bergman lapped up to eighth place en route to his seventh win of the season.
"I never really got held up in traffic," he said. "My lane choices were working. It was definitely a fast track. You could run the top or bottom. It was somewhat narrow, but it had two lanes of racing."
The triumph was also the biggest payday of his career.
"It was a lot of miles logged to get out there, but it was definitely worth it," he said. "It seems like every time we go home we're on it."
Bergman will tackle another $10,000-to-win event this weekend at Knoxville Raceway in Knoxville, Iowa, which hosts the 24th annual Arnold Motor Supply 360 Knoxville Nationals. Bergman's preliminary night is Friday with the event wrapping up on Saturday.
He will also compete next Monday at Southern Iowa Speedway in Oskaloosa, Iowa, for the Front Row Challenge with the Lucas Oil ASCS National Tour.
QUICK RESULTS –
July 25 – Skagit Speedway in Alger, Wash. – Qualifying: 3; Heat race: 1 (4); Feature: 2 (14).
July 26 – Skagit Speedway in Alger, Wash. – Scramble: 1 (1); Feature: 1 (1).
SEASON STATS –
32 races, 7 wins, 15 top fives, 23 top 10s, 27 top 15s, 29 top 20s
UP NEXT –
Friday and Saturday at Knoxville Raceway in Knoxville, Iowa, for the 24th annual Arnold Motor Supply 360 Knoxville Nationals; and Monday at Southern Iowa Speedway in Oskaloosa, Iowa, for the Front Row Challenge with the Lucas Oil ASCS National Tour
LIVE COVERAGE –
To keep up to speed with Bergman at every Lucas Oil ASCS National Tour event, visit http://www.RacinBoys.com for free, live audio. Additionally, RacinBoys will provide live Pay-Per-View video at select races.
MEDIA LINKS –
Website: http://www.SethBergmanRacing.com
Twitter: https://twitter.com/BergmanRacing
Facebook: https://www.facebook.com/SethBergmanRacing
VIDEOS –
Here is a link to highlights of Bergman's victory at Skagit Speedway on May 17 (starts around 13:10): http://youtu.be/gMPkdGd90e8
APPAREL –
Bergman has men's and women's t-shirts available for sale at his race trailer during events he competes in this season.
SPONSOR SPOTLIGHT – Corridor Electric
Corridor Electric is a full-service electrical contractor located in Snohomish, Wash. With a specialty in electricity, Corridor Electric was established in 1999 by Seth's parents – Steve and Terri Bergman.
"Corridor Electric has been the backbone for my racing career," Seth Bergman said. "It's my parent's business and I can't thank them enough for the support throughout the years. I wouldn't be able to chase my racing dreams without everything they have done for me."
Bergman would also like to thank Oilfield Equipment & Manufacturing, ASI Racing Engines, Print Place, Young Tools, SpeedMart and CSI Shocks for their continued support.
INSIDE LINE PROMOTIONS –
Inside Line Promotions specializes in affordable public relations and media management for motor sports drivers, teams, sponsors, tracks, series, events, organizations and manufacturers. ILP Founder Shawn Miller leverages professional journalism with new media technologies and social networking to improve your exposure and the return on investment for your sponsors.
To meet the media relations needs of your program and to join Team ILP, contact Shawn at 541-510-3663 or InsideLinePromotions@gmail.com. For more information on Inside Line Promotions, visit http://www.InsideLinePromotions.com.