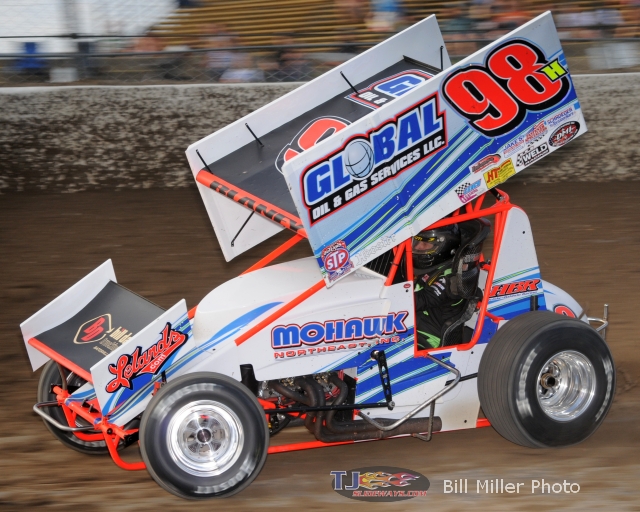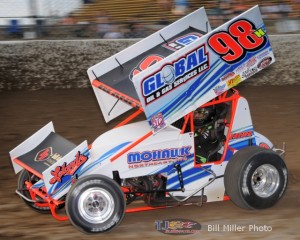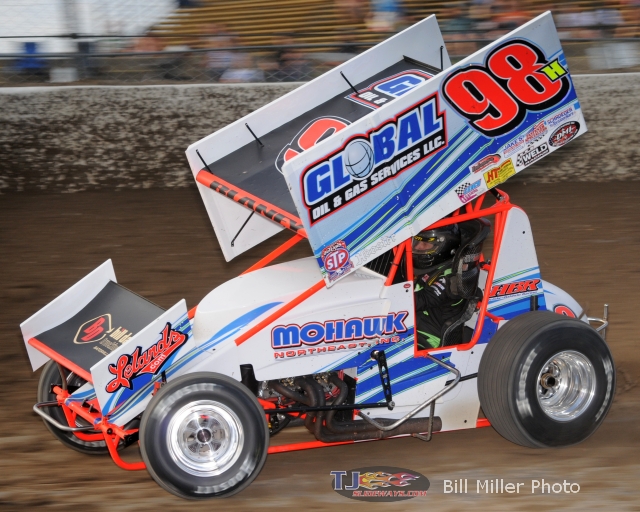 From Sharon Speedway
Hartford, OH — (July 30, 2014) — Sharon Speedway hosted the sixth annual "Lou Blaney Memorial" on Wednesday night. Despite thunderstorms scattered throughout the region during the day and night, only two brief showers hit the speedway in the late afternoon. A large crowd turned out along with 23 "410" Sprint Cars and 31 Big-Block Modifieds in the Ollie's Bargain Outlet Alzheimer's Association Benefit Event. Celebrating in the Hovis Auto & Truck Supply victory lane were Dave Blaney-"410" Sprint Cars and Rex King, Jr.-BRP Tour Hovis Auto & Truck Supply Big-Block Modifieds. And there has still yet to be a repeat winner in either division after six years!
Dave Blaney has won a lot of big races and championships throughout his stellar career. He's won USAC and World of Outlaw Sprint championships, the Knoxville Nationals, the Kings Royal and Historical Big One at Eldora Speedway, and even a victory in the NASCAR Nationwide Series, but none may have been as special as Wednesday night's victory at his home track. The elder son of the late Lou Blaney took charge on lap six from Caleb Helms and set a torrid pace in the 30-lap Sprint Car feature to beat his brother Dale at the finish for the $5,000 victory- his first in six tries in the Memorial event.
"I guess it took me bringing a second car for Dale to finally win this," joked the 51-year-old High Point, North Carolina resident. "This feels pretty good to win this race. I have to thank everyone for the support all of these years- it's been a lot of fun! Nights like this make Sprint Car racing worthwhile. It gets frustrating sometimes as I've been doing this part-time, and can't seem to be able to do what I used to be able to do. I'm glad Dale was here in my car- that was really fun!"
From the outside pole, Helms took charge of the event from Caleb Griffith with Dave Blaney in third on the opening lap. Dale Blaney started sixth and was fifth after one lap then passed Cole Duncan for fourth on lap three. Helms caught lapped traffic on lap five, while Dave Blaney began to challenge Griffith for second. Dave made the pass with an inside move in turn four on lap five then quickly caught leader Helms and made the winning move racing off the bottom of turn four one lap later.
Griffith began to challenge Helms for second on lap seven and finally worked his way by two laps later in traffic with the help of the lapped car of Dennis Wagner. Dale Blaney meanwhile continued his way forward as he caught Helms and made the pass on lap 11 to grab third. Dale looked strong as he ran down Griffith and appeared ready to make the pass when the first caution was displayed for C.J. Jones with 15 laps scored. The caution erased a 4.208 second lead by Dave Blaney!
Back under green, Dale Blaney put a slider on Griffith in turn two to steal the runner-up spot. A caution for a slowing Jason Dolick brought action to a halt with 18 laps recorded. Fast qualifier Lee Jacobs was quiet for most of the first half of the event, but worked his way back into the top five on lap 20 taking the spot from Duncan. Three laps later, the two-time Lernerville Speedway winner this season passed Helms for fourth.
Dave Blaney was back in lapped traffic on lap 23 before the final caution was displayed for the fifth place running Helms, who was unable to make it off the speedway. When racing resumed for the final time, Rod George made his way into the top five passing Duncan for the spot, but that would be the final passing in the top five.
Dave Blaney would go pretty much unchallenged by his brother in the final three laps to win by a margin of 1.286 seconds. The victory was Blaney's third overall of the season in his Mohawk Northeast/Global Oil & Gas Services/Tom's Sewer & Septic Service/Lelands.com/Bill Davis Trucking-sponsored #98H, and 28th of his career at Sharon in Sprint Cars to go along with two Big-Block Modified wins.
Dale Blaney, the current All Star point leader and winner of 13 features this season in Tony Kennedy's #14K, was runner-up in an identical #98 car to his brother Dave as he came up just shy in his bid for his first "Lou Blaney Memorial" victory. Griffith edged out a hard charging and fast closing Jacobs for third. George was fifth in Jim Chappel's #8- the same ride that won the 2010 event driven by Mike Lutz.
Completing the top 10 were Duncan, 13th starting Andy McKisson, Brandon Matus, Eric Williams, and 15th starting Adam Kekich. Heat winners were Jacobs, Matus, and Kekich. Jacobs set fast time in qualifying with a lap of 13.186- just four tenths off the track record.
When you're having a career year, things just seem to fall in place. Rex King, Jr. drew the outside pole starting spot for the 35-lap BRP Tour Big-Block Modified feature and got a much needed caution just as it appeared Dave Murdick was about to take the lead. King, Jr. then held off Murdick in the closing laps for his season's fifth win at Sharon and eighth overall on the circuit. Like Dave Blaney, it was King, Jr's first ever "Lou Blaney Memorial" victory, worth $2,000, for the Hovis Auto & Truck Supply point leader.
"I never raced with Lou, but he was always as nice as can be to me in the pits and grandstands," explained the 23-year-old Bristolville, Ohio racer. "To be honest, my brother and I didn't like him at first because he'd kick everyone around- you couldn't beat the guy! It's a real honor to win this race. He was great for the community. Look at all of the people that came out for this night and that just tells you what kind of guy he really was. The track was great tonight and I want to thank everyone for coming out and supporting Lou and his race."
King, Jr. powered around pole-sitter Lonny Riggs on the start and began to pull away. Riggs' "358″ small-block had his hands full trying to fend off Murdick and Jimmy Weller III in the battle for second on lap four. Murdick made the pass of Riggs for runner-up on lap five, while Weller III followed in third two laps later.
King, Jr. caught the back of the pack on lap eight. Weller III ran down Murdick and the duo raced side-by-side on laps 11 and 12 with Murdick holding on to the runner-up spot. After 14 non-stop laps, a caution for Jeremiah Shingledecker bunched up the field. Back under green, King, Jr. sped away from the pack while the battle raged for second between Murdick and the two Wellers.
On lap 22, King, Jr. was back in traffic and this time struggled to clear some of the slower cars as Murdick closed in on lap 23. The father-son Weller duo battled for third with Weller, Jr. getting the spot on lap 25; meanwhile, back up front the race was on for the lead as Murdick pulled even on laps 27 and 28 before a caution for Shayne Pierce. The caution reverted scoring back to lap 27 when King, Jr. had just a 0.004 of a second lead!
The final eight laps saw King, Jr. keep Murdick at bay by just 0.689 of a second for his 13th career Sharon win in the KMB Inc.-owned, Jim Brown Seed Sales/Bristol Disposal/Reese Services/Professional Heating Systems/Jet Inc/Cedar Steel/Mahan Welding & Fab/Schaeffer Oil/Cintas Uniform/Cleer Excavation-sponsored #165.
"It's always entertaining with lapped traffic," expressed the winner. "The top was good at the start of the race then it started to go away. We started getting some traction in the middle of the track in one and two then turn three and four started 'rubbering' so we had to make our way down there."
It was a solid effort for Murdick, the 2008 and 2012 Sharon Champion, who was making his first start at the Hartford, Ohio oval in the 85th anniversary season. Weller, Jr. beat out his son Weller III for the third spot. Brian Swartzlander came from 11th to place fifth. Completing the top 10 were Brad Rapp, 15th starting Rex King, Ricky Richner, 16th starting Jim Rasey, and Kevin Hoffman. Heat winners over the season high 31-car field were Murdick, Weller, Jr., and Swartzlander. Kyle Fink won the last chance B main.
"410" Sprint Cars (30 laps, $5,000 to-win): 1. DAVE BLANEY (98) 2. Dale Blaney (98) 3. Caleb Griffith (Davis 40DD) 4. Lee Jacobs (Lewis 81) 5. Rod George (Chappel 8) 6. Cole Duncan (Rudzik/Demyan 49) 7. Andy McKisson (0) 8. Brandon Matus (13) 9. Eric Williams (7) 10. Adam Kekich (5K) 11. Carl Bowser (10) 12. Mike Lutz (McMillin 5M) 13. Brent Matus (33) 14. Dennis Wagner (38) 15. Mike Bauer (46) 16. Roger Campbell (51) 17. C.J. Jones (10J) 18. Gale Ruth (1R) 19. Caleb Helms (40) 20. Jason Dolick (D12) 21. Jared Zimbardi (35) 22. Brandon Spithaler (22)-DNS 23. Dan Kuriger (08)-DNS.
BRP Tour Hovis Auto & Truck Supply Big-Block Modifieds (35 laps, $2,000 to-win): 1. REX KING, JR. (165) 2. Dave Murdick (61) 3. Jim Weller, Jr. (31) 4. Jimmy Weller III (23) 5. Brian Swartzlander (83) 6. Brad Rapp (11R) 7. Rex King (65) 8. Ricky Richner (26) 9. Jim Rasey (32) 10. Kevin Hoffman (00) 11. Lonny Riggs (58) 12. Justin Wright (19W) 13. Bob Warren (96B) 14. Rick Regalski, Jr. (13) 15. Tom Mattocks (69) 16. Rodney Beltz (64) 17. Chris Haines (35H) 18. Eric Gabany (3E) 19. Tom Glenn (83T) 20. Kyle Fink (Hinkle 77) 21. Kevin Green (74) 22. Carl Murdick (6) 23. Randy Chronister (71) 24. Shayne Pierce (88) 25. Steve Barr (25B) 26. Jeremiah Shingledecker (37MD). DNQ: Justin Rasey, Eric Beggs, Mark Frankhouser, Shayne Izzo, Shawn Kozar.
"410" Sprint Car Time Trials (Track record 12.704 by Danny Holtgraver on 8/20/13): 1. Lee Jacobs 13.186 2. Dale Blaney 13.210 3. Cole Duncan 13.214 4. Dave Blaney 13.247 5. Caleb Helms 13.247 6. Caleb Griffith 13.441 7. Eric Williams 13.460 8. Rod George 13.537 9. Jason Dolick 13.557 10. Carl Bowser 13.567 11. Brandon Matus 13.586 12. Jared Zimbardi 13.623 13. Andy McKisson 13.636 14. Brandon Spithaler 13.834 15. Adam Kekich 13.843 16. Mike Lutz 13.955 17. Roger Campbell 14.044 18. Mike Bauer 14.063 19. C.J. Jones 14.349 20. Brent Matus 14.482 21. Dennis Wagner 14.746 22. Gale Ruth 15.393 23. Dan Kuriger NT.
"410" Sprint Heat 1: 1. Jacobs 2. Lutz 3. McKisson 4. Dave Blaney 5. Carl Bowser 6. Williams 7. Jones 8. Ruth.
"410" Sprint Heat 2: 1. Brandon Matus 2. Dale Blaney 3. George 4. Helms 5. Campbell 6. Brent Matus 7. Spithaler 8. Kuriger-DNS.
"410" Sprint Heat 3: 1. Kekich 2. Dolick 3. Zimbardi 4. Bauer 5. Duncan 6. Griffith 7. Wagner.
BRP Mod Tour Heat 1 (top 7 transfer): 1. Dave Murdick 2. Hoffman 3. Weller III 4. Shingledecker 5. Warren 6. Jim Rasey 7. Mattocks 8. Fink 9. Kozar 10. Chronister 11. Justin Rasey-DNS.
BRP Mod Tour Heat 2 (top 7 transfer): 1. Weller, Jr. 2. Wright 3. King, Jr. 4. Glenn 5. Pierce 6. Regalski 7. Green 8. Frankhouser 9. Izzo 10. Carl Murdick.
BRP Mod Tour Heat 3 (top 7 transfer): 1. Swartzlander 2. Riggs 3. Rapp 4. Richner 5. King 6. Beltz 7. Gabany 8. Haines 9. Barr 10. Beggs.
BRP Mod Tour B main (top 3 transfer): 1. Fink 2. Haines 3. Barr 4. Justin Rasey 5. Beggs 6. Frankhouser 7. Izzo 8. Kozar 9. Chronister 10. Carl Murdick-DNS.
Sharon Speedway will be back in action this Saturday night (August 2) for a "Steel Valley Thunder" program for the "Bill Kirila Memorial" featuring the Hovis Auto & Truck Supply DIRTcar Big-Block Modifieds, Barris Supply RUSH Late Models, Summit Racing Equipment Modifieds, Gibson Insurance Agency Stock Cars, HTMA/Precise Racing Products Econo Mods, and the Deforest Used Parts Mini Stocks along with another appearance by the Sweeney Chevrolet Buick GMC RUSH Sportsman Modifieds. (Note: the Modifieds were originally not on the schedule, but have been added.) Race time is 7 p.m.
Sharon Speedway is owned by the Blaney, Weller, and Kirila Families and is a 3/8-mile dirt track located on Custer-Orangeville Road in Hartford, Ohio near the intersection of Routes 7 & 305. For more information, check out the website at www.sharonspeedway.com or call 330-772-5481. Become a fan of Sharon Speedway on Facebook at www.facebook.com/sharonspeedway and follow us on Twitter at www.twitter.com/sharonspdwy.