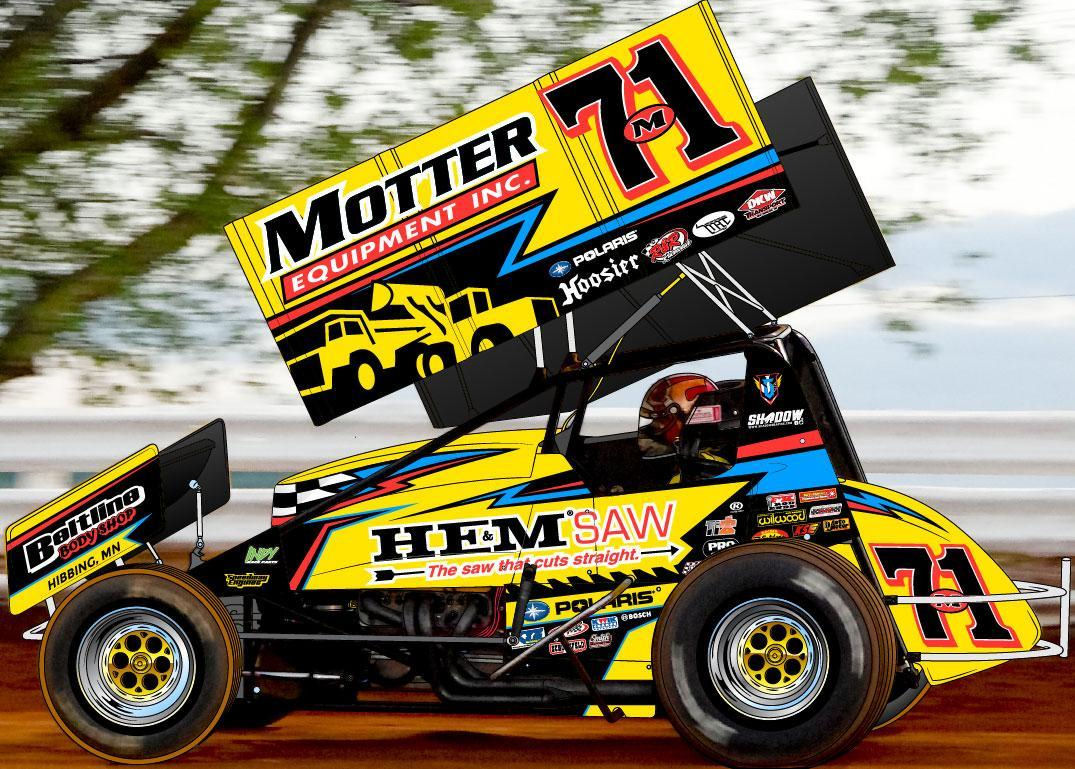 By Susan Arnold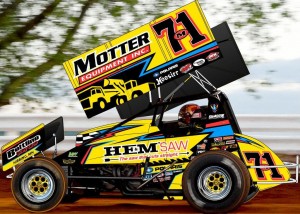 Knoxville, Iowa (Aug. 4, 2014) – The Knoxville Nationals is the crown jewel of the World of Outlaws series and winning this event is the most coveted title sought by World of Outlaws competitors.  Though second-generation driver Joey Saldana has won nearly all of the high profile events on the Outlaws tour, and most in multiples, so far a Knoxville Nationals victory has eluded him.  Saldana has three second place finishes on his resume. He is hoping that he can chalk up the elusive Knoxville Nationals victory Saturday, Aug. 9.
Saldana's father, Lil' Joe, won the Nationals in 1970.
Last year, Saldana and the Motter team won the pole for the Knoxville Nationals, besting over 100 entries for that achievement.  Saldana appears to be a front-runner for the pole again this season, having tallied 19 quick times in Outlaws competition, more than twice that of any other driver.
Additionally in Sunday's Capitani Classic at Knoxville Raceway, Saldana was second quick out of 71 A-list competitors.
Because there are so many entries for the Knoxville Nationals, the field is split into two days of qualifying, Wed., Aug. 6 and Thurs., Aug. 7. Saldana is scheduled to take to the dirt Thursday for his qualifying effort.
On Wednesday, he will be a guest on Motor Racing Network's sprint car specific show 'Winged Nation' which will air live from the track between 6 – 7 p.m. CT.
"This year we hope we've brought our good luck charm to Knoxville with us," said Saldana, driver of the Motter Equipment HE&M Saw Beltline Body Shop 71M Sprint Car.  "Our associate sponsor HE&M Saw has been with us at three of our five race wins and they are with us here in Knoxville.  They are showcased on our special Knoxville Nationals paint scheme.  Fans will only see this paint scheme at this prestigious race.
"Earlier this year HE&M Saw partnered with the Workshops for Warriors veterans for the Perris, Calif. event and we picked up our first race win of the season and had the veterans in winner's circle with us.  Four races after that we raced in Salina, Oklahoma, the home track for HE&M Saw, and we won that. Then they were at The Dirt Track at Charlotte when we drove to victory there.
"It was such an honor to win those races and we are very grateful for the enthusiasm of Doug Harris (president and CEO of HE&M Saw) and Bob Foster (service manager, HE&M Saw) who are both here this weekend.   We're hoping the HE&M Saw presence will continue to work its magic charm for us Saturday and we can celebrate win No. 6 with them.
"We at HEM SAW are very excited about being part of the 71M Motter Motorsports World of Outlaws race team," said Foster. "Dan Motter, Joey Saldana, Davey Whitworth and the crew have given us rare, exciting and intense up close experiences for our dealers, customer and HEM SAW employees.
"Joey and the team, we believe, have an excellent chance of winning the Nationals and we are looking forward to being a part of that," continued Foster.
"When Dan (Motter, team owner) decided to create a special paint scheme for the Knoxville Nationals, he took into consideration how much our fans love our distinctive yellow car," explained Saldana.  "It's easy to pick out on the track. So Dan wanted to continue with the basic color that our fans identify with, but we've added some black accents and some great graphics in addition to showcasing the HE&M Saw logo.  Dan wanted to give the extra exposure to HE&M Saw for this event."
HE&M Saw will have a display under the grandstands near the pit entrance where they are demonstrating four Femi saws.  These user-friendly, light weight saws are perfect for the car enthusiast, the car restorer and race car shops.  Their accurate cutting ability and long blade life also make them very popular.  Interested fans will find literature on the HE&M Saw product line and Bob Foster is on hand to answer questions.
"We are looking forward to a great week of racing combined with a display showing our smaller line of utility FEMI brand saws," concluded Foster.
Fans are invited to stop by the HEM SAW display for a demonstration.  Saldana is also signing autographs and posing for photos in the display area as his racing schedule permits.