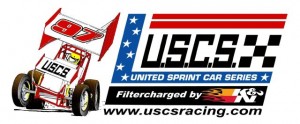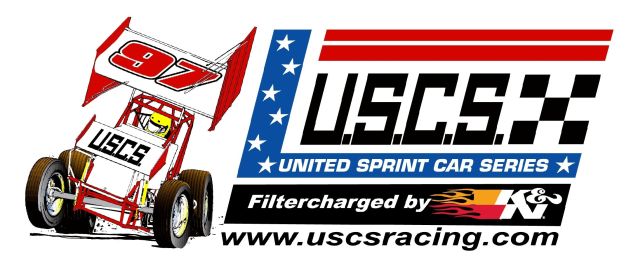 From Pete Walton
Atlanta, GA – (August 2, 2014) – The United Sprint Car Series Outlaw Thunder Tour winged sprint cars are set to invade the legendary Duck River Raceway Park in Wheel (Lewisburg), Tennessee as headliners of the "Duel at the Duck" speed spectacular on Saturday, August 9th. . The exotic USCS Outlaw Thunder winged sprint cars that weight only 1300 pounds with 700+ horsepower engines. Those two elements in addition to a huge 25 square foot top wing and seventeen inch wide specially designed Hoosier rear tires make them the fastest cars ever to ever compete on the high-banked ¼ mile oval known as "The Duck". The USCS outlaw sprint cars are expected to reach speeds near 120 mile per hour on the straight-aways.
The mid-season speed contest for the USCS Outlaw Thunder Tour drivers awards both USCS Outlaw Thunder National championship and Mid South Thunder Tour regional series championship points. The Mid South regional series competes in Arkansas, Alabama, Mississippi, Missouri and Tennessee. The event is expected to draw drivers from six states including some of the top ranked drivers in North America.
2013 USCS National Champion, Derek Hagar set a new all-time track record on April 20, 2013 with a time trial best lap of 10.943 around the tacky Duck River Raceway Park ¼ mile racing surface.
The "Duel at the Duck" 2014 event features over 100 laps of main events in addition to qualifying races and is a true smorgasbord of speed. The USCS Outlaw Thunder winged sprint cars are joined on the racing card by the speedway's weekly Late Models and stock car racing divisions.
Race fans are sure to get their money's worth with a full night of non-stop family entertainment that includes a guarantee of plenty of thrills, chills and spills from the time the green flag flies for the USCS Outlaw Thunder sprint car dash until the checkered flag falls on the final main event of the evening.
Duck River Raceway Park is located at 1110 Haskins Chapel Road, (Wheel) Lewisburg, TN 37091. For more info on the track, Please visit www.duckriverracewaypark.com or call 931-684-8200 or 931-685-1009. For more information about the United Sprint Car Series Outlaw Thunder Tour please visit www.uscsracing.com or call the series office at 770-460-7223 or 770-865-6097.