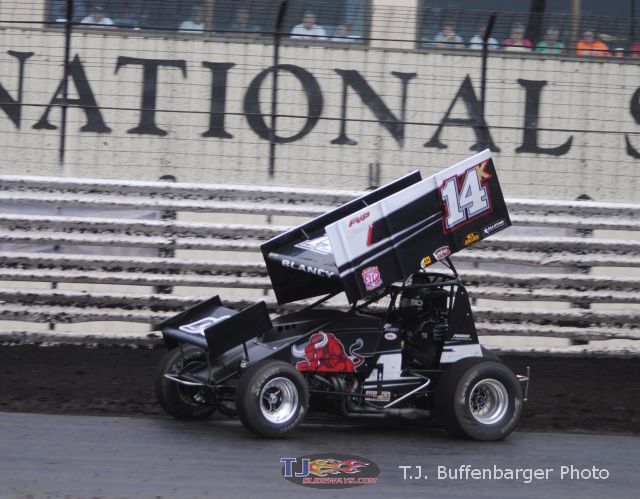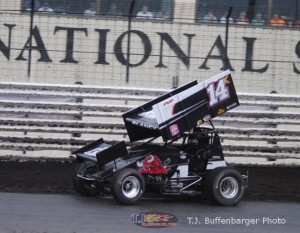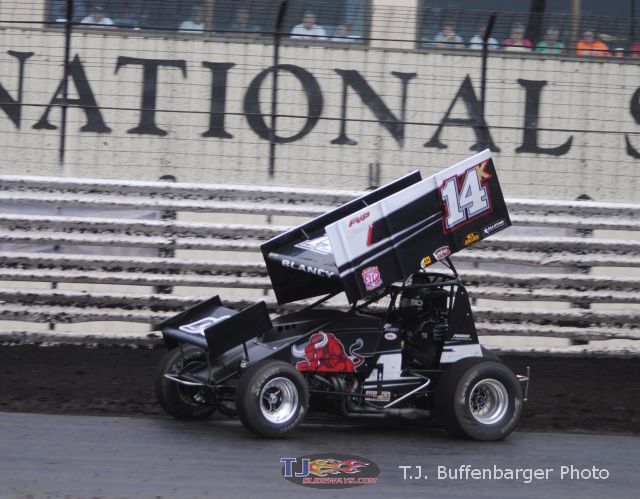 By T.J. Buffenbarger
Knoxville, IA — (Saturday August 8, 2014) – Dale Blaney won a wild C-Main event on Saturday night at the 54th Annual FVP Knoxville Nationals presented by FVP. After a wild crash at the start and early leader Randy Hannagan broke down the backstretch Blaney pulled away for the victory.
Cole Wood and Randy Hannagan started on the front row when a massive crash going into turn one when Caleb Helms and Brad Loyet made contact and collected Gary Taylor, Rico Abreu, Andy Gregg, Tony Bruce, Jr, Brent Marks, Steve Kinser, and Jason Meyers all involved. An open red flag was enacted to allow teams to work on their cars during the red flag period. Gregg made repaired and turned a lap to claim the Rookie of the Year award for the Nationals.
Hannagan led after the restart while Blaney moved around Wood for the second spot. On the second lap Hannagan fell off the pace and stopped on the back stretch. Hannagan was unable to continue.
From that point Blaney pulled away during the restart while Danny Lasoski moved up into the third spot and started to chase after Wilson.
The top spot was not in doubt though and Blaney dominated the event over Wilson, Lasoski, Bud Kaeding, and Wood transferring to the B-Main.
54th Annual FVP Knoxville Nationals presented by Casey's General Stores
Knoxville Raceway – Knoxville, IA
Saturday August 8th, 2014
C-Main (15 Laps): 1. 14K – Dale Blaney, 2. W20 – Greg Wilson, 3. 33 – Danny Lasoski, 4. 0 – Bud Kaeding, 5. 17w – Cole Wood, 6. 24H – Brandon Wimmer, 7. 9W – Jac Haudenschild, 8. 91 – Dusty Zomer, 9. 63 – Chad Kemenah, 10. 53D – Jack Dover, 11. 10H – Danny Holtgraver, 12. 3G – James McFadden, 13. 7S – Jason Sides, 14. 13V – Seth Brahmer, 15. 11N – Randy Hannagan, 16. 53 – Andy Gregg, 17. 1 ST – Gary talor, 18. 40H – Caleb Helms, 19. 24R – Rico Abreu, 20. 18 – Tony Bruce, Jr., 21. 11 – Steve Kinser, 22. 19M – Brent Marks, 23. 05 – Brad Loyet, 24. 83x – Jason Meyers. (First five finishers transferred to the C-Main)
Lap Leaders: Hannagan 1-2, Blaney 3-15