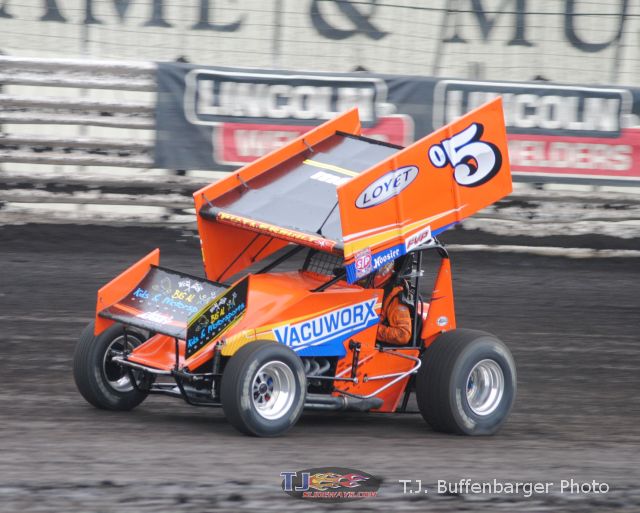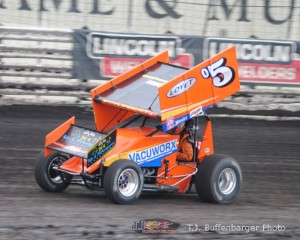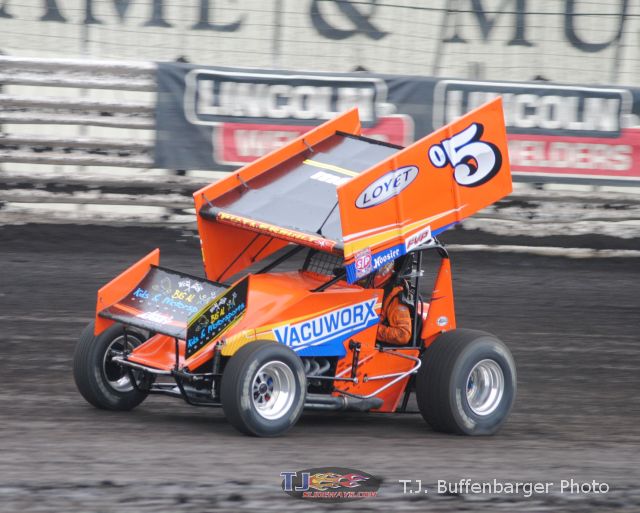 By T.J. Buffenbarger
Knoxville, IA — (Saturday August 8, 2014) – Brad Loyet dominated the D-Main event on Saturday night at the 54th Annual FVP Knoxville Natioanls presented by Casey's General Store. Loyet jumped off the front row and pulled away from the field.
James McFadden and Loyet started on the front row with Loyet getting the lead at the start. McFadden immediately felt pressure from former World of Outlaws STP Sprint Car Series champion Jason Meyers for the second spot. Then while working lap three Ed Lynch, Jr. made contact with another car and got sideways on the front stretch to bring out the caution.
During the restart Brady Bacon continued his march to the front. Prior to the caution Bacon went from 10th to 6th in two laps and capitalized on Colby Copeland drifting up the track in turn four to take over fifth on lap three. Just as lap three completed the caution flag appeared again for Paige Polyak slowing in turn four.
During the restart Loyet pulled away from the field. Copeland was able to move past Bacon for fifth as Bacon dropped back after the restart.
Loyet continued to pull away and opened up over a straightaway lead on his way to victory. McFadden, Meyers, and Sides also transferred to the C-Main.
54th Annual FVP Knoxville Nationals presented by Casey's General Stores
Knoxville Raceway – Knoxville, IA
Saturday August 8th, 2014
D-Main (12 Laps): 1. 05 – Brad Loyet, 2. 3G – James McFadden, 3. 83x – Jason Meyers, 4. 7s – Jason Sides, 5. 5v – Colby Copeland, 6. 99 – Brady Bacon, 7. 45x – Johnny Herrera, 8. 12 – Lynton Jeffrey, 9. 55x – Jason Starks, 10. 81 – Austin Johnson, 11. 74x – Josh Hodges, 12. 69 – Mike Moore, 13. 7K – Dustin Selvage, 14. 49J – Josh Schneiderman, 15. 75 – Glen Saville, 16. 23 – Jimmy Light, 17. 44 – Chris Martin, 18. 1K – Chris Shirek, 19. 45c – Dustin Clark, 20. 2L – Ed Lynch, Jr., 21. 7G – Kaley Gharst, 22. 19P – Paige Polyak, 23. 1x – Cap Henry, 24. 4s – Danny Smith. (First four finishers transferred to the C-Main)
Lap Leaders: Loyet 1-12