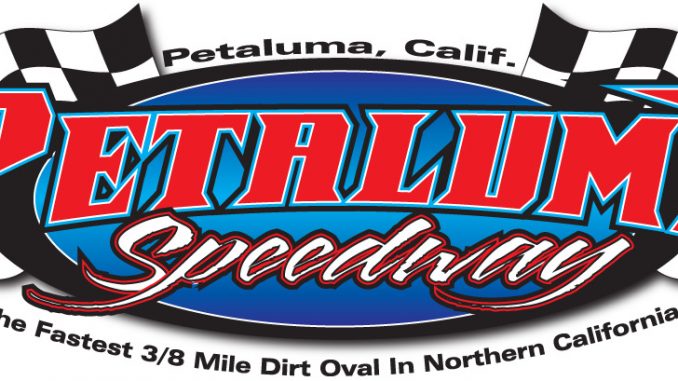 By Bradley Kennedy


Sacramento, California (8-11-14) One of the greatest races of all time and the greatest race in Joe Hunt Magnetos Wingless Sprint Shootout Series competition. Promoter Rick Faeth prepared a phenomenal race track for all four divisions to race on. 19 cars signed into the star studded field ready to do battle for the second time in 2014 at the Petaluma Speedway for the third annual Johnny Soares Classic. The Joe Hunt Series was joined by the BCRA/USAC Midgets along with BCRA Midget Lights and Vintage Hard Tops.
Joe Stornetta Jr. the all-time track record holder with Joe Hunt Competition was quick time with a blistering fast lap time of 14.202. Terry Schank Jr. was second quick with a lap turned at 14.247 seconds. Third quick series point leader Tommy Laliberte who is suffering a broken hand injury after a quad accident his lap time was a 14.356. Fourth quick Geoff Ensign driving for Scotty Dupont in car 3X was quick time but was penalized for being push started but his first lap time he was credited earned him fourth quick with the time of 14.362. Rounding out the top five San Jose, California's Gary Nelson Jr. lap time of 14.545.
Heat race number one Found Jason Mclntosh and Frank Gurennie on the front row. Row two Trevor Schmid and Gary Nelson Jr. Row three Tommy Laliberte and Joe Stornetta Jr. Row four John Clark and Shayna Sylvia. Rounding out the final row Jeremy Newberry former line man for the San Fransisco Fourty-Niners and the Oakland Raiders. Jason Mclntosh found himself checking out from the field to win heat one and locking into the dash. Stornetta Jr. charged from sixth to second in the first three laps to secure a spot in the dash and running second in the heat race. Third at the line Frank Guerrini over Tommy  Laliberte. Fifth Trevor Schmid who fought a tight race car in Qualifying and in the heat race set him behind the Eight ball for the A Main event Schmid searching for forward bite in his number 2 car would have him sitting deep in the main. Also fighting a tight race car and parking it on the cushion in turn one was Gary Nelson Jr. who earned Sixth place would also find himself toward the end of the field in the feature event line up. Seventh was John Clark. And Jeremy Newberry earned eighth place.
Heat race number two saw Shane Myhre and Bob Newberry on the front row. Row two Geoff Ensign and Rowdy McClenon. Row three Bradley Clark and red hot money in the bank Terry Schank to his outside. Cody Fendley  and Scott Hall rounded out the fourth and final row. With multiple laps of hard racing Bob Newberry picked up heat two win over Terry Schank. Third Shank Myhre. Fourth Geoff Ensign. Fifth Rowdy McClenon. Sixth Scott Hall. Seventh Bradley Clark. Eighth Cody Fendley.
With cold weathers and fast track conditions the trophy dash was who had the best motor to power around the speedway. Terry Schank Jr. and rowdy McClenon started on the front row. Tommy Laliberte, Jason Mclntosh made row two. Joe Stornetta Jr. and Bob Newberry rounded out the field. Schank got the jump on the start over McClenon who jumped the massive cushion in turn one sending from second to dead last in a matter of 30 feet. Tommy Laliberte Jumped to second chasing Schank down. The two were the class of the dashchecking out by ¾ of a straightaway lead over the field. Schank picked up Dash Win over Laliberte. Newberry third. Mclntosh fourth. Stornetta fifth. Sixth McClenon.
Time for the 50 Lap Johnny Sores Classic. The track was widened out by the previous race and it was show time. And from the drop of the green flag the slide jobs were on! Laliberte and Schank swapped the lead 27 times with in the first 25 laps of competition. A competition stop was made on lap 25 for fuel. Also battling were Jason Mclntosh, Bob Newberry and Joe Stornetta. All three made multiple passes on one another for third, throwing massive slide jobs and heroic moves for third. Restart 25 down 25 to go and things are staying intense. Laliberte out front broken hand and all and he is still in command. Schank trails Laliberte and the two keep dicing it up. The race for third continues to keep heat in it and on lop 36 it got too hot for Joe Stornetta and Bob Newberry running third and fourth at the time. Newberry and Stornetta make contact sending Stornetta into the infield and bringing the yellow out. Restart… Laliberte leads Schank, Newberry, Ensign, Schmid your top five. Laliberte pulls away from Schank on the restart but contunied to run the top and the magic of Schank on the bottom pulled Laliberte's 10C car length lead to nothing. Nose to tail on lap 39 Schank goes to the bottom again and pulls even with Laliberte down the front stretch. Schank slid Laliberte for the lead as Laliberte diamond the turn and drove by Schankentering turn three, Laliberte went to the top Schank on the bottom and Schanks forward bite powered by Laliberte and took the lead at the line. Schank would lead the rest of the way checking out and picking up the win over Geoff Ensign, Trevor Schmid, Tommy Laliberte and Bob Newberry round out the top five. Sixth Shane Myhre, Jason Mclntosh, Rowdy McClenon, Scott Hall, Jeremy Newberry your top ten. Eleventh John Clark, Bradley Clark, Shayna Sylvia, Cody Fendley, Joe Stronetta Jr. is your top 15. Sixteenth Gary Nelson Jr. Dns Sparky Howard, Brian Azevedo, Frankie Guerrini.
Run down: 1, 3X, 2, 10C, 77, 01, 33, 32, 56K, 62, 12J, 24B, 9, 73C, 6, 6N.
POINTS RUN DOWN WILL BE POSTED ON AUGUST 12, 2014.
The Joe Hunt Magnetos Wingless Sprint Shootout Series would like to thank its sponsors in 2014; A.R.T. Speed Equipment, Kevin Sharrah Designs and Dirt Solutions. The next Hunt race will be held on June 28th at the Petaluma Speedway. For more information please visit www.joehuntmagnetoswingless.com
We at Joe Hunt Magnetos also work on all types of magnetos, bringing that dull spark back to life. Vertex Style magnetos, Mallory magnetos, M.S.D. magnetos, Fairbanks Morris magnetos, Wico magnetos, Lucas magnetos, vintage (nostalgia) magnetos, agriculture, if it's a magneto and needs to be revived, call your Magneto Doctors at 1-800-HUNTMAGS.