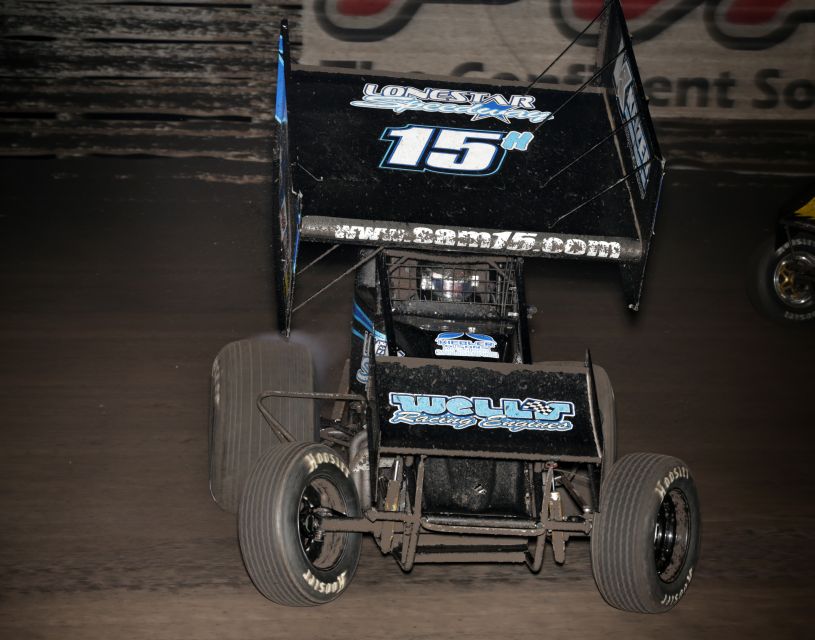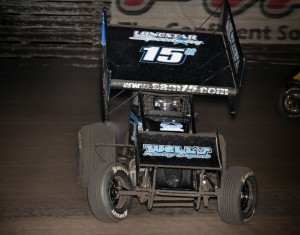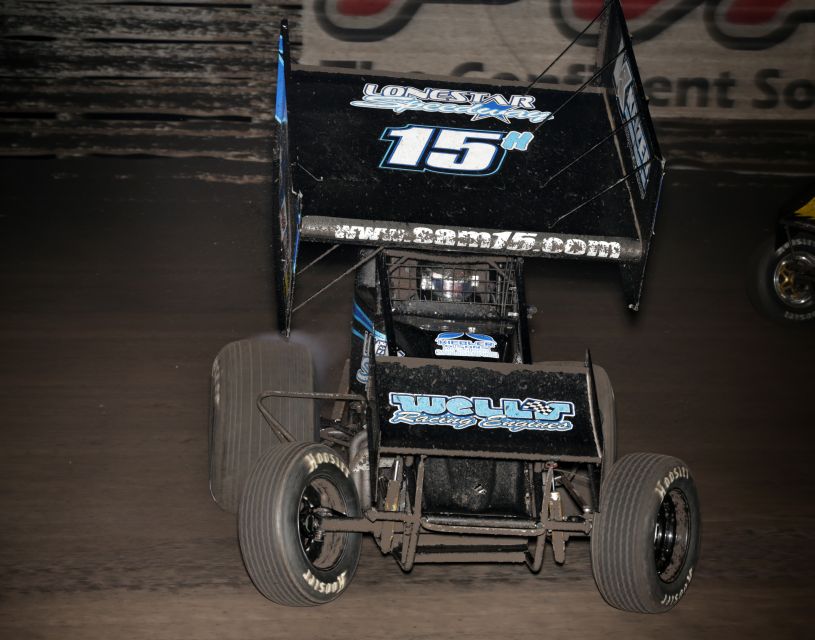 From Bryan Hulbert
West Memphis, AR — (August 21, 2014) — It was a historic night for Sam Hafertepe, Jr. as the Sunnyvale, Texas shoe rocketed to his third victory of the season with the Lucas Oil American Sprint Car Series presented by MAVTV American Real, and for the first time at the Riverside International Speedway in the inaugural Mid-South Showdown presented by TBJ Promotions.
After losing legendary Mid-South driver, Shorty Chambliss, on Monday, the night's A-Main was extended to 40 laps in honor of Chambliss' signature No. 40.
"This place has got to be the most awesome place to win a race. I mean, just look at all the history here," said Hafertepe in Victory Lane. "I know Jeff blew up there, but man that was awesome. I wish we could have run lapped traffic all night long. It was a badass racetrack. I was pretty skeptical when we got here tonight. I didn't know what we were going to get, and to get what we got was pretty awesome."
Starting on the pole, Hafertepe fell to the chasers position on the start as Jeff Swindell flew to the lead on the outside line; doing so twice after the first start fell through.
Slowed on the second round, the green flew long enough to find traffic on Lap 7.
Caution on Lap 10, the next run went to Lap 28 with Hafertepe continuing to chase Swindell through heavy traffic.
On the restart, Swindell wouldn't get the jump he had been getting. With Hafertepe hanging close, the race became a three car fight with Johnny Herrera in the mix.
Breathing down the neck of Swindell, a small amount of smoke began coming from the Hood of the Heartland Catfish No. 94. With the engine laying down, Swindell held the middle groove, but couldn't make the car wide enough as Hafertepe made the race winning pass on Lap 35.
With just enough left, Swindell was able to hold on for a runner-up finish.
"With about eight or nine to go, something went south on the Motor so she was only running on about six cylinders so I just started running the middle of the track at a little more than half-throttle. I never even stood on it hard so I couldn't believe it took them so long to get to me," commented Swindell. "I was just trying to salvage a finish out of it. I don't know if I could have run her a little harder and stayed up there, but I figured they'd be hounding on me. I guess that means we had a good lead going into that."
Johnny Herrera third podium appearance of the season is his second in as many races after jumping to fourth on the start from sixth before falling to ride fifth for nine laps.
"We had a really good racecar. There in the middle of the race, we jumped to the top there and got back to fourth. We were just kind of riding there, and got to third and was actually running up to Sam there before the yellow came out. After that, is just wasn't ever as good. For some reason, it got really tight in the right rear. Afterwards, we checked and had less than six pounds of air on the Right Rear so now I know. I just wonder if it got cut there at the start when I got into the No. 14 car on the first lap when he got into wall."
Tim Crawley was on a mission after a crash in his Heat forced the No. 88 to the B-Feature. Winning that, Crawley marched from seventeenth to fourth with Howard Moore doing the late Shorty Chambliss proud with a fifth place finish.
Jason Johnson posted a sixth place finish with the No. 40r on the wing for Shorty Chambliss and Ricky Stenhouse, Jr. whose career began with the help of Shorty. Brandon Hanks posted a seventh place run with Ernie Ainsworth, Seth Bergman, and Bake Hahn making the top-ten after having to drop the tail early as the cause of a caution on Lap 2.
Drawing 29 drivers to the Riverside International Speedway, four Heat Races saw Brandon Hanks, Jeff Swindell, Johnny Herrera, and Sam Hafertepe, Jr. taking wins. Tim Crawley topped the night's B-Feature.
The Lucas Oil ASCS presented by MAVTV American Real heads for the Lexington 104 Speedway in Lexington, Tenn. on Friday, August 22, 2014. Fans that show their ticket stub or pit passes from Riverside will get a $5 discount at the gate.
For continued updates on the Lucas Oil ASCS presented by MAVTV American Real, log onto http://www.ascsracing.com.
Lucas Oil American Sprint Car Series presented by MAVTV American Real
Mid-South Showdown presented by TBJ Promotions
Riverside International Speedway – West Memphis, Ark.
Thursday, August 21, 2014
Car Count: 29
Speedmart Heat Races: Heat winners plus the next 12 highest in Passing Points transfer to the A-Feature.
Heat 1 (8 Laps): 1. 3H-Brandon Hanks[2]; 2. 40-Howard Moore[1]; 3. 42-Andy McElhannon[3]; 4. 9JR-Derek Hagar[7]; 5. 05-Brad Loyet[8]; 6. (DNF) 49-Shawn Dancer[5]; 7. (DNF) 13-Taylor Tidmore[4]; 8. (DNF) 31-Justin Webb[6]
Heat 2 (8 Laps): 1. 94-Jeff Swindell[1]; 2. 14Z-Zach Pringle[5]; 3. 95-Matt Covington[2]; 4. 14-Jordon Mallett[4]; 5. 88-Tim Crawley[7]; 6. (DNF) 91-Dale Howard[6]; 7. (DNF) 17-Blake Hahn[3]
Heat 3 (8 Laps): 1. 45X-Johnny Herrera[2]; 2. 39-Brad Bowden[1]; 3. 26-Marshall Skinner[4]; 4. 3-A.G. Rains[6]; 5. 18-Tony Bruce Jr[3]; 6. 1-Eddie Gallagher[5]; 7. (DNF) 32-Chuck Fletcher[7]
Heat 4 (8 Laps): 1. 15H-Sam Hafertepe Jr[2]; 2. 23-Seth Bergman[1]; 3. 91A-Ernie Ainsworth[7]; 4. 40R-Jason Johnson[5]; 5. 87-Aaron Reutzel[3]; 6. 2-Bryce Vowan[4]; 7. (DNF) 5-Jerod Roller[6]
Smiley's Racing Products B-Feature: Top 6 advance.
B Feature 1 (12 Laps): 1. 88-Tim Crawley[1]; 2. 14-Jordon Mallett[2]; 3. 49-Shawn Dancer[6]; 4. 1-Eddie Gallagher[7]; 5. 17-Blake Hahn[12]; 6. 2-Bryce Vowan[8]; 7. 13-Taylor Tidmore[11]; 8. (DNF) 31-Justin Webb[13]; 9. (DNF) 87-Aaron Reutzel[4]; 10. (DNF) 18-Tony Bruce Jr[3]; 11. (DNF) 32-Chuck Fletcher[9]; DNS 91-Dale Howard; DNS 5-Jerod Roller
Protect the Harvest A-Feature
A Feature (40 Laps): 1. 15H-Sam Hafertepe Jr[1]; 2. 94-Jeff Swindell[2]; 3. 45X-Johnny Herrera[6]; 4. 88-Tim Crawley[17]; 5. 40-Howard Moore[3]; 6. 40R-Jason Johnson[16]; 7. 3H-Brandon Hanks[8]; 8. 91A-Ernie Ainsworth[5]; 9. 23-Seth Bergman[10]; 10. 17-Blake Hahn[21]; 11. 49-Shawn Dancer[19]; 12. (DNF) 39-Brad Bowden[9]; 13. (DNF) 14-Jordon Mallett[18]; 14. (DNF) 26-Marshall Skinner[11]; 15. (DNF) 3-A.G. Rains[12]; 16. (DNF) 05-Brad Loyet[13]; 17. (DNF) 87-Aaron Reutzel[23]; 18. (DNF) 9JR-Derek Hagar[7]; 19. (DNF) 95-Matt Covington[15]; 20. (DNF) 42-Andy McElhannon[14]; 21. (DNF) 2-Bryce Vowan[22]; 22. (DNF) 1-Eddie Gallagher[20]; 23. (DNF) 14Z-Zach Pringle[4]
Lap Leader(s): Jeff Swindell 1-34; Sam Hafertepe, Jr. 35-40
KSE Hard Charger: Tim Crawley +13
FSR High Point: Zach Pringle
Hawk Performance Fastest Lap: Jeff Swindell 12.282
CSI Rebound: Zach Pringle
Provisional(s): Aaron Reutzel (P1)