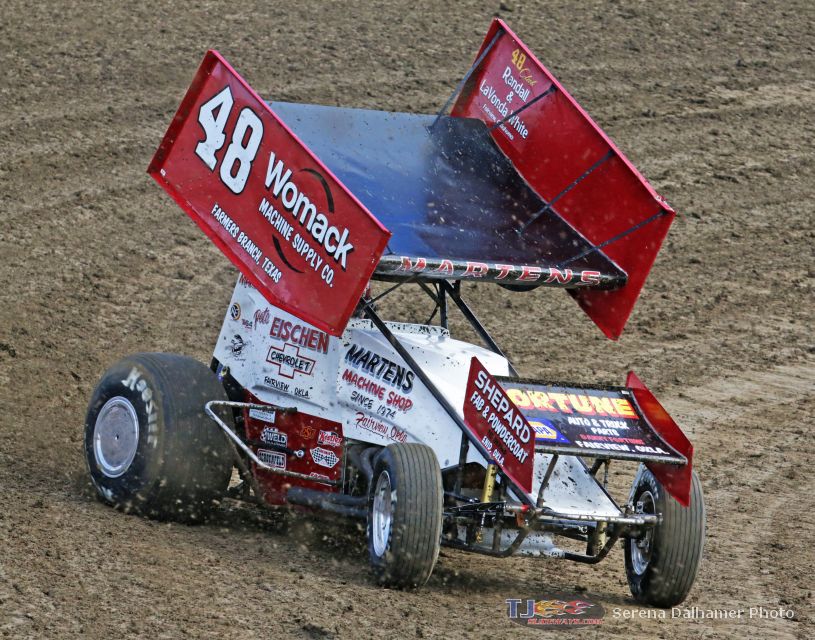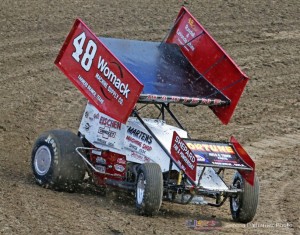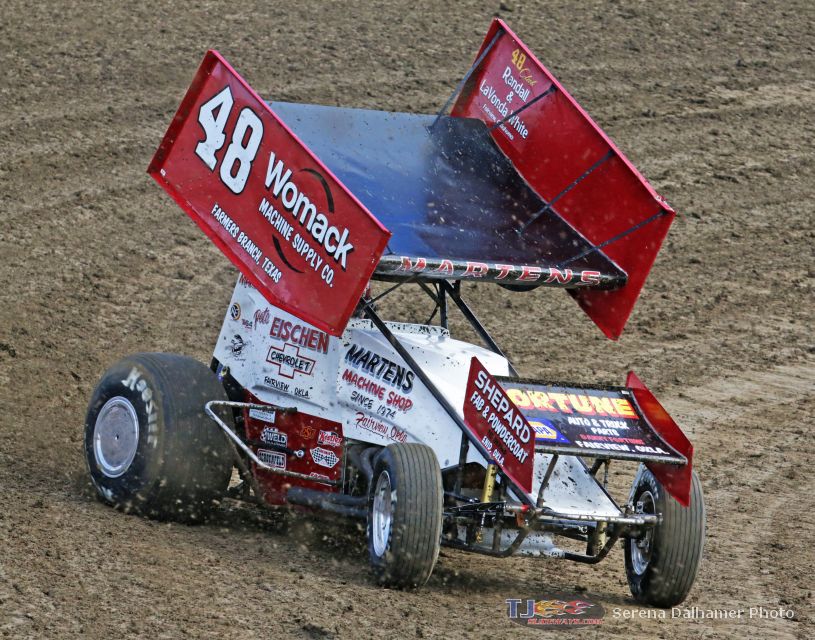 From Bryan Hulberg
Lwaton, OK — (August 23, 2014) — A step across the Red River found Sooner drivers ready to defend their turf as Jake Martens brought the weekend showdown between the American Bank of Oklahoma ASCS Sooner and Smiley's Racing Products ASCS Lone Star Regions even at the Lawton Speedway on Saturday night.
Gridding the field outside the front row, Martens raced to his second ASCS triumph of the season with ninth starting Dustin Morgan in tow. Channin Tankersley completed the podium with Joe Wood, Jr. from fourteenth to fourth. Having to start twenty-fifth following a DNF in his Heat Race, Johnny Herrera put on the drive of the night to grab fifth.
From seventeenth, Seth Bergman raced to sixth. Danny Wood was seventh with Danny Jennings eight. Cody Wampler ran from eighteenth to ninth with Patrick Stasa tenth from fifteenth.
The American Bank of Oklahoma ASCS Sooner Region races next at the West Siloam Speedway on Sunday, September 7.
Smiley's Racing Products ASCS Lone Star Regional action pairs with the Lucas Oil ASCS presented by MAVTV American Real on Friday, September 12 and Saturday, September 13 at the Texas Motor Speedway Dirt Track.
For continued updated on the American Sprint Car Series, log onto http://www.ascsracing.com.
American Bank of Oklahoma ASCS Sooner Region
Smiley's Racing Products ASCS Lone Star Region
Lawton Speedway – Lawton, Okla.
Saturday, August 23, 2014
Car Count: 25
Heat 1 (8 Laps): 1. 7M-Kevin Ramey; 2. 17-Channin Tankersley; 3. 7S-Robert Sellers; 4. 23-Seth Bergman; 5. 25-Sterling Hoff; 6. 33X-Mark Huddleston; 7. 45X-Johnny Herrera
Heat 2 (8 Laps): 1. 92-Jordan Weaver; 2. 02-Brandon Long; 3. 93-Dustin Morgan; 4. 10K-Kyle Ezell; 5. 4X-Shawn Petersen; 6. 2-Mickey Walker
Heat 3 (8 Laps): 1. 2W-Kenneth Walker; 2. 81W-Danny Wood; 3. 17X-Josh Baughman; 4. 03-Joe Wood Jr; 5. 5-Ty Williams; 6. 4J-John James
Heat 4 (8 Laps): 1. 1J-Danny Jennings; 2. 48-Jake Martens; 3. 8-Alex Sewell; 4. 19-Patrick Stasa; 5. 15B-Cody Wampler; 6. 2K-John Kelly
A Feature (25 Laps): 1. 48-Jake Martens[2]; 2. 93-Dustin Morgan[9]; 3. 17-Channin Tankersley[4]; 4. 03-Joe Wood Jr[14]; 5. 45X-Johnny Herrera[25]; 6. 23-Seth Bergman[17]; 7. 81W-Danny Wood[5]; 8. 1J-Danny Jennings[7]; 9. 15B-Cody Wampler[18]; 10. 19-Patrick Stasa[15]; 11. 8-Alex Sewell[13]; 12. 10K-Kyle Ezell[11]; 13. 25-Sterling Hoff[20]; 14. 7M-Kevin Ramey[1]; 15. 2K-John Kelly[22]; 16. 33X-Mark Huddleston[21]; 17. 17X-Josh Baughman[12]; 18. (DNF) 02-Brandon Long[10]; 19. (DNF) 5-Ty Williams[16]; 20. (DNF) 92-Jordan Weaver[3]; 21. (DNF) 2W-Kenneth Walker[6]; 22. (DNF) 2-Mickey Walker[24]; 23. (DNF) 4J-John James[23]; 24. (DNF) 7S-Robert Sellers[8]; 25. (DNF) 4X-Shawn Petersen[19]