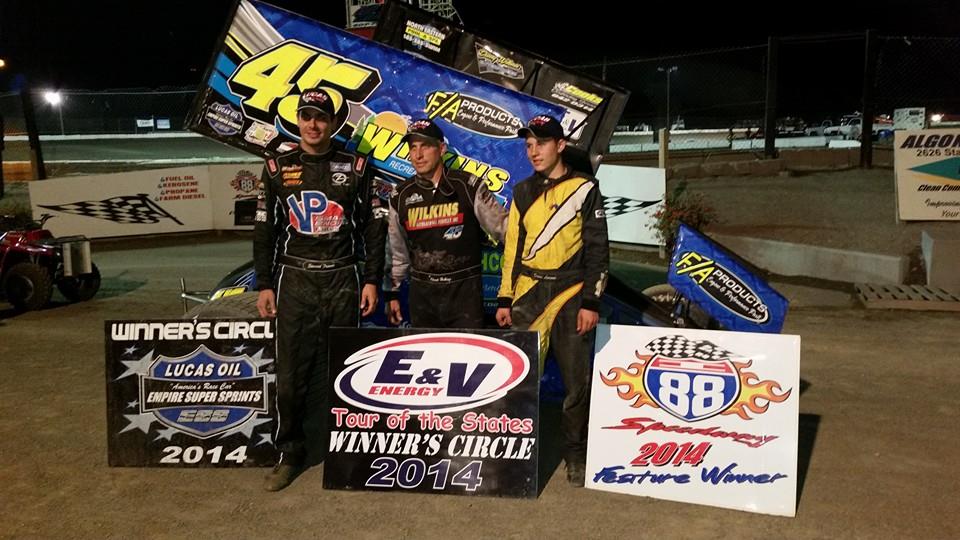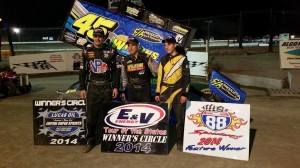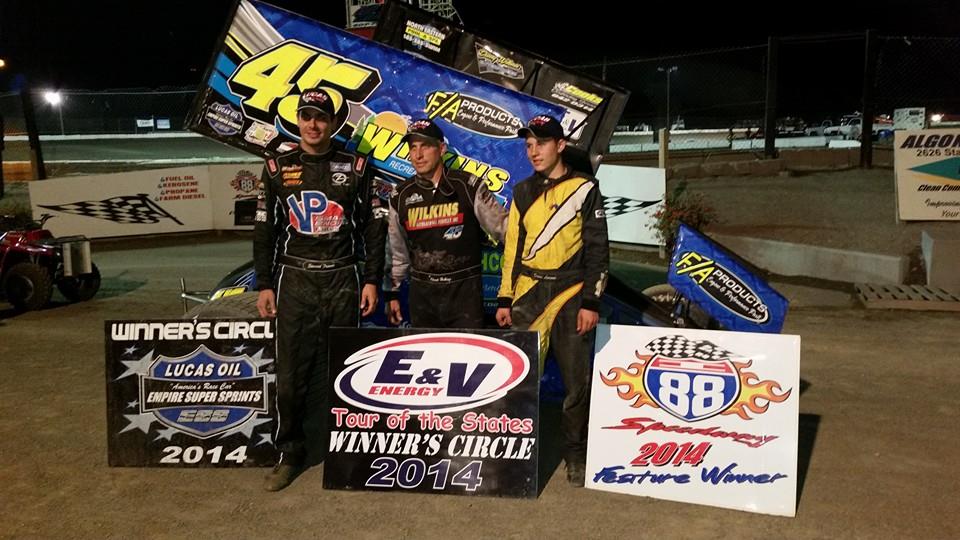 Afton, NY — (August 26, 2014) — For the second time in his career Chuck Hebing captured the Earl Halaquist Memorial with the Lucas Oil Empire Super Sprints. Hebing last won the event back in 2006 at the Black Rock Speedway. On Tuesday night Hebing added a second as he dominated the 25-lap Einstein Construction Group A-Main to pocket $2,600 at the I-88 Speedway. The win was also part of the E & V Energy Tour of the States series.
"It's good to win big races especially when we have friends and family here," said Hebing in Victory Lane. "It's real good. We tried some new stuff tonight and things went good."
Dane Lorenc started on the pole of feature event with Hebing setting to his outside. Lorenc got the jump on the veteran driver from Ontario, N.Y., at the drop of the green flag. Lorenc continued as the leader of the first few circuits as Hebing worked him over high and then low. Lorenc held his ground and ran right through the middle groove of the corners forcing Hebing to search for a faster line.
The pair remained the top two as Hebing was never too far away from the youngster. Then, on lap seven, he made his move. Hebing got a run off the top of turns one and two and stayed to the outside of Lorenc down the back straightaway. As they raced through turns three and four Hebing was able to power on by to take over the race lead.
"That kid in the double-zero (Lorenc) did a heck of a job," commented Hebing. "He was running great. He was right in the middle of the race track. We thought the top was going to be the way around but the middle was faster and he had that lane. I finally go by him and once I got the middle the car felt awful good."
A lap later the caution was displayed for Aaron Ott as he slowed with a left rear tire on his No. 25. He returned to the pit area but was unable to resume the action on this night before the race returned to green. With a restart coming, it was Hebing getting the jump on Lorenc and driving back out to the lead. As the laps clicked off it would be Hebing extending the advantage to almost a full straightaway as Lorenc dealt with challenges from several drivers including Jason Barney and Stewart Friesen.
Hebing and Lorenc remained the top two as the race worked its way to conclusion. Before the end could be reached the field was under caution again with two laps remaining as Jason Shultz, a regular at the Selinsgrove Speedway, spun in turn two.
On the ensuing restart contact was made in the middle of the field causing Bobby Parrow to get up and over while also collecting Joe Trenca, Cory Sparks, Jordan Thomas and Dave Axton. All drivers were uninjured but both Parrow and Thomas were unable to continue.
Due to there being two cautions on one lap, a single-file restart was called for under Empire Super Sprint rules. With green in the air again Hebing bolted away with Lorenc attempting to fend off Friesen for the runner-up spot. Hebing went on to get the win over Friesen who passed Lorenc with just one lap to go.
"I was more concerned with fuel at the end because we had a pretty low fuel load," said Hebing about the final laps. "I was wondering if we were running low on fuel. I was glad when it finally got over. The car seemed pretty good on restarts so I was only worrying about the fuel."
Friesen, of Sprakers, N.Y., was a solid second place finisher after struggling in his heat race. He started 13th in the A-Main and used the various restarts and a strong car supplied by Doug Emery to move his way up to the runner-up finish at the checkered flag.
"That was a lot of fun out there," commented Friesen. "You could run the top, the bottom. It was cool. I wish there were a couple more laps there. We held on for second. I don't know if we had anything for the Cobra (Hebing). We are happy with second. We've had some bad luck with our sprint car stuff this year. I'd like to dedicate this to Kevin Ward and his family. They are all here tonight. It was nice to see them at the races."
Lorenc ended up finishing in the third position when all was said and done. The Bowmansville, N.Y., driver was happy with the teams effort finishing third to veteran drivers Hebing and Friesen.
"It was really fun out there," said Lorenc. "He (Hebing) had a fast race car. My mechanic gave me a great race car tonight. I couldn't ask for anything else."
Justin Barger made a rare Empire Super Sprint and finished in the fourth spot while Tommy Wickham, of Constantia, N.Y., was able to come from 20th position to complete the top five.
ESS/I-88 Notes – A nice field of 26 sprints came out on a beautiful night…With the special midweek date and added money to the purse, besides Shultz, Aaron Ott, Kyle Reinhardt and Kyle Pitts from Michigan made either a rare or first time ESS starts…Many members of the Halaquist family wre on hand including Earl Halaquist Jr….Zach Weigand blew his engine just after his heat took the checkered flag and he was done for the night.
Einstein Construction Group A-Main – Chuck Hebing ($2,600), Stewart Friesen, Dane Lorenc, Justin Barger, Tommy Wickham, Parker Evans, Dave Axton, Cory Sparks, Clint Ide, Paul Kinney, Joe Trenca, George Suprick, Kyle Pitts, Tim Axton, Jason Barney, Jason Shultz, Jeff Cook, Bobby Parrow, Jordan Thomas, Matt Tanner, Aaron Ott, Kyle Reinhardt, Danny Varin, Steve Collins.
Did Not Qualify – Zach Weigand, Bob Gray
Car Mate Custom Built Trailers Heat 1 – Barger, Trenca, Hebing, Evans, Friesen, Ide
Car Mate Custom Built Trailers Heat 2 – Ott, Varin, Lorenc, Reinhardt, Tanner, Parrow
Car Mate Custom Built Trailers Heat 3 – Suprick, Barney, Collins, Sparks, Shultz, Cook.
Halaquist Family/Cobra Coaches Dash – Varin
Lacaillade Masonry B-Main – Thomas, Wickham, Pitts, Kinney
Added Starters – D. Axton, T. Axton
Bonuses:
Westward Painting Company Halfway – Hebing $100
Insinger Performance Hard Charger – D. Axton (17 pos). $50
Fondations 55 Pick 5 – Wickham $50
Lacaillade Masonry B-Main – Thomas $50
Lacaillade Masonry In Memory of Kevin Ward Jr. – Pitts $50
Care Mate Custom Built Trailers Heats – Barger, Ott, Suprick $25