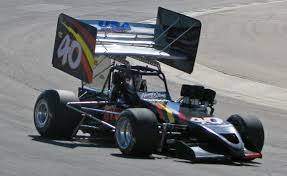 From Colorado National Speedway
Dacono, CO — (August 30, 2014) — Judge Harry Stone won his first ERA Supermodified feature of the 2014 season outlasting challenges from both #58 Kyle Ray who ran into the back of Stone coming out of turn 2 and #13 Ricky Otts who lost a left rear wheel just after passing Stone for the lead.
Stone is the 4th different winner in the Supermodified division out of just 5 races.
Neither Ray or #3 Harold Evans finished the race keeping the points chase super close with Ray out in front by just a mere 4 points. The "ice man" Roger Avants is within striking distance just 10 points out of the lead.
ERA Supermodifieds
Pos No. Name Hometown
1. 40s Harry Stone Broomfield CO
2. 2 Richard Castor Jr Bennett Co
3. 7s Stevie Gallegos Castle Rock CO
4. 1 Jason Castor
5. 27 Roger Avants Littleton CO
6. 51 Joe Priselac Commerce City CO
7. 13 Ricky Otts
8. 3 Harold Evans Littleton CO
9. 12 Cody Castor(R) Bennett CO
10. 58 Kyle Ray(R) Littleton CO
11. 11 Tom Adler