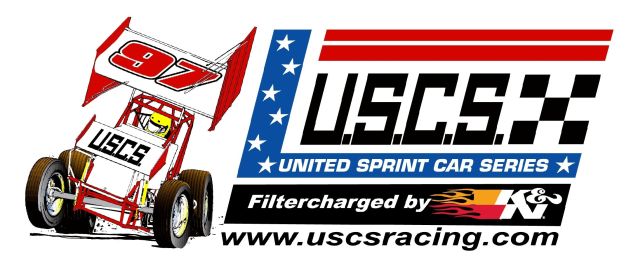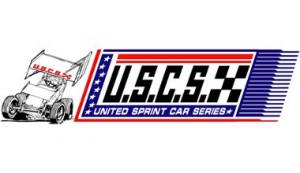 From Pete Walton
Atlanta, GA – (September 15, 2014) – The Fayetteville, Georgia based United Sprint Car Series Outlaw Thunder Tour presented by K&N Filters winged sprint cars make their only annual visit to Senoia Raceway on Friday and Saturday, September 19th and 20th for the USCS Senoia Summer Nationals V The event is the speedway's 2014 racing SEASON FINALE. The 120 mile per hour USCS winged Outlaw type sprint cars headline the huge two-day final weekend of racing event. The 5th annual USCS Senoia Summer Nationals event was re-scheduled from its original date in August (15th and 16th date. The series returns this weekend with excellent weather predicted to headline an action-paked two full nights of racing. The racing card also includes the 100 mile per hour www.rockauto.com USCS 600 Sprint Car Series mini sprints on both nights plus five of the track's weekly racing divisions with special events of their own.
The United Sprint Car Series portion of the event expects to draw winged sprint car drivers from at least six states including several of the series 2014 feature winners and the 2012 Senoia Summer Nationals Champion, Tim Crawley from Benton, Arkansas. Another Arkansan, 23 year old Derek Hagar from Marion, Arkansas was the USCS National Champion and leads the series with trips to the www.rockauto.com USCS victory lane with eight feature wins in 2014.
Also entered is Terry Gray from Bartlett, Tennessee who is a ten-time USCS National Champion and former Senoia Raceway USCS feature winner. Also entered is his 21 year-old team-mate, Morgan Turpen from Cordova, Tennessee who is the only female sprint car driver expected to compete. Turpen is a five-time USCS feature winner and the top ranked female sprint car driver in the country. A number of other top drivers from the Southeastern United States are entered and looking for their first Senoia Summer Nationals win.
The www.rockauto.com USCS 600 Sprint Car Series winged mini sprint series is also expected to draw entries from as far away as Charlotte, North Carolina and Columbus, Mississippi. Those entries include Two-time and defending series Champion, Bobby Zaiontz who again leads the series point standings. Also entered is 2013 National Champion, Sean Hosey from Clarksville, Tennessee. Also entered is 14 year-old Brandon Taylor from Cumming, Georgia who is the www.rockauto.com USCS 600 Sprint Car Series Southern region points leader.
In the popular weekly Late Model division drivers from at least three states are expected as most area tracks have closed for the season or taken this weekend off to prepare for October races. The Late Models will compete for $1000 to win each night. Increased bonus purses are offered in the other four Senoia Raceway weekly divisions on the schedule. On Friday night the B-Cadets and Bomber divisions join the USCS Sprint Cars, Late Models and Mini Sprints on the racing card. On Saturday evening the Hobby division and US Legends cars are added to the racing program with the divisions that race on Friday.
Grandstand admission prices to the event are as follows: Friday night's Adult grandstand admission is $15 and youth 6-12 years old is $5. On Saturday night Adult grandstand admission is $20 and youth 6-12 years are again $5. Children 5 years and younger are FREE both nights. A two-night Adult grandstand admission is available for $30 that includes admission to both night's events.
Senoia Raceway is located four miles West of Senoia, Georgia just off State Highway 16 at 171 Brown Road, Senoia, GA. For event info please visit www.senoiaraceway.com or the speedway's Facebook page at New Senoia Raceway. The track phone number is 770-599-6161. The USCS series Official website is located at www.uscsracing.com The USCS phone numbers 770-865-6097.