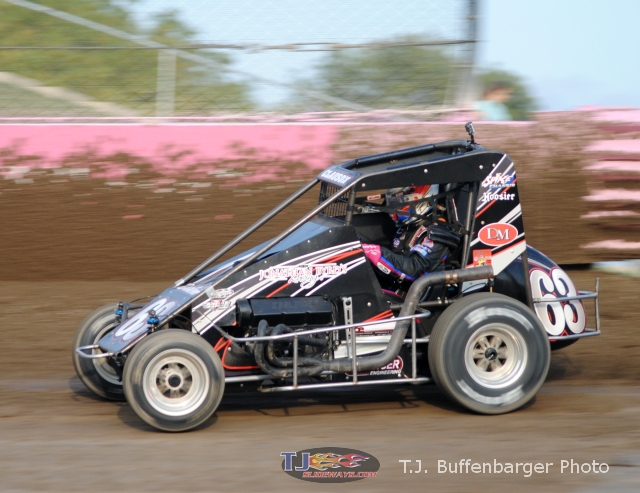 By T.J. Buffenbarger
Rossburg, OH – (September 21, 2014) – Bryan Clauson picked up his first Eldora Speedway victory in a midget car during the USAC Honda National Midget Car Series event as part of the 4-Crown Nationls on Sunday afternoon at Eldora Speedway. Clauson held off repeated challenges from Darren Hagen and a last lap slide job from Christopher Bell for the victory.
"Joe Dooling, Rusty Kunz, everyone, came into our own this little bit. Trying to be a little careful, little treacherous in three and four. Thankful we were able to hold him off. Thank everyone for coming back out. Two more to go, hopefully we can pick up another one."
Clauson led the opening lap as Darren Hagen tried to slide around for the top spot, but could not make the pass. Behind them Rico Abreu went for a slide job in turns one and two, but hit the wall and got upside down. Abreu's Keith Kunz Motorsports teammates Christopher Bell and Tanner Thorson piled in along with Chris Windom and Brady Bacon. Of those six cars involved Bell, Bacon, and Hines were able to restart.
Clauson led during the restart with Hagen on his back bumper. Bell began working his way through the field and was in fourth position by lap six. Bell disposed of Daum one lap later and set out after the leaders. By lap 16 Bell caught Hagen for second and began exchanging slide jobs for the position until taking over the spot on lap 18.
Bell closed in on Clauson with six laps to go with traffic running side by side head of them. Bell tried the slide job with two laps to go, but could not make the pass. Bell tried one more slide job on the final lap in turn two, but stumbled on the cushion and allowed Clauson to pull away for the victory. Bell, Hagen, Daum, Cockrum rounded out the top five.
33rd 4-Crown Nationals
USAC Honda National Midget Car Series
Eldora Speedway – Rossburg, OH
Sunday September 21, 2014
HONDA USAC NATIONAL DIRT MIDGET RACE RESULTS: September 20, 2014 – Rossburg, Ohio – Eldora Speedway – 33rd "4-Crown Nationals"
QUALIFICATIONS: 1. Rico Abreu, 97, Kunz/Curb-Agajanian-16.369; 2. Christopher Bell, 71, Kunz/Curb-Agajanian-16.416; 3. Tanner Thorson, 67, Kunz/Curb-Agajanian-16.423; 4. Darren Hagen, 56, 5IVE-6IX-16.570; 5. Bryan Clauson, 63, Dooling-16.605; 6. Tracy Hines, 24, Parker-16.605; 7. Zach Daum, 5, Daum-16.643; 8. Chris Windom, 3, RFMS-16.725; 9. Brady Bacon, 11, Wilke-Pak-16.823; 10. Steven Drevicki, 19, DeGre-17.302; 11. Tony DiMattia, 50, Brandywine Auto-17.394; 12. Thomas Meseraull, 16, Sandy-17.411; 13. Terry Babb, 88, Babb-17.441; 14. Parker Price-Miller, 9p, Ronk-17.491; 15. Isaac Chapple, 52, Chapple-17.703; 16. Brett Arndt, 46, Arndt-18.112; 17. Dave Darland, 17, RW/Curb-Agajanian-NT; 18. Shane Cockrum, 66, Amati-NT.
Heat Race #1: (8 laps) 1. Abreu, 2. Clauson, 3. Daum, 4. Thorson, 5. Bacon, 6. Cockrum, 7. Chapple, 8. Dimattia. 2:19.55
Heat Race #2: (8 laps) 1. Windom, 2. Bell, 3. Hines, 4. Hagen, 5. Drevicki, 6. Meseraull, 7. Miller, 8. Arndt. 2:19.65
FEATURE: (25 laps) 1. Bryan Clauson, 2. Christopher Bell, 3. Darren Hagen, 4. Zach Daum, 5. Shane Cockrum, 6. Brady Bacon, 7. Isaac Chapple, 8. Tracy Hines, 9. Steven Drevicki, 10. Parker Price-Miller, 11. Rico Abreu, 12. Tanner Thorson, 13. Chris Windom. NT
——————————–
**Abreu, Thorson and Bacon flipped on lap 2 of the feature.
FEATURE LAP LEADERS: Laps 1-25 Clauson.
NEW HONDA NATIONAL MIDGET POINTS: 1-Abreu-867, 2-Bell-788, 3-Hines-786, 4-Clauson-744, 5-Daum-663, 6-Windom-594, 7-Thorson-569, 8-Michael Pickens-499, 9-Darland-419, 10-Andrew Felker-378.
NEXT HONDA NATIONAL MIDGET RACE: October 2-4 – Granite City, IL – Tri-City Speedway – "Gold Crown Midget Nationals"