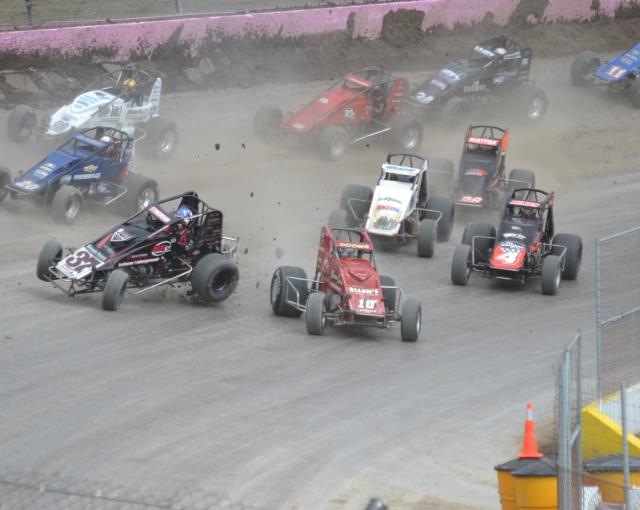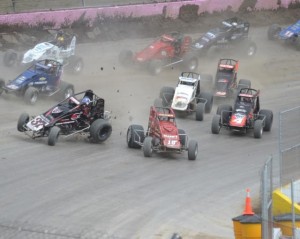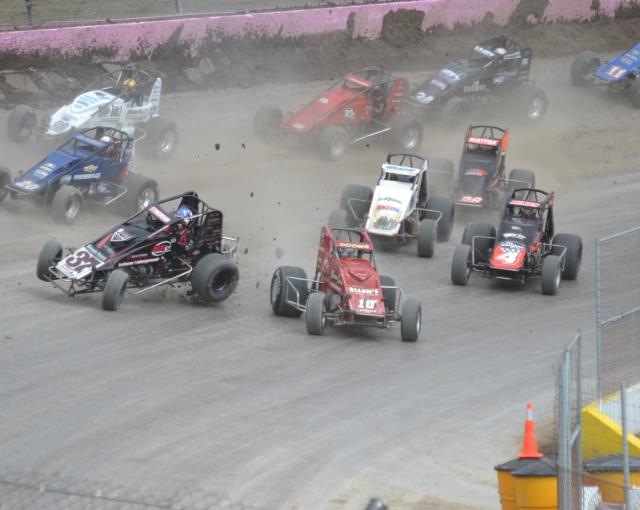 By T.J. Buffenbarger
The USAC portion of the 4-Crown Nationals one of the most bizarre racing events I have ever been to. In a span of about 22 hours all of the below happened:
• Dave Darland midget car having engine problems, breaks a rear axle in the sprint car during qualifying, gets in a backup car and hits the fence during his time trial effort and does not get a lap. Flips the silver crown car. Then gets involved in a couple of incidents in the sprint car feature, and  persevere to win the hard charger award in the sprint car division.
• Jack Hewitt returned to competitive racing 12 years after being hurt in a USAC Sprint Car crash at Twin Cities Raceway. Hewitt competed in the Silver Crown Series event.
• The rain on Saturday night that started, looked like it might go north and blow through, yet continued to drop moisture way into the morning at Eldora even though the radar had cleared. This forced the sprint car B-Main and features for the midgets and silver crown cars to be run on Sunday afternoon.
• All three Keith Kunz Racing entries getting caught up in a crash when Rico Abreu caught the wall and went for his second flip of the weekend, collecting teammates Christopher Bell and Tanner Thorson. Only Bell was able to restart.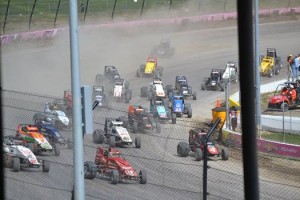 • Jon Stanbrough managed to hop a wheel, get completely airborn, and come to a complete start in less than 10 feet from the starting point in turn four during Sunday's feature.   To top it off Stanbrough promptly got collected in the sprint car "big one" in turn one two laps later.
• Kevin Thomas, Jr. getting upside down not only once, but twice in the same event during the sprint car feature.
• The change in the Silver Crown winner it was determined that Caleb Armstrong had changed a left rear tire that was not flat under caution. Armstrong was scored one lap down.
Putting the unusual moments aside Sunday afternoon's program was entertaining with much better racing than I anticipated. The USAC Midgets once again stole the show with wild slide jobs and great racing even with several scratches before the feature began. The Sprint Car feature early on was a battle of driver versus wall and curb, but had some interesting racing including the three car race at the end. The last five laps of the Silver Crown feature were amongst the most entertaining I have witnessed with that division at Eldora.
While most of the discussion about Eldora will likely be dominated by Armstrong being scored a lap down after the race for changing a left rear tire that was not flat, the program was highly entertaining. Eldora Speedway officials did a great job turning that event around for Sunday afternoon. It is a much more daunting task to makeup an event like that then it appears when you factor in trying to get people to work things like the concession stand and other positions on short notice. So kudos to them for getting the show in on Sunday.